Middle school students are getting in touch with their green thumbs, as the Grow It, Know it program allows them to experience new activities and skills through gardening.
The GIKI program, which began about five years ago, supports farm to school programming in Clarke County and Barrow County schools. An Americorps VISTA — a network of national service programs that aim to improve lives and foster civic engagement — is placed in each school, and they work with teachers to allow students to experience and develop skills in sustainable agriculture and family and consumer science through activities, such as growing plants and caring for animals.
The middle schools involved include Burney-Harris-Lyons Middle School, Clarke Middle School, Hilsman Middle School and W.R. Coile Middle School, which are located in Clarke County, as well as Russell Middle School, located in Barrow County.
On Oct. 22, the GIKI program was honored with the Golden Radish Innovative Partnership Award, presented by the Georgia Department of Health.
Wick Prichard worked for the program in Clarke Middle School for two years, before becoming the coordinator of the GIKI program.
The importance of the program is getting kids outside to develop a relationship with nature and the outdoors. This program just happens to accomplish that through gardening, Prichard said.
GIKI also brings resources to the middle schools.
"We bring produce to teachers, so they can do labs with produce and demonstrations with the produce. And then we might hold school produce markets that the kids run. The kids will have a table outside of the school, and they'll be asking for donations for the produce," Prichard said.
The program is a partnership among CCSD, University of Georgia Extension, the UGA Office of Service-Learning and UGArden that started about five years ago.
The program started with Clarke Middle to see how the program would run, and the partners decided to expand the program into the other middle schools.
Prichard said there was a big school garden that was put in place in Clarke Middle, in part by UGArden, and service learning wanted to do more with Americorps VISTA and get more volunteers out into the community from UGA.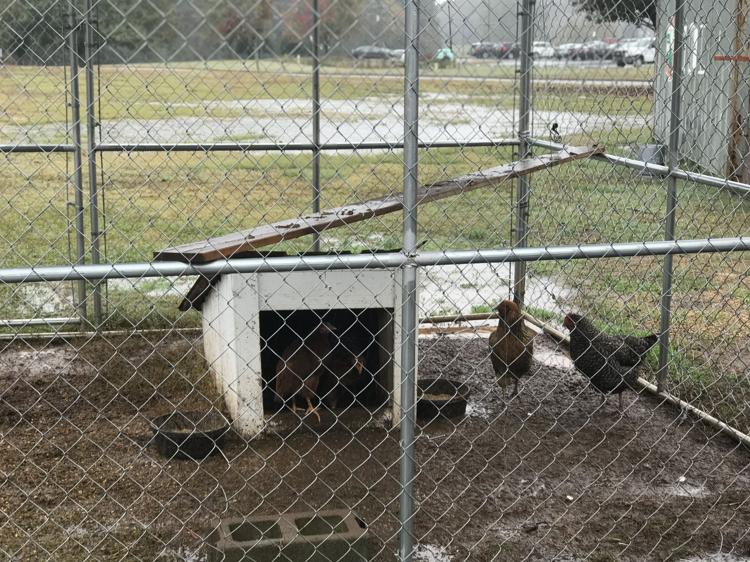 The VISTAs sign up for a year of service, in which they may choose to extend their time at the end of the year. They sign up to help the community and fight poverty, and the role of the VISTAs are to support the school gardens and the teachers that are using the school gardens.
"That's kind of your job to say 'OK, how can I help this person realize this dream … that's related to the school garden … that's related to fighting poverty in Athens-Clarke County. How can I do that?'" Prichard said.
Becky Glennie, former Burney-Harris-Lyons Middle School VISTA service member, worked with the program for two years.
Some of the major initiatives she worked on were a composting program, where large amounts of waste were saved from entering the general landfill, and working with animals, such as the growing of and caring for tilapia.
"I think Grow It, Know It has really helped those who want hands-on education have better access to it. I think a lot of our students have really benefited from seeing where their food comes from. I know for a fact that a lot of them can identify more vegetables and are more likely to eat them," Glennie said.
The VISTAs also learn valuable skills from the program.
Glennie said she learned cut and dry technical skills, such as how to build things and work with saws, as well as less practical skills, such as how to mediate a situation involving middle schoolers.
The program helps kids relate to their natural environment. For a lot of students, it also provides them with friends and friendly interactions they may not have encountered otherwise, Glennie said.
Because the program involves all grades, Glennie said there are students involved in the summer program who are rising sixth graders mixed with people who will be entering high school.
Jim Warrner, VISTA service worker at Burney-Harris-Lyons Middle School, said the students are offered opportunities to get involved on a larger level.
"It's amazing when a child puts a seed in the ground, and four days later they see it come up. They can't believe that they've done that. You see our greenhouse, and we've just done that a couple days ago," Warrner said.
Every school has a different composing program, Warrner said. Food recovery is also a main initiative in the program at BHLMS.
Warrner said the school tries to get food that would normally be thrown away and educate the students on how it could be repurposed for other projects.
"It's amazing how much food is thrown away. If we can get the students to understand they don't have to throw that away, they can redirect it to me, to the VISTA, and we can redirect that food to some other child who's not going to be able to eat that night or have the resources they need," Warrner said.