The Universal Society of Hinduism has condemned Athens-based apparel wholesaler Vision Lab for selling a yoga mat featuring a depiction of the Hindu deity Ganesha. 
USH President Rajan Zed said Ganesha, the diety on the yoga mat, "was meant to be worshipped in temples or home shrines and not to sit on or put feet/buttocks/legs on or sweat on" in a press release. 
Although Vision Lab has taken the $90 product down from its website, owner Keegan Keel said he will not apologize to Zed due to the way the situation was handled. Keel said throughout this ordeal, Zed has not contacted or answered phone calls from Keel. Zed, on the other hand, said he attempted to reach out through email, to no avail.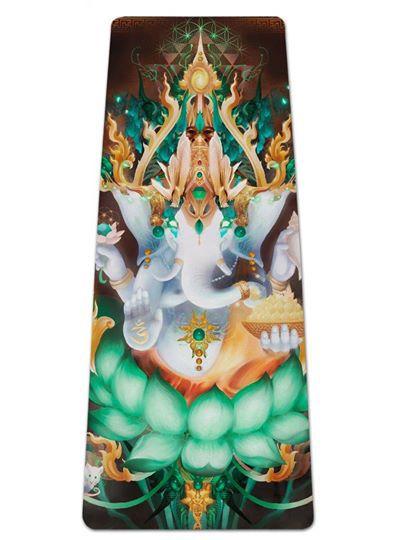 "I do not appreciate his approach," Keel said. "It's not one that is in line with the love that's spoken of in all the major world religions, including Hinduism."
Appropriation or appreciation 
Keel said the decision to remove the yoga mat was influenced by his conversation with Mat McDermott from the Hindu American Foundation, rather than pressure from Zed. McDermott, the director of communications at HAF, explained to Keel the negative implications of a Hindu deity on the yoga mat.
"It was a very fruitful conversation. [Keel] said he had no disrespect," McDermott said. "We're pleased that he did pull the yoga mat from sale because traditionally speaking, you wouldn't put any sacred imagery like that on anything you're going to step upon."
While Vision Lab does not have anyone practicing Hinduism on its staff, Keel stands by the usage of deities on their product as an extension of his company's mission.
"We don't currently have any people that practice Hinduism in our company, but we do have a company full of people that consider themselves spiritual people, generally speaking, and collect religious information from various religions and put it into a melting pot," Keel said.
Keel recognized the issue of cultural appropriation in other cases; however, he denies its application in Vision Lab's products. Cultural appropriation, he said, is from a lack of awareness. Vision Lab, on the other hand, is "founded on spreading sacred imagery."
Drawing the line
To aid people in these gray areas, HAF created a guide on using Hindu imagery for commercial purposes. McDermott said he recognizes the impracticality of restricting Hindu imagery to Hindus only; however, he hopes the guide will lead people toward a more informed judgment.
The ins and outs of cultural appropriation are blurred, McDermott said. He said interpretations can be subjective based on personal experience, but he stressed an awareness and respect for the origins of these religious ideas and symbols.
"Cultural appropriation is a knotted issue — it's a little bit harder to untie. What's one person's cultural appropriation is another person's appreciation of a culture," McDermott said. "The issue arises when someone doesn't acknowledge where something is coming from — or even worse, hiding where something is coming from."
Pravalika Irukulla, a sophomore biomedical engineering major at the University of Georgia, has grown up with Hindu customs and practices. Throughout the years, she's witnessed instances of cultural appropriation, most often through ignorance or greed.
As for the yoga mat, Irukulla's first impression of it wasn't disturbed or angered; rather, she was more curious about the purpose behind it. Irukulla echoed McDermott's sentiment — shifting the focus away from accusations and toward education.
"From what I've seen so far, people are taking a step in educating people," Irukulla said. "It also helps people become more open-minded about different types of cultures and how they are."