Georgia Secretary of State Brian Kemp won the Republican gubernatorial primary election and will face Democrat Stacey Abrams in the Nov. 6 general election. 
Kemp, an Athens native and University of Georgia graduate, won a landslide victory with 69 percent of the vote over Lt. Gov. Casey Cagle's 31 percent.
"Tonight's victory reflects on that unwavering commitment that all of you have had," Kemp told a crowd of supporters in Athens at his election party on July 24.
Republican voters in Athens and the surrounding counties came out in force to support Kemp, where he carried even higher margins in Clarke County than the statewide spread.
Nearly 83 percent of GOP voters in Athens-Clarke County supported Kemp. 
Surrounding counties were similar with 85 percent in Oconee, 76 percent in Jackson, 80 percent in Barrow and 81 percent in Oglethorpe.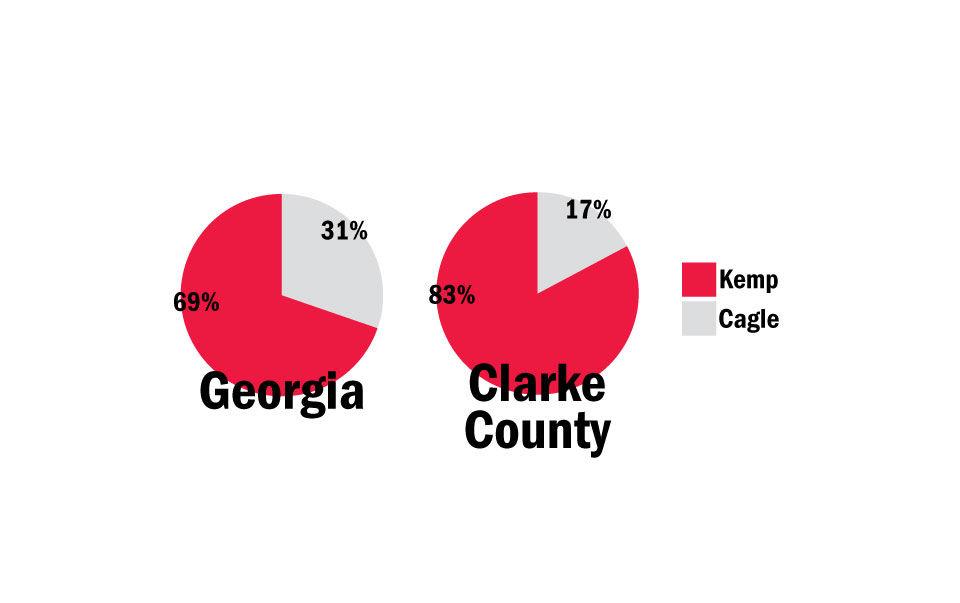 Kemp's local clout and position on the ballot in November could increase Republican turnout in the Athens area, where Democrats Deborah Gonzalez and Jonathan Wallace scored upset victories last year to become state representatives.
Former Student Government Association president and recent UGA graduate Houston Gaines lost to Gonzalez, but will face her again in November. He's confident about Kemp's nomination as it relates to other races.
"It's gonna be a significant boon for our campaign," Gaines said.
Marcus Wiedower, who was defeated by Wallace in the race for District 119, is also mounting a comeback campaign after defeating Steve Strickland for the GOP nomination in May.
Ethan Pender, Chairman of the UGA College Republicans, said his organization is excited to work with the two state representative campaigns, along with Kemp's.
"It's going to energize this area where Republicans are traditionally not as vocal as Democrats," Pender said. "Furthermore, we need to look at districts 117 and 119 and flipping those back and putting Houston Gaines and Marcus Wiedower in the State House."
Cagle was endorsed by Gov. Nathan Deal on July 16, but a surprise Kemp endorsement from President Donald Trump quickly overshadowed Cagle's support from established Georgia Republicans.
Brian Kemp is running for Governor of the great state of Georgia. The Primary is on Tuesday. Brian is tough on crime, strong on the border and illegal immigration. He loves our Military and our Vets and protects our Second Amendment. I give him my full and total endorsement.

— Donald J. Trump (@realDonaldTrump) July 18, 2018
"We cannot forget that tweet that we heard around Georgia," Kemp said in his victory speech. "[Trump and Pence] poured gasoline on the fire and fueled the Kemp surge to victory."
Trump endorsed Kemp in a tweet on July 18, and tweeted out his support again on election day. On July 21, Vice President Mike Pence flew to Macon to speak at a rally for Kemp. 
Kemp also received endorsements from former GOP gubernatorial candidates Clay Tippins, Michael Williams and Hunter Hill, who were all in attendance at the party, hosted at the Holiday Inn on Broad Street.
Congressman Jody Hice, who represents Athens and other areas in Georgia's 10th District, also endorsed Kemp.
After a bitter primary with scandals and attack ads on both sides, Kemp was quick to ask for the support of Cagle and his backers during his victory speech.
"To my friend Casey Cagle: Thank you for your service to our great state," Kemp said in his speech. "For 15 months we have duked it out in the ring. There is no doubt about that, it was a hard fought race. But I want to humbly ask for you and your supporters to join us in this fight."
In the other GOP runoff elections, former State Rep. Geoff Duncan won an upset for the GOP lieutenant governor nomination against longtime State Sen. David Shafer by less than one percent. Approximately 2,000 more Georgians supported Duncan than Shafer. 
Duncan will face Democrat Sarah Riggs Amico in the general election.
State Rep. Brad Raffensperger will be the GOP nominee for secretary of state, beating former Alpharetta mayor David Belle Isle with 62 percent of the vote. 
He will face Democrat John Barrow in November, an Athens native and former Athens commissioner and U.S. congressman. 
On the Democratic side, Otha Thornton beat Sid Chapman in the runoff to be the state superintendent nominee with 59 percent. Thornton will face incumbent Richard Woods.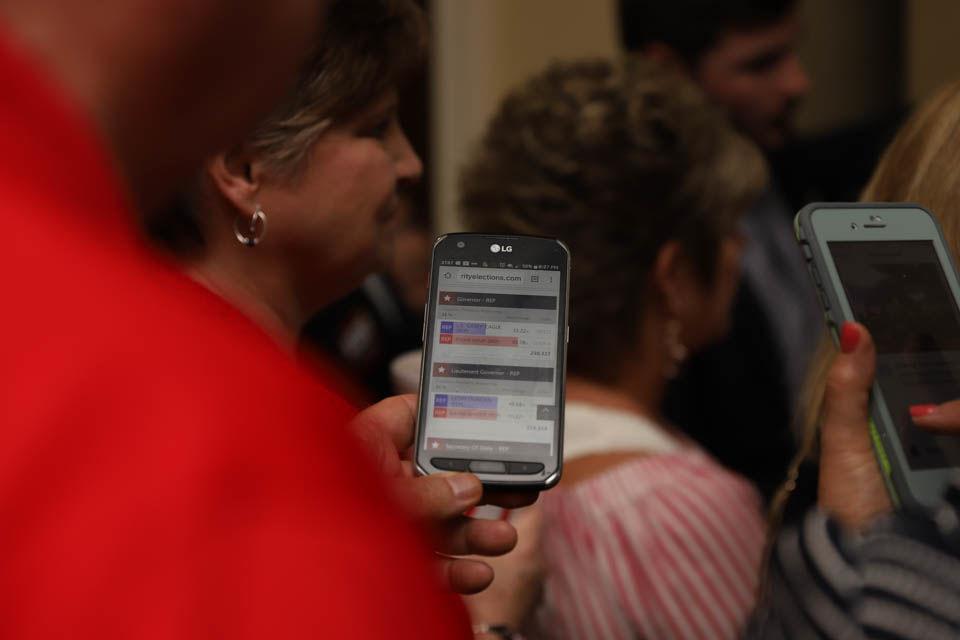 Dodging the dirt
Throughout the governor's race, controversy plagued both candidates, the most notable being a secretly recorded conversation between Cagle and Tippins in what was supposed to be an endorsement meeting.
While the entire conversation was about 90 minutes, several snippets were released during the runoff. 
The first piece depicted Cagle saying he had supported "bad public policy" by ushering an education bill through the legislature in hopes that a PAC, the Walton Foundation, would not pour money into opponent Hill's campaign.
Another clip released included Cagle saying he thought the primary was about "who could be the craziest," likely in reference to the controversial ads released by his rivals.
Kemp released an ad in May that garnered nationwide attention, in which he held a shotgun in the presence of a young man who was "interested in one of [Kemp's] daughters." The ad was criticized and mocked on the left, but it was successful in launching Kemp's profile.
Later ads showed Kemp in a pick up truck saying he would use it to "round up criminal illegals."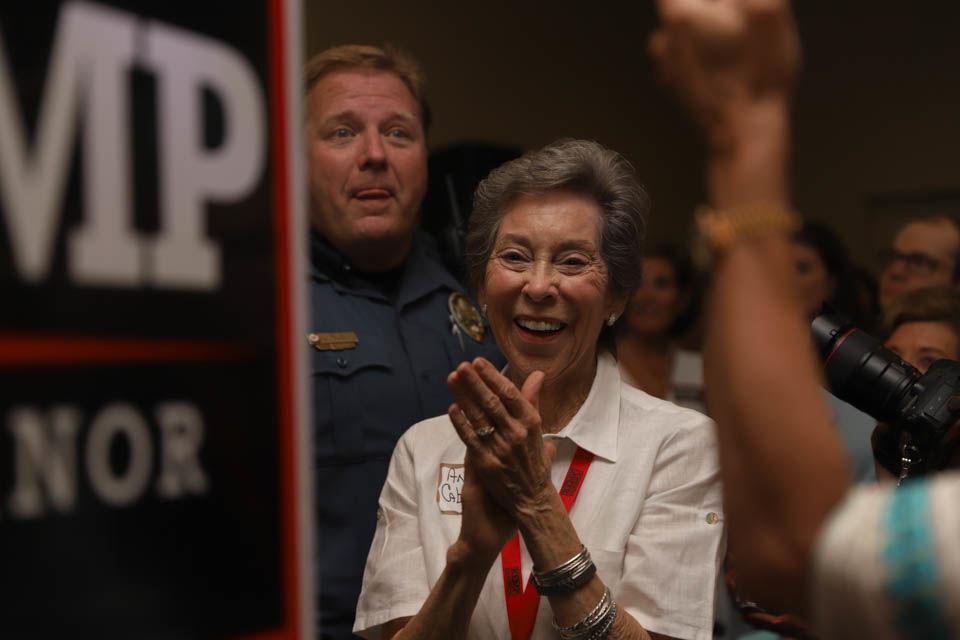 After finishing second in the May primary with 25 percent to Cagle's 39, Kemp successfully came from behind to win the nomination. Kemp used his ads to brand himself as a "politically incorrect conservative" in the style of Trump, despite his 15 year career in politics.
Kemp had his fair share of scandals too. During the runoff, he faced scrutiny over receiving donations from businesses his office regulates.
Over $250,000 was given to his campaign, much of it through a legal loophole that allows the owners or employees of said businesses to donate, even though the business itself cannot.
One such business was Massage Envy, a massage clinic franchise where therapists were accused of sexual assault. Owner Patrick Greco donated $1,000 to Kemp and hosted a fundraiser for the candidate at his home. 
A historic race
Abrams, if elected, would be the first black female governor in U.S. history. Having won a majority of Democratic votes and secured the nomination in the May 22 primary, she's continued to campaign and consolidate her support since then.
In his victory speech, Kemp repeatedly went after Abrams, painting her as reliant on outside money.
"Hillary Clinton, George Soros and Nancy Pelosi all have Georgia on their mind. For months they've been campaigning for Stacey Abrams — the out-of-touch, radical liberal who cares more for her billionaire backers than for you all," said Kemp in his speech.
Kemp channelled Trump again when he criticized media organizations.
"The fake news media machine will do everything in the their power to prop [Abrams] up. Their attacks on me will be vicious, baseless and constant," Kemp said.
Congratulations to Brian Kemp on your very big win in Georgia last night. Wow, 69-30, those are big numbers. Now go win against the open border, crime loving opponent that the Democrats have given you. She is weak on Vets, the Military and the 2nd Amendment. Win!

— Donald J. Trump (@realDonaldTrump) July 25, 2018
Closing out his speech, Kemp made two references to UGA football in his rallying cry.
"We got to hunker down folks," Kemp said. "And as we've been saying lately, we got to keep choppin' wood."