Doors opened Jan. 29 at 7 p.m. at Athens' newest bar, The Warehouse. Upon opening, the East Broad Street space offered more than live music and mixed drinks: a haven for hundreds of maskless bar-goers to mingle during the deadliest month of the pandemic in the United States.
Like its next door neighbor The Rowdy Goose, The Warehouse is owned by husband-and-wife duo Brian and Taylor Cowart. The two spaces were previously known as 100 Proof and Hedges on Broad, owned by David Ippisch.
The two venues were vacated following the arrest of Ippisch on Nov. 25, 2019, on charges of rape, kidnapping and sexual battery. Ippisch plead not guilty to the rape and kidnapping charges and faces an upcoming hearing in Athens-Clarke County Superior Court on Feb. 19.
More patrons, more problems
Brian Cowart said that other than ACC's "excessive" mask and social distancing ordinance enforcement on his business, University of Georgia students and other members of the Athens community have expressed gratitude for The Warehouse's presence.
Brian Cowart said in a text message to The Red & Black that ACCPD conducted an occupancy check on The Warehouse's opening weekend.
The Warehouse did not receive a citation for occupancy violations, but the Cowarts' other business endeavor – The Rowdy Goose – has been cited, ACCPD Lt. Shaun Barnett said in an email to The Red & Black.
On Jan. 31, in a Facebook post that has been removed, Taylor Cowart posted that the grand opening of The Warehouse "blew our expectations out of the water."
The post included a video showing hundreds of maskless patrons dancing in a tightly packed room to "Mo Bamba" by Sheck Wes.
While Gov. Brian Kemp's current executive orders mandate that bars operate at 35% maximum capacity, or a maximum capacity of 50 patrons, whichever is greater, the Cowarts said their establishment meets the requirements to be considered a live performance venue and therefore does not have to abide by the same requirements.
Live performance venues are not explicitly limited to a percentage of their capacity. Per the governor's order, live performance venues shall implement staggered entry and exit times, arrange lines so that patrons can socially distance and maintain an adequate space between patrons when practicable.
Brian Cowart said the issue now is that the local government continues to recognize The Warehouse as a bar.
"Despite the fact that we meet all of the requirements, and have been told by the governor's office that we meet all of the requirements to be a live performance venue, we're still being told that we're going to be enforced at that 35% until the county attorney's office decides something differently," Brian Cowart said.
The ACC attorney's office reviewed the Cowarts' establishment and determined that The Warehouse constitutes both a "bar" and a "live performance venue" under the governor's most recent order, ACC attorney Judd Drake said in an email with The Red & Black.
"Other similarly situated establishments within Athens-Clarke County have chosen to close completely or operate in compliance with the governor's order," Drake said.
Regardless of how the local government classifies their establishment moving forward, the Cowarts said they are working on a way to distance patrons in the main stage area by separating them into groups of up to 50, spaced 6 feet apart.
The Cowarts are also offering hand sanitizer in their establishment and requiring their employees to wear masks.
Currently, masks are optional for patrons at the Cowarts' venue, and the ACC COVID-19 ordinance can do little about it.
Loophole in the language
Kemp's executive order declaring a public health state of emergency, which was passed Mar. 14, 2020 and renewed Jan. 29, provides guidelines for local lawmakers, such as the ACC mayor and commission, to maintain consistent laws statewide.
Per the governor's executive orders, local governments cannot pass any regulations that are inconsistent with the governor's directives.
On July 8, 2020, a mask mandate went into effect in Athens. Several days later on July 15, 2020, Kemp passed an executive order reiterating that cities could not enforce stricter guidelines than the state.
ACC responded by passing an ordinance in August 2020, requiring facial coverings to be worn, "at all times where other physical distancing measure may be difficult to maintain from non-cohabitating persons."
The recently renewed August ordinance has several exceptions, including one that allows businesses to disregard enforcement of the ordinance by posting "a clearly legible sign in one inch Arial font at all public entrances of such entity stating the following: 'This location does not consent to enforcement of any local face covering requirement upon this property.'"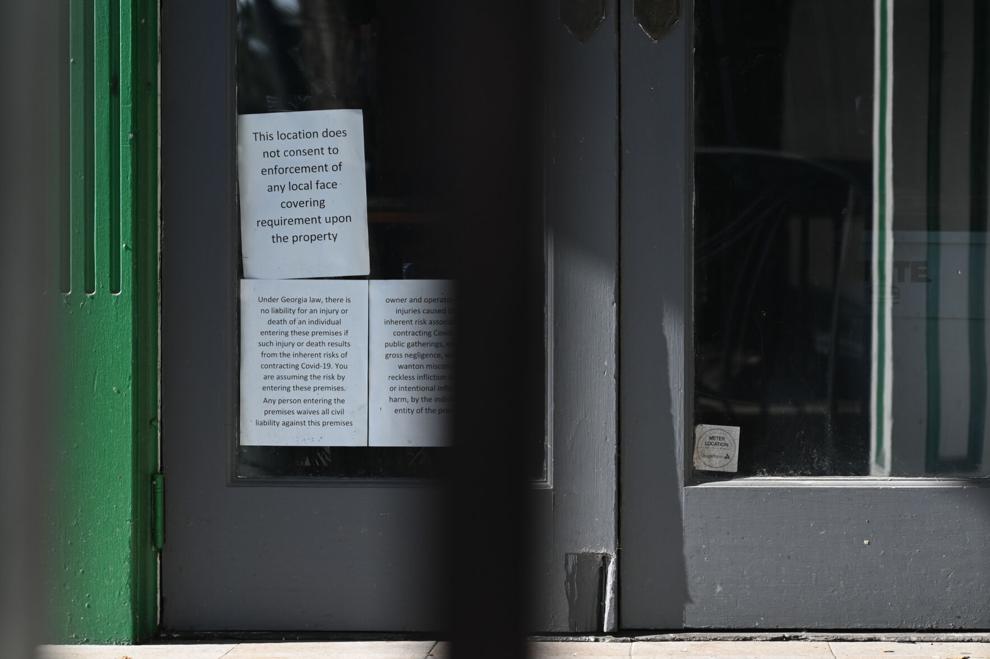 Failure to include a sign implies consent for ACCPD to enforce the mandate within the entity. Before distributing fines, non-abiding patrons are granted a warning, asked to comply or leave and offered a mask. Patrons who refuse to comply are then fined $25 for the first offense and up to $50 on the second and any subsequent offenses. Business owners cannot be fined for the non-compliance of the ordinance from their customers.
The Warehouse presents this sign when the venue is open, Brian Cowart said.
"Really, given these statewide preemptions by the governor, we are largely just trying to do consistent and high-quality messaging. And while I very, very, very much wish we could do more, I also tell myself that, if I deliver one message and that keeps a couple of people out of the bar and keeps their family members safe and alive, then it's worth it," said Athens Mayor Kelly Girtz.
Close-quarters consequences
The ACCPD began an ordinance detail in late August to assist with enforcement of the mask and social-distancing mandate.
"Around that time there was an increase in population with students returning to town for classes. That increase in population translated to an increase in people gathering in the downtown area. From that, arose the need to supplement downtown staffing to proactively enforce the ordinance," Barnett said.
Since August, officers have issued 8,683 masks, given 3,901 warnings and written 15 citations for mask-related, COVID-19 ordinance violations, Barnett said.
Barnett said officers in the downtown area have also conducted almost 1,000 bar checks for occupancy levels and found that "953 times bars have been compliant."
Within that same timeframe, Sgt. Laura Lusk said in an email with The Red & Black, bars have been given 40 warnings and 15 citations.
A worsening situation
The rate of COVID infections in Clarke County continues to gradually increase, up nearly 24% from the previous week.
Meanwhile, The Warehouse's newly launched website advertises a packed event schedule, with a live performer every weekend in February. The Cowarts also said they will soon be announcing dates for national touring acts to play at their venue.
Other Athens performance venues have canceled or postponed shows out of an abundance of caution. The Georgia Theatre began postponing shows on March 13, 2020, and the 40 Watt Club shut its doors on March 17, 2020, for "an indefinite period." Both venues have yet to host a live performance since their initial closure. According to Zero Mile, the website Georgia Theatre uses to disperse show updates, all shows previously scheduled for February have been canceled or postponed.
"Obviously, it's not our intention to encourage the spread. But you know, that's where it comes down to everybody on a personal level has got to do their part," Brian Cowart said.
Girtz and Cowart both believe they are doing everything they can, but differ in opinion on what exactly that entails. Girtz said he is concerned that much of the containment efforts have been rendered ineffective due to the inability to pass tighter restrictions.
"I'm disappointed that we, who are on the ground here, every hour of every day trying to keep the population safe don't have a broader array of tools that we're able to utilize. It's meant that people have risked health and life," Girtz said.
---
CLARIFICATION: A previous version of this article stated The Warehouse did not have the mask nonconsent sign displayed on Feb. 9. The Warehouse displays this sign only when open, Brian Cowart said.