Athens' nightlife has seen a limited resurgence since coronavirus closings in March due to the return of students for the first week of classes at the University of Georgia.
While Athens bars have been open with restricted capacity since June 1, crowds and lines around them had been limited in comparison to this past Saturday night.
The increased student population brings more business to these bars which have lost millions of dollars over the past six months, but it also brings increased scrutiny from elected officials and community members who are concerned about the spread of COVID-19.
"Now we have even 10 people clustered at the bar and music up, people are hollering to get a drink or get somebody's attention. It creates this natural conduit for viral transmission," Athens Mayor Kelly Girtz said.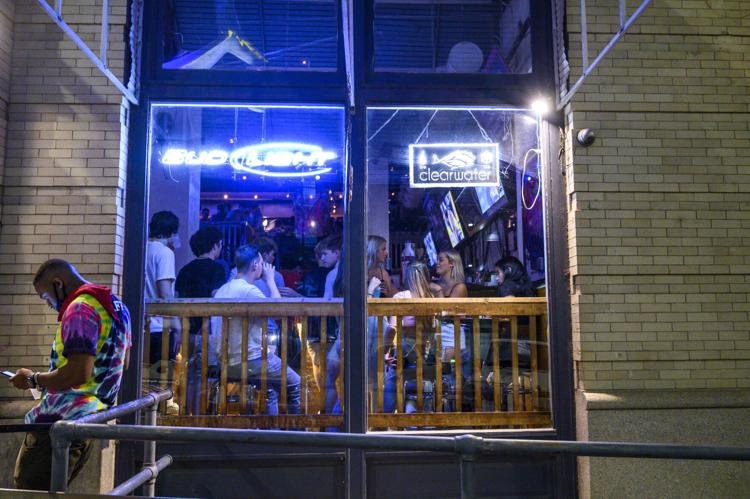 As universities have reopened, bars in college towns have undergone scrutiny. In Tuscaloosa, Alabama, the mayor ordered bars to be closed for 14 days due to a rise in coronavirus cases at the University of Alabama on Aug. 24. Bars specifically have fallen under scrutiny from residents and elected officials due to the lack of social distancing, mask wearing and the introduction of alcohol into the equation.
The Texas Medical Association has listed going to a bar as one of the top riskiest behaviors during the pandemic next to attending concerts, events at sports stadiums or religious events with over 500 attendees.
Nevertheless, from Gov. Brian Kemp's state regulations for bar reopenings to the Athens-Clarke County Mayor and Commission's local ordinances regarding the timing of last call and Athens' mask mandate, there are rules in place to try to keep the Athens nightlife scene safe and operational. 
"The social dynamic has really changed from the summer, because one of the things I noticed about people coming out of the bars in the summer, is that people were social distancing themselves like within, the business," said Jarrod Miller, chief operating officer of On the Rocks, Moonshine and 1785 Bar and Grill.
The focus across the nation has been with regard to enforcement of occupancy levels and social distancing within bars. But there is another aspect of enforcement that is not being considered — the lines of patrons outside the bars.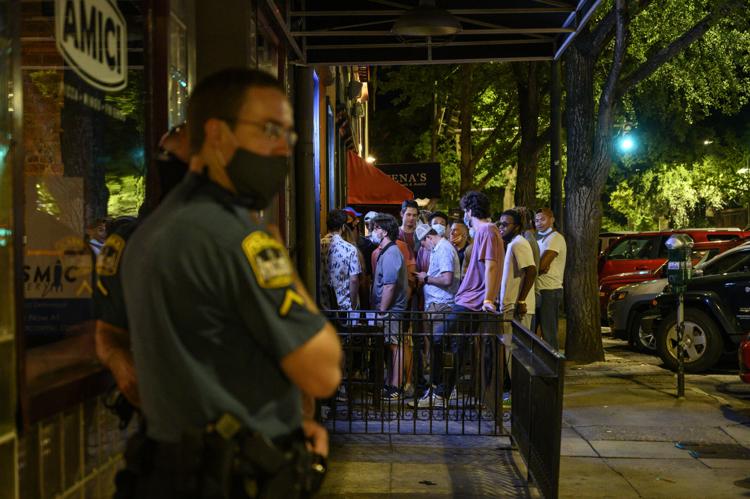 From Tuesday to Saturday
Reporters and photojournalists from The Red & Black walked around downtown Athens on Tuesday, Aug. 18—two days before classes started— and Saturday, Aug. 22—the first weekend after the start of fall semester. There were marked differences between summer and the first week of classes as well as differences between the size of crowds on Tuesday and Saturday.
For both Miller and Kim Long, an owner of Flicker Theatre and Bar, the increased business is welcome after a summer with limited business and two months of closures which left owners unsure of whether the nationally famous bar scene in Athens would survive.
On the Tuesday night before classes started, multiple bars around downtown Athens faced different varying levels of business. While bars such as Sand Bar and Bourbon Street were populated, other usually popular bars such as City Bar, Centro and Silver Dollar drew few customers.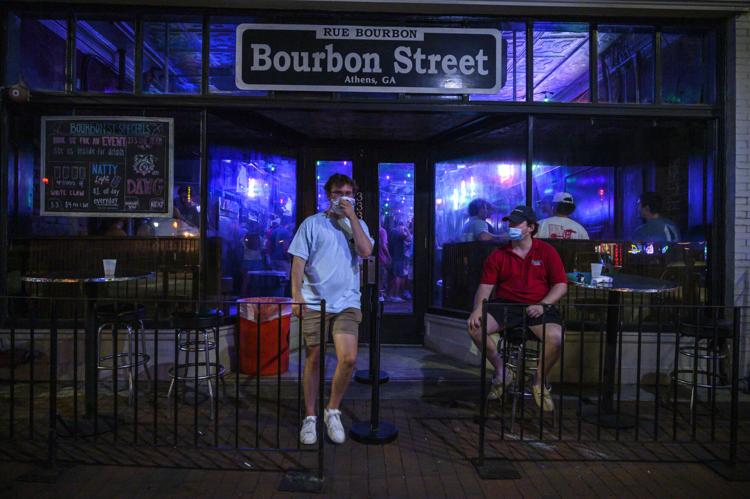 Sand Bar was packed with people with no line outside the door and few patrons inside wearing masks. City Bar and Silver Dollar, which are located on either side of Sand Bar, had very few in comparison.
While there is no confirmed reason as to why this was the case, it could be attributed in part to groups of people choosing to go to specific bars together.
"There's no incentive for everybody in my organization to go to another bar, they're going to go to the bar where their brothers are," Miller said.
Saturday night was more representative of a night in Athens prior to the pandemic, though with a fraction of the population. Reporters noted at least three different trucks carrying two or more people in the truck bed as well.
People lined the streets of Athens waiting to get into the bars that were left empty on Tuesday. Some of the longest lines were those around Cloud, Sake Mama and General Beauregard's, which are next to one another, as well as 9D's, Boar's Head, Buddha Bar, On The Rocks and 1785 Bar and Grill.
Lines outside Athens bars
Though Sand Bar also had a long line, there were not as many people inside the bar as there had been on Tuesday night. Centro, City Bar and Silver Dollar had more patrons than they had on Tuesday as well as Cutter's Pub, Bar South and Wonderbar.
"I've had to beef up my staff because we can't handle the crowds if we don't have enough staff to handle the crowd," Miller said. "Even just just telling them, 'hey, you can't come in,' because 20 people can overpower one person at the door."
Miller explained that the increase in employees raised overhead costs, but he hoped with the increase in the number of patrons would help offset the cost.
Enforcement responsibility
Bars are responsible for maintaining a 35% capacity in their venues, managing social distancing, providing hand sanitizer and having employees sanitize surfaces during hours of operation, among other regulations, according to Gov. Kemp's executive order for bar reopenings.
"The managers or myself are walking around and reminding people to social distance," Miller said. "If it were 100% capacity, that would be a very daunting and difficult task, but the fact that it is 35% occupancy it's enough for us to do a sweep walkthrough.'"
What is not stated in the order is how to handle the lines outside of these venues, which were filled on Saturday. The sidewalk is Athens-Clarke County property, meaning enforcement of social distancing and the mask mandate is left up to city enforcement officers.
"I would actually say that we do have some precedent for this because there are also problems that are often associated with large groups of people when they're drinking, and we already have to deal with those problems," said Athens resident Katherine Harr.
Police officers walked and rode bikes, patrolling downtown on Saturday night. However, reporters did not witness any direct management from the officers for the lines where little to no social distancing existed, and few masks were being worn.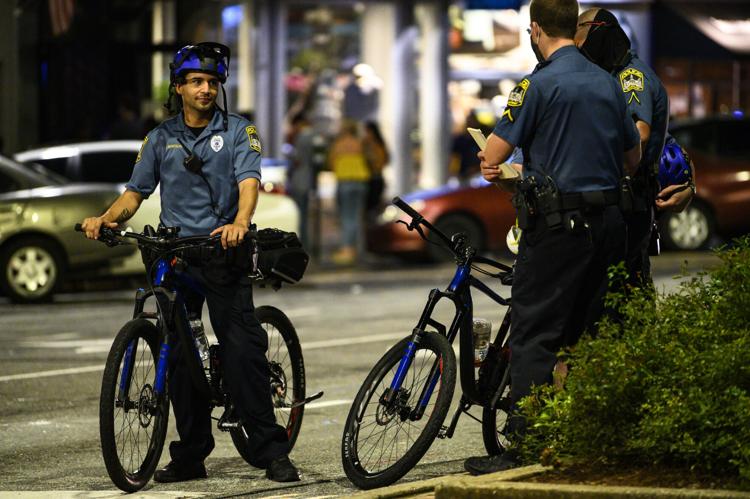 As reporters walked around on Saturday and stopped to observe bars from the outside, patrons in lines at various bars started putting on their masks.
In general terms of mask-wearing demographics, reporters noted that fewer white individuals wore masks in proportion to BIPOC individuals downtown.
The ACC Mask mandate states face coverings are required in businesses and public spaces. Individuals are not required to wear masks when eating or drinking in an establishment.
From Miller's perspective, the issue with the lines ends up falling to the bar employees even if it is not their responsibility by law. Outside of Buddha Bar on Saturday, a door man told patrons in line to space out to ensure social distancing and to put on masks to adhere to the ACC mask ordinance when Red & Black reporters walked by.
As of Aug. 25, ACCPD Deputy Chief Jerry Saulters said that no citations had been issued to any bar owner yet regarding Kemp's regulations, nor to any citizen for violating the local mask mandate. Girtz said officers are required to issue a warning to individuals first before a citation is given.
Citations for violating the mask mandate start at $25 with an increase of $25 more for each subsequent violation.
Miller has said ACCPD officers have been doing compliance checks for COVID-19 regulations, specifically over the weekend. According to records obtained through an open records request from ACCPD, bars such as Double Barrel and Silver Dollar have been issued warnings for violating the capacity limit in the summer.
And while this demonstrates that owners are being held accountable for the inside of their bars, whose responsibility is it to handle the patrons lining the streets of Athens waiting to party inside?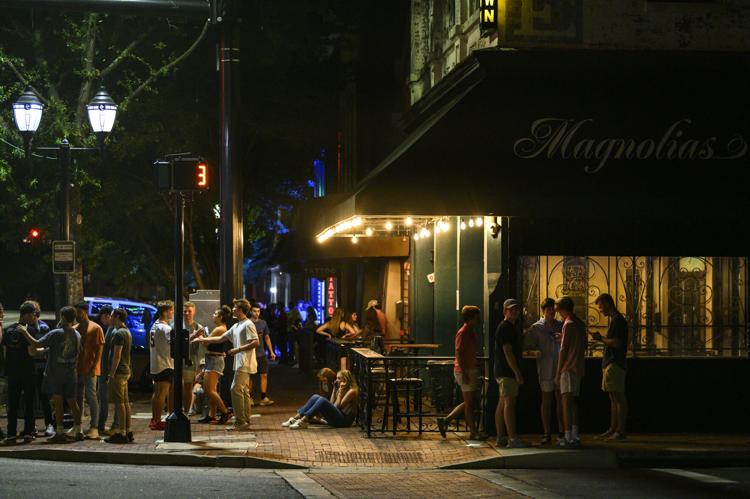 With little to no social distancing and few masks in the streets of downtown — does enforcement fall to the the ACCPD officers who are checking bars for COVID-19 violations? Or the door men, some of whom are keeping a count of capacity numbers as well as doing temperature checks? Or the patrons themselves?
With regulations from the state and local emergency ordinances in place the expectations of safety have been set in ACC. "We don't need more laws we need to enforce the ones that we have," Harr said.