The calendar on the wall of Megan Makin's fifth grade classroom is still stuck on March 2020. In-person classes shut down due to the COVID-19 pandemic in the middle of that month. It has yet to resume in the Clarke County School District.
Makin and her fellow teachers returned to their classrooms this summer to prepare for the start of virtual school on Sept. 8. Other than the calendar stuck in time, Makin updated her Oglethorpe Avenue Elementary classroom to fit the moment.
On Thursday, she sat facing a computer perched on top of a ream of printer paper and a book of reading lessons. Desks surrounded her on three sides, giving her easy access to teaching materials. With no students in attendance, the desks were otherwise useless.
"I had to make it where I can reach everything I need," Makin said. "[Adjusting to online school] took me longer than it took the kids."
The start of school hasn't been smooth for everyone. Some students lack internet access, others struggle to endure a full day of class on Zoom. CCSD Communications Manager Beth Moore said Thursday that the district wants to offer in-person school for some students soon. She declined to give a time estimate.
As the district adjusts and makes plans, The Red & Black toured Oglethorpe Avenue Elementary School and Clarke Central High School to get a better sense of how teachers are managing the current situation.
The chairs are stacked, the bus stops empty and the hallways silent — school during a pandemic doesn't look the same.
Long, hard day
The first step is to show up to class. For some students, that's easier said than done.
According to CCSD's reopening plan from an Aug. 5 town hall, elementary school students were supposed to attend class from 8:30 a.m.-3 p.m. Lunch was scheduled for 11 a.m.-12 p.m. Makin said she loses about 10 of her 60 students after lunch. Two of her students haven't shown up at all since school started. Others log into Zoom at 7:30 a.m., ready to get started.
"At the beginning of any school year, it's hard to engage in school for the entire school day," Oglethorpe Avenue counselor Christina Cotsakis Cordon said. "It's a long day, no matter if we're in person or online. I think parents are feeling that, especially because they're seeing it."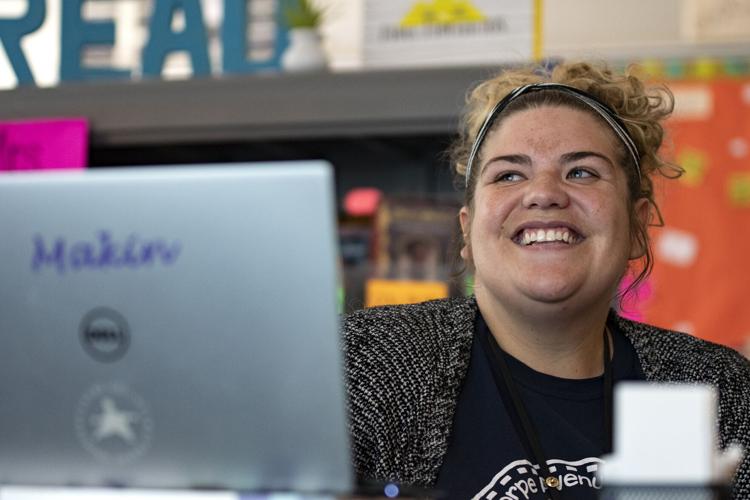 Oglethorpe Avenue principal Bipul Singh said the virtual model has worked for 95% of kids. Six Oglethorpe Avenue students lack home internet access, Singh said. A school employee delivered a packet of instructional material to the homes of those who can't find an alternate location. A teacher is assigned to make a daily phone call to each student without internet.
There is 96% attendance at Clarke Middle School, according to support teacher Chris Woodward. The district hasn't released attendance numbers or administered any surveys since school started. It did, however, ask for general feedback in this form.
Jami Mays said the school day was originally too long for her son, a kindergarten student at Oglethorpe Avenue.
"I don't want to do that again," he told her on the first day.
Mays, a former Montessori school teacher, allowed her son to skip virtual school. It was too much, she said. He now attends a learning pod with neighboring students in a garage.
She expected parents to either opt out or "give themselves all ulcers" trying to keep their kids on task. Now, however, there's another option. On Friday, Mays met with Singh on a Zoom call. He told her the school day for kindergarteners at Oglethorpe Avenue was revised to 8:30-11 a.m.
Mays appreciated the change but still wants to see clearer guidance from the district.
"The inaction on the district's part to create a framework for any of this is causing the scurrying that's happening on the school level," Mays said. "It's also exacerbating the inequities. So from school-to-school, there's still those differences."
Attempting to engage
Jessie Garcia's first grade class was supposed to be learning the months in Spanish. After a song listed them all, she asked her students about the current month. No response came. The kids were busy moving around or eating a snack.
"Estamos en Septiembre," she said, answering her own question.
Garcia wasn't the only teacher trying hard to get a response. Marco Messorri asked his second grade students if they were listening, calling on them by name. He made gestures with his hands, and students responded by repeating his movements.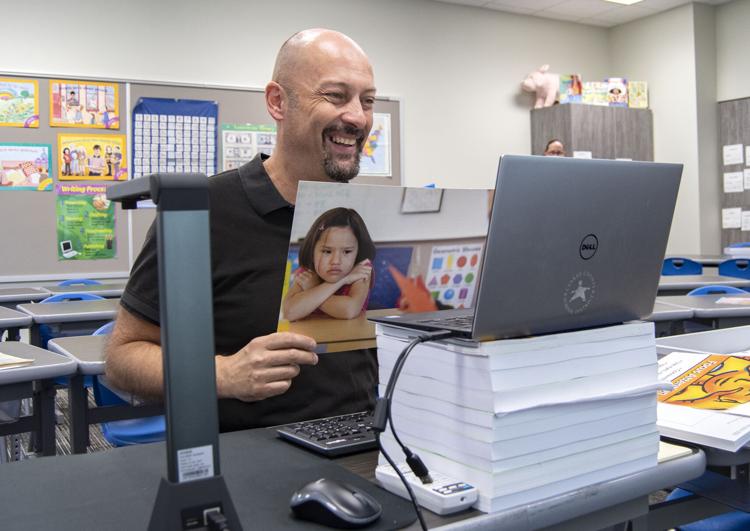 The workload can be difficult for educators. At Oglethorpe Avenue, one teacher brought a snack to a colleague having a hard day.
"This time is a new challenge," Singh said. "Teachers are very people-oriented. Not having that human interaction is challenging for them emotionally. We have to go the extra mile to create that comfort for them to be OK so that they can make sure children will be OK."
Most of the students in Scott Swain's physics class at Clarke Central had their camera turned off. After writing out a problem on the board, Swain asked his students for an answer.
"What is the velocity?" Swain said. "Type it in the chat. And I want to see everybody."
He became concerned that students were borrowing the same answer but decided to let it go.
"I'm seeing 23," Swain said. "23 is right."
It might not be like this for long
Declining COVID-19 numbers have CCSD officials planning for a possible return to the classroom. Moore said the school district recognizes they must work in tandem with the University of Georgia, which reported a spike in COVID-19 cases upon reopening campus.
Since then, however, numbers at UGA have declined for two weeks in a row. UGA reported 163 new COVID-19 cases from Sept. 14–20.
"The dialogue from parents is changing," Moore said. "People didn't know what they didn't know."
Moore said a return to in-person classes could come before Athens dips below 100 COVID-19 cases per 100,000 people, the initial stated goal. In the last two weeks, there were 316 confirmed COVID-19 cases per 100,000 Athens residents, according to the Georgia Department of Public Health.
The district has a lot to consider while trying to reopen classrooms. COVID-19's disproportionate impact on racial and ethnic minority groups should be a factor in the decision, Clarke Central principal Swade Huff said. Approximately 80% of CCSD students are minorities, including 49% African-American.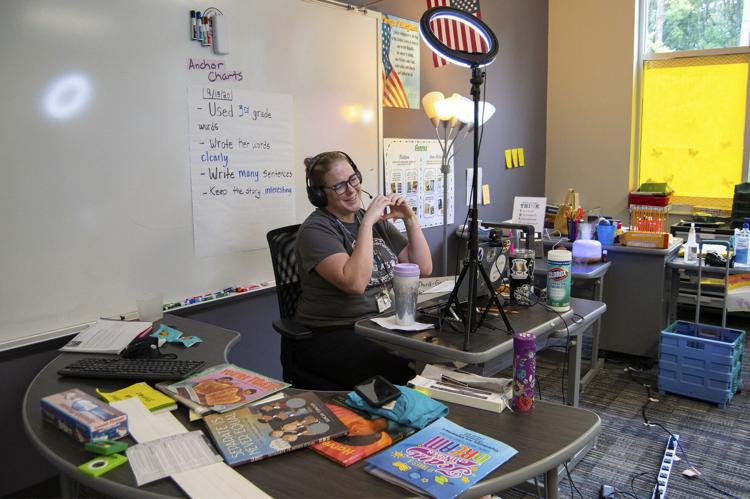 Maureen Bishop said she isn't comfortable with a return to in-person instruction. She said a hybrid option could stretch teachers thin and potentially compromise the health of Bishop's daughter, who had open heart surgery when she was 3-years-old.
"I feel like CCSD is going to be pressured to open because parents feel like digital learning isn't working or they have scheduling problems with work," Bishop said. "And that's all very valid, but I think the primary concern needs to be health and safety."
Virtual school isn't always easy, but it also isn't always frustrating. Bishop's daughter has enjoyed her first weeks of kindergarten at Chase Street Elementary. She loves dancing to the music and using her glue sticks, scissors and crayons to craft a flower, Bishop said.
"She's been really engaged with virtual learning," Bishop said. "She's been happy about it, excited about it. The teachers have been doing a really good job. I feel like it's been going better than expected for us."