Lee-Arrendale State Prison feels like being in a high school. Hallways of counselor offices lead to classrooms filled with eager, chatting students waiting for class to start.
However, the reality is this is a maximum security prison in Alto, Georgia, an hour north of Athens. These eager students are female inmates, taking advantage of programs aimed at disrupting the monotony of life behind bars.
On the bottom floor of the prison's Academic School is a concrete room covered with posters and filled with learning materials — minus a community computer, which was taken away for unknown reasons. This is where 20 inmates participate in the Georgia Prison Beekeeping Program.
"I just thought that I knew a lot, I have learned so much more by being in this class," said one inmate involved in the program. "Not only do you learn about anatomy and how the hive works and them being social insects, you have a new respect for what goes on inside that hive."
The program began in 2014 when beehives were implemented at the all-male Smith State Prison after a group of inmates and supporting prison officers requested to expand their existing course that had been in development since 2012.
Bear Kelley, former president of Georgia Beekeepers Association, and Jennifer Berry, lab manager in the University of Georgia Bee Lab, met with the former Georgia Department of Corrections director of vocational and post-secondary education to officially plan the program.
In May 2015, the first beekeeping certification test was given at Smith State Prison. Later that year, Arrendale joined the program with six other prisons following suit. Kelley, Berry and others behind the project have since then enlisted the moral and funding support of local bee clubs around the state.
Equipment for managing the hives, and the bees themselves, come from donations or out-of-pocket funding from volunteers and instructors. Classes are held early Tuesday and Thursday mornings.
"They are so desperate to learn. They absolutely love this program," said long-time volunteer instructor at Arrendale, Julia Mahood. "You know, there's not a lot to do in prison, and you kind of have to make your own life."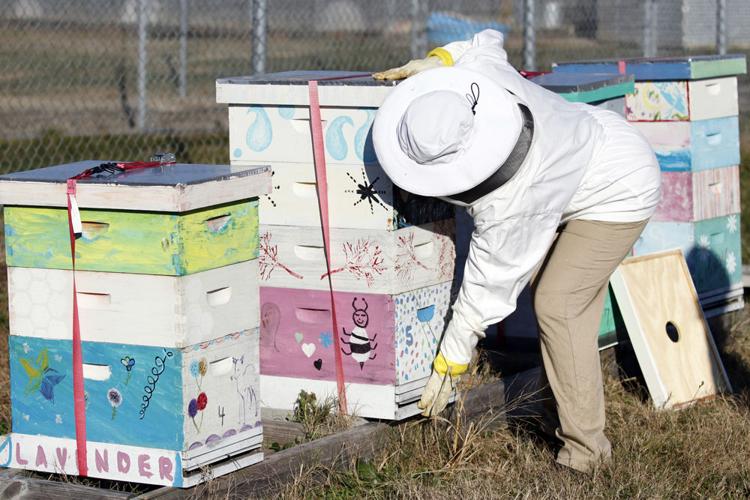 When Mahood is on the "outside," as she calls it, she is a freelance artist and master beekeeper, the third level of beekeeping certification. On Tuesday mornings from 8:30-11:30 a.m., she provides a valuable resource to a group of about 20 women committed to the beehives — and their winged residents — out back.
"I care about these women a lot," Mahood said. "I come here for them."
What goes into the honey
Only women who have clean disciplinary records since being incarcerated are permitted to enter vocational programs offered at Arrendale, Berry said. Since the program started about three years ago, Mahood said members have occasionally dropped out, but overall there is immense enthusiasm for what the program offers.
Berry is in accordance, based on her observations at the different prisons.
"Once they start learning, they're like sponges," Berry said. "A lot of these women and men had never been exposed to science … I think it just kind of opens up a whole new world for them."
Jennifer Defillips, social services program coordinator at Arrendale, said the program has provided an outlet for a few former "troublemakers" whose behaviors have improved dramatically since joining.
In the beekeeping world there are four levels of certification determined by experience, public service requirements and written and practical tests. Five inmates at Arrendale became the first women in prison to achieve Journeyman status in spring 2018, the second level of certification followed by Master and Master Craftsman Beekeeper status.
More than 80 inmates in the program have become certified beekeepers.
At Arrendale, it takes 10 locked doors to get to the beekeeping classroom. Prison officers must give volunteers the all-clear if they are to take inmates out to the hives.
It's a waiting game for a group of beige-clad women who have no choice in the matter.
"We worry. [The bees are] living things, and we worry about them. We worry about them all the time," said the inmate first mentioned.
This inmate has been involved in the program since the beginning and is getting ready to take her Master Beekeeper exam this spring. Her involvement stems from a long-time appreciation of the outdoors and all it's "creepy crawly flying things." Plus, she said, Arrendale's bees are the cutest.
Another inmate also moving on to her Master certification said the group sometimes faces restrictions. If the weather is bad outside, inmates may not be allowed to visit the hives. If not enough staff members are available on a given day, the academic school may not even open.
During their first year, the group said they lost one whole hive to bee death after the harvesting season, which typically occurs from March to mid-fall.
They decided to harvest less honey from the hives following the incident, allowing the bees to keep some honey — their food source — for the winter months where they cluster to keep warm.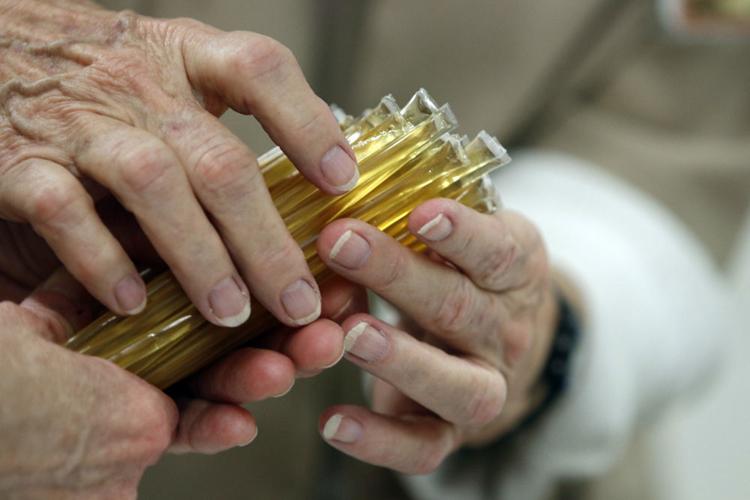 The Arrendale group tries to stay involved during the winter by studying and doing general housekeeping activities. The hives are to be left alone until it gets warmer outside, with the exception of occasional feeding using candy boards — boards covered in sugar that aid in honey production.
A future unknown
Berry said many of these inmates involved in the program are serving life sentences. Some Arrendale inmates attested to the fact. However, others plan on using the skills they've learned in their next life once released.
"I didn't want to get that involved because I'm going to be one of those backyard of the house type beekeepers," said another inmate who's been involved for two years but plans on switching into the electrical program. "I think most of us are going to be backyard, nobody really wants to go into the commercial … It's a lot of work."
The beekeeping program mainly relies on volunteers like Mahood and commercial beekeeper Virginia Ann Webb, but inmates who have experience with the hives have also become vital to its survival. They teach the newcomers what they know and act as in-house teachers when volunteers can't make it.
All members must be consistent with their participation in the course in order to pass the certification tests. Inmates host information sessions in their dorms about bees and beekeeping, publish a newsletter that gets distributed inside the prison, participate in honey-tasting competitions and study the best they can with the materials brought in by volunteers.
It pays off. Berry said the inmates at all participating prisons have a 100 percent passing rate on their exams with many of them receiving a score of 90 percent or greater overall.
In order for the program to continue, Berry thinks a full-time position needs to be established by the state legislature to ensure constant oversight instead of keeping responsibility in the hands of busy volunteers.
Mahood said program coordinators are trying to find outside funding for this kind of position as a potential solution.
With an already existing shortage of prison officers, Mahood said it's unlikely that a full-time staffer will be introduced.
Regardless of limitations, the program continues for now. The bees keep buzzing, and the inmates continue to care for and be fascinated by them.
"If you could teach people the social behavior of the honeybee and how they interact and what they do and how hard they work and everything is for the benefit of the whole colony," an inmate said.
---
Editor's note: Arrendale staff did not permit the use of any inmates' names involved in this program.
---
Correction: In a previous version of this article, The Red & Black misidentified the city in which the Lee-Arrendale State Prison is located. The Red & Black regrets this error, and it has since been fixed.