Masks, gloves and sanitizing wipes have all become common sights as people use them as protection against COVID-19. While the pandemic has made them crucial everyday supplies, they also have an effect on the environment. COVID-19 is causing negative environmental effects around the globe and in Athens.
Plastic problems on campus
Lla Anderson has seen UGA go through many sustainability challenges in her four years as a student, but she said the environmental effects caused by COVID-19 have been the most prevalent.
"I see the green containers for the meals just littered around campus. I also see those masks, a lot of masks, reusable ones and the disposable ones that are littered on the ground, and they're not recyclable," Anderson said. "It's a problem."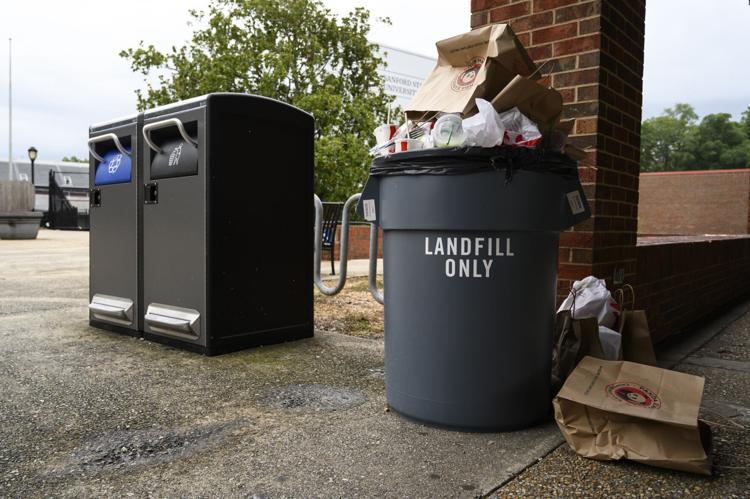 When students get a meal to-go from UGA's dining halls, they used to get a reusable container along with a set of plastic utensils. Students were meant to return the green plastic containers to the dining halls, where workers cleaned the boxes so they could be used again.
Students won't be seeing the reusable boxes in the trash anymore. UGA decided to stop using them because students weren't returning them to the receptacles, instead leaving the boxes in "hallways, common rooms, and on top of trash cans," according to an email sent Monday by Dining Services.
Now, the dining halls will use cardboard boxes for to-go food. The boxes are environmentally friendly, according to UGA. Cardboard with food residue on it isn't recyclable.
Anderson wasn't alone in seeing the containers piled around campus. Vanisha Kudumuri, a sophomore living on campus, said it was "really unfortunate" that students weren't returning the boxes to the dining halls and the university isn't using them anymore.
"I actually liked the reusable ones because I would always return them, but I know I've seen some of them in trash cans. And that's definitely not the school's fault, it's on the students, but it still sucks," Kudumuri said. "I liked that the reusable option was there."
Face masks have become a daily sight across campus. Everyone is required to wear a mask when inside UGA buildings or other enclosed areas. Many students use reusable cloth masks, but disposable surgical masks are also a popular option. Anderson and Kudumuri said they've seen both reusable and disposable masks littered around campus.
Global impacts
Jenna Jambeck also noticed an increase in litter from disposable personal protective equipment. As an environmental engineering professor who specializes in plastic waste, it's her job to study the waste stream.
Her observations span further than Athens — Jambeck studies plastic waste in the global ecosystem. She said that increased litter from PPE was evident just one week after the pandemic reached the U.S. and everybody began using it.
Jambeck emphasized the necessity of PPE for people working in health care and said although there has been a definite increase in litter from disposable PPE, it's unclear whether there's been a net increase in plastic pollution due to COVID-19.
At the beginning of the pandemic, waste from businesses decreased and waste from homes increased as people stayed home. Now, because people still may not be going out as often as they used to, there may be less of a chance for them to produce plastic waste that ends up as litter, she explained.
"I would say globally, those materials ending up in our environment has definitely increased," Jambeck said. "It's two sides of a coin, I guess, in this scenario where I think the weight has just shifted in terms of where it's generated."
Jambeck emphasized the importance of the effect that daily activities have on the environment, a point that Marshall Shepherd, director of UGA's atmospheric sciences program, echoed.
Shepherd cited a study from Stanford University that reported a 17% decrease in carbon dioxide emissions during the global shelter-in-place orders tied to the pandemic. He said there was also a decrease in air pollution and smog.
Shepherd stressed that the pandemic shutdown illustrates the effect that human activity has on the amount of carbon dioxide and pollution in the atmosphere. "This will in no means … be a permanent decrease in either," he said.
"These short term declines in CO2 and so forth illustrate that we can do something about the climate crisis, because our reduction in certain things can have an impact. But it's unlikely that the short term decreases are going to turn this very big ship called climate change after only a few months of reduced activity," Shepherd said. "We need long term sustained reductions in order to really turn the ship on climate change."
Next steps
Although the pandemic has brought environmental challenges along with it, there are ways for UGA students to reduce their impact.
Anderson, Kudumuri and Eshaan Agrawal all suggested reducing the use of single-use plastics in the dining halls and in everyday life. Agrawal is the president of Greenability, a club at UGA that aims to promote sustainability on campus.
Reusable masks, water bottles and utensils can all decrease the amount of plastic that's going into the environment.
Jambeck said to be mindful of how much waste you're producing and to be on the lookout for ways to reduce and recycle. She also suggested using the Marine Debris Tracker app, which she developed, to map litter in the environment. Users log every piece of litter they see to provide a comprehensive picture of marine debris and plastic pollution.
Reducing your carbon dioxide footprint also helps the environment. Anderson and Kudumuri recommended walking or biking instead of taking the bus or driving.
"There's nothing good about this pandemic, but if there's something we can learn about it from the climate perspective, it is that … human activity does impact the global climate system through increased CO2," Shepherd said. "By shutting things down, we were able to reduce that. We don't want pandemics to force us to have to do that — we need action and policy changes and so forth to help us do that."