The Red & Black will be following results of the general, primary and special election as they are announced throughout the day. Reporters will be at polling locations and watch parties around Athens for exclusive coverage. Check back for updates all day about each political position up for election today.
12:15 p.m. All votes have been tallied and finalized. 
Several commissioner seats have been taken over by newcomers, whereas others, such as Melissa Link's seat, have remained in tact. More information about these candidates and future district representatives is available here. 
The Clarke County Board of Education will be welcoming two new members to their board, with the other three seats having run unopposed. Kara Dyckman and LaKeisha Gantt were both elected for seats on the board. Details and background for this race can be found here. 
For the 10th Congressional District of the U.S. Representatives, Republican Jody Hice will be up against Democrat Tabitha Johnson-Green in the general election. Hice, the incumbent for this position, won by a large margin against his opponents, Bradley Griffin and Joe Hunt. 
Johnson-Green acquired approximately 50 percent of all votes, whereas her two competitors, Chalis Montgomery and Richard Dien Winfield, acquired approximately 25 percent of the votes each. 
For the Superior Court Judge seats of the Western Circuit, Lisa Lott overtook incumbent Regina Quick and incumbent Eric Norris beat his opponent, Allison Mauldin, by a small margin. 
Republican David Shafer will be against Democrat Sarah Riggs Amico for the lieutenant governor position in the general election in November.
11:15 p.m. Kelly Girtz has been announced as the next mayor of Athens-Clarke County. 
In his speech to attendees of his election watch party, he thanked God, his family and his friends. 
"You have blessed me with the opportunity to fill this seat, but this seat does not belong to me," Girtz said. "This seat belongs to each and every one of you. This is your seat, this is your town, this is your time."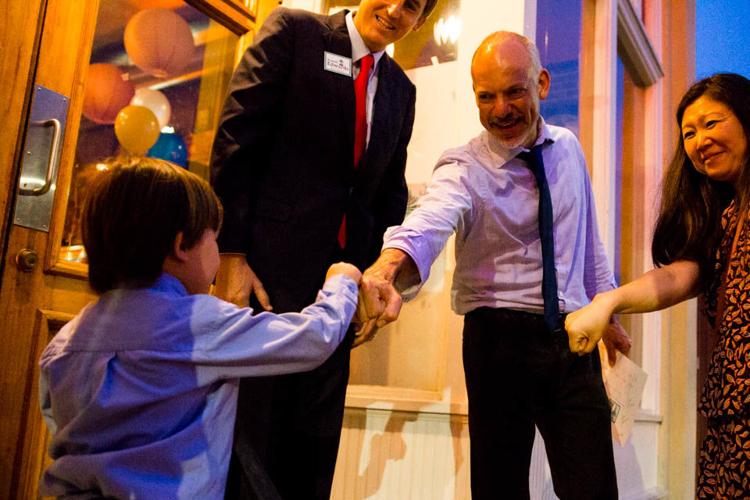 For county commission seats, incumbents Jared Bailey for District 5 and Sharyn Dickerson for District 1 have both lost their roles in local government to newcomers. 
Tim Denson will assume the District 5 seat and Patrick Davenport will become the District 1 county commissioner. 
10:30 p.m. Republican gubernatorial candidates Brian Kemp and Casey Cagle are expected to participate in a run-off election this July because neither candidate received the majority of the votes. 
Currently, with 121 out of 159 counties reported, Cagle has 38 percent of the votes whereas Kemp has 26 percent. 
Their opponents, Hunter Hill, Clay Tippins and Michael Williams, have 18, 12 and 5 percent of votes, respectively. 
10 p.m. Kelly Girtz is holding a significant lead for mayor against his opponents, Harry Sims and Richie Knight. 
Stacey Abrams, a Democratic candidate for governor, has been determined as the winner in the primary election. She has now made history as the first black woman to be a candidate for Georgia governor. 
Mariah Parker, a candidate for the District 2 county commissioner seat, is leading the race against her opponent, Taylor Pass, by more than a 30 percent margin. 
Carol S. Williams, the incumbent for the Board of Education District 7 seat is leading by more than a 15 percent margin against her opponent, Lakeisha Gantt. 
Imani Scott-Blackwell and Kara Dyckman are running close in the District 5 Board of Education seat with Dyckman holding a slight lead in front of Scott-Blackwell. 
9:30 p.m. Clarke County is now beginning to report initial voting results for the local elections. 
Mayoral candidate Kelly Girtz has 64 percent of the 2,638 votes that have been recorded at this time. Harry Sims has approximately 27 percent of votes and Richie Knight has 8 percent. 
For county commissioner seats, District 3 is reporting a near 50 percent lead in votes for incumbent Melissa Link against her challenger, Tony Eubanks. 
For District 5, Tim Denson has a slight lead ahead of incumbent Jared Bailey. Both have more than a 10 percent advantage in votes against their challenger, Danielle Benson. 
Russell Edwards is leading the election for the District 7 county commissioner seat with approximately 49 percent of the 658 votes recorded at this time. His opponents, Carl A. Blount and Bill Overend have 39 and 11 percent of votes recorded, respectively.
Voting results for all other positions have not been documented yet. 
9:15 p.m. It's now been two hours after the polls have closed and Athens-Clarke County has not reported any voting results as of now. Abrams and Cagle are both still ahead in their partisan primaries for Georgia governor. 
Johnson-Green and Hice are also still leading their races with a notable gap between their opponents.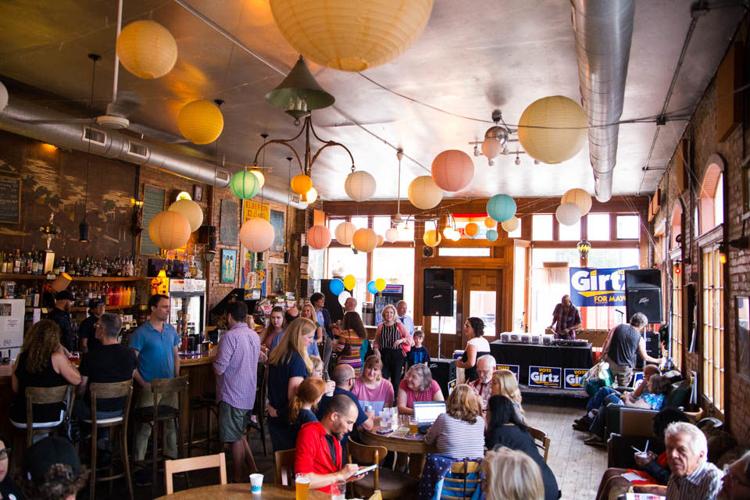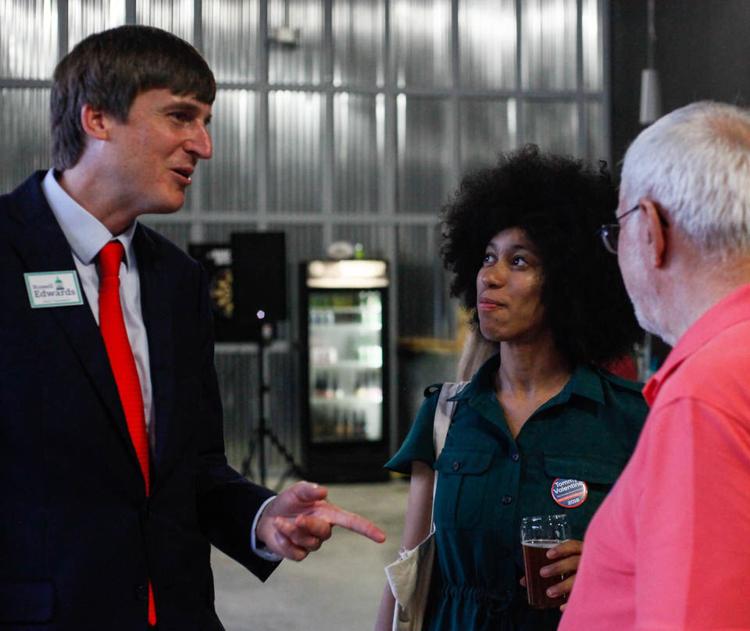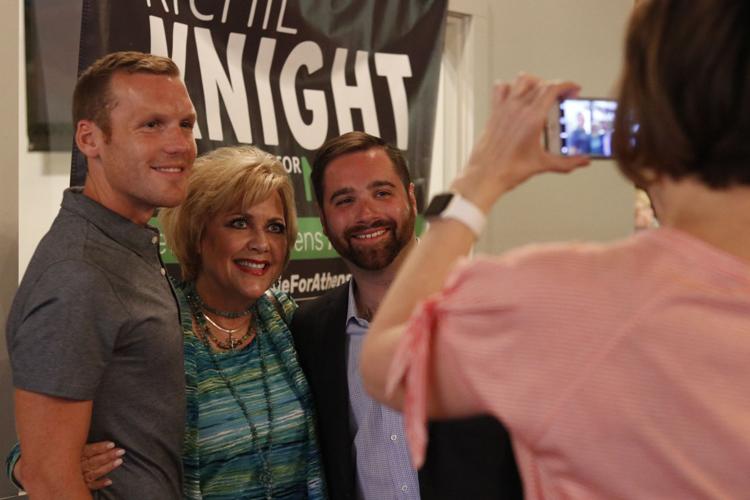 8:30 p.m. With Cagle and Abrams still in the lead for their respective primary elections, results for the U.S. Representative District 10 seat have begun to come in. 
Currently, Tabitha Johnson-Green is leading the Democrat primary race with 52 percent of tallied votes. Chalis Montgomery has 25 percent of the votes while Richard Dien Winfield has 21 percent. Approximately 6,000 votes have been tallied with 8 percent of counties reporting. 
For the GOP U.S. Representative District 10 race, incumbent Jody Hice has a vast majority of votes against Bradley Griffin and Joe Hunt. Hice is pulling in around 80 percent of the13,402 votes that have been recorded from the 8 percent of precincts reporting. 
For the positions available for Superior Court Judge in the Western Circuit, incumbent Regina Quick has a 30 percent lead over her challenger, Lisa Lott. Incumbent Eric Norris also has about a 30 percent advantage over his challenger, Allison Mauldin. 
At the election watch parties, candidates are speaking with voters about their reasonings for running and their appreciation for the community's support. 
"This is my first go round, [I've] been real involved in the community for five or six years and saw an opportunity for someone with a different perspective to come in and help lay down a vision that could help move our city forward," said mayoral candidate Richie Knight at his election watch party at his downtown business, HW Creative Marketing. "Anytime someone from my campaign was canvasing, I was there. I've probably knocked on about seven or eight thousand doors in the past couple months."
Brian Kemp, a Republican gubernatorial candidate, invited his friends and family to watch the results come in at the Holiday Inn in downtown Athens. 
"I love that he's taking a stand with his campaign and especially with his commercials," said Joan Rhodan, an Athens local and family friend of Kemp's. "He's proving he is a strong and driven candidate and exactly someone Georgia needs." 
Reporting from the Athens For Everyone Watch party at 40 Watt. Tim Denson, a candidate for District 5 Commissioner, said the first thing he would do if elected is "establish an Athens Civil Rights Committee." @redandblack pic.twitter.com/VfD26DcYGk

— Joe D'Ambola (@JoeDAmbola) May 23, 2018
8 p.m. Results are beginning to come in. 
Though Clarke county has no numbers to report as of yet, counties throughout the state have began calculating votes for the Republican and Democratic gubernatorial primary election. 
As of now, Casey Cagle is leading the Republican race with 42 percent of the 20,639 votes documented. Brian Kemp is second in the Republican race with approximately 27 percent of the votes. 
Stacey Abrams is leading against Stacey Evans in the Democratic primary with nearly 5,000 more votes. 
Only one county has finished their reporting, leaving 158 more counties to go. 
Meanwhile, watch parties in Athens are in full swing as candidates mingle with voters and supporters. 
7 p.m. All Georgia polls are closed and ballots will soon be counted to begin documenting votes. 
Several candidates are celebrating the end of election day with watch parties throughout Athens. A comprehensive list of those parties can be found here.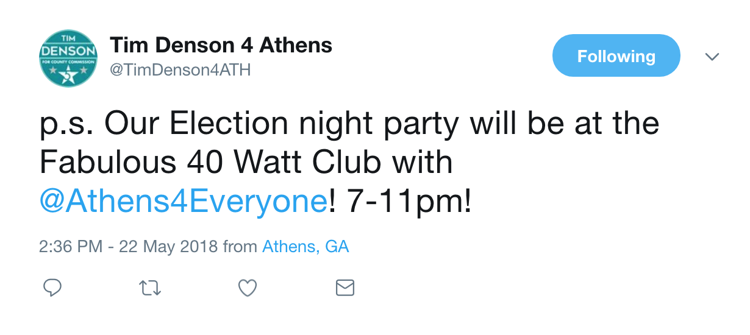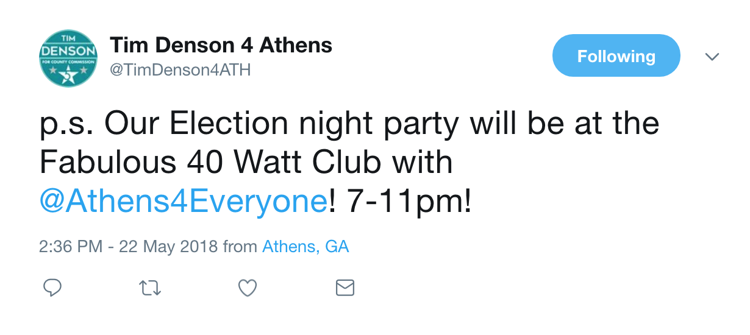 Check back with The Red & Black live blog to be among the first to know who will win in this election.  
5:30 p.m. Board of Elections staff are now counting and tabulating absentee ballots at their Athens-Clarke County Facilities Building location on Lexington Road.
According to Director of Elections and Voter Registration Charlotte Sosebee, around 400 absentee ballots have been received as of 5:15 p.m. 
Absentee ballots will still be accepted until 7 p.m. tonight when all polls close. 
Sosebee said 5,930 early voting ballots had been cast during the early voting period from April 30 to May 18. 
According to the county's website, there are currently 72,753 eligible voters and of those, 63,439 are considered "active" as of January 2018. 
The Board of Elections staff will begin to tabulate all votes at 7 p.m. tonight. 
4:30 p.m. Athens residents have less than three hours left to cast their ballots today. Just between 2 and 3 p.m., around 15 voters passed through the Athens Multimodal Transit Center polling location.
Of the voters interviewed, four said they voted for Stacey Abrams for governor.
Kameron Hunt voted for Abrams based on her popularity in this election.
"I really like what Evans is saying, but Abrams seems like she has more support," Hunt said. I always wanna vote for the person I think I identify with the most, but I think Abrams probably has an actual chance in the general [election]."
Evan Wallace, recent graduate from the University of Georgia, voted for Abrams based on her experience as Georgia state house minority leader and state representative.
"As house minority leader, [she] has a history of working on a more non-partisan basis," Wallace said. "She's got a proven track record of being able to pass legislation with Republicans, and I think that's important."
He also sees her potential election as a victory for black voters.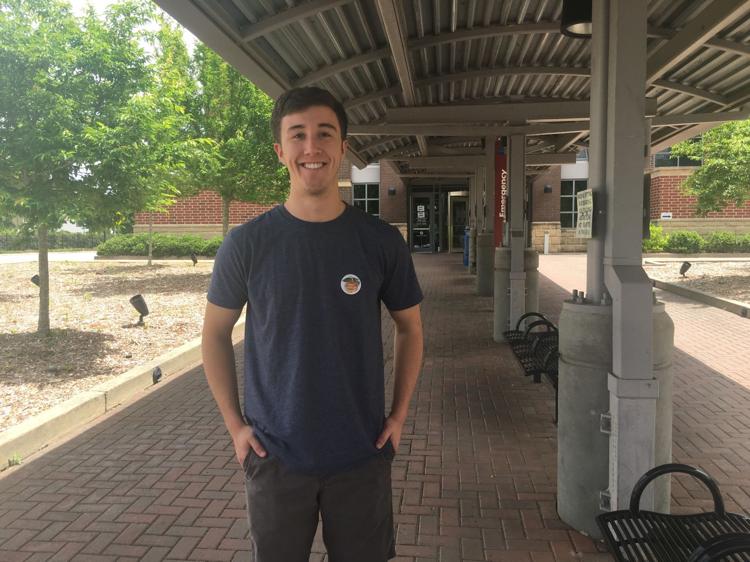 Wallace also voted for Kelly Girtz for mayor of Athens-Clarke County, as did voter Matt Hannum, another UGA alumnus.
Hannum didn't share explicitly who else he voted for, but said he "went down the list" of what the local grassroots organization Athens for Everyone endorsed for the Democratic ticket.
Two of the voters interviewed voted for Harry Sims for mayor, and one refrained from voting for the mayoral position due to being "well-informed."
Michelle Brittain, Athens resident and Democratic voter, voted for Sims because she likes his plans for Athens-Clarke County and "making it a better place."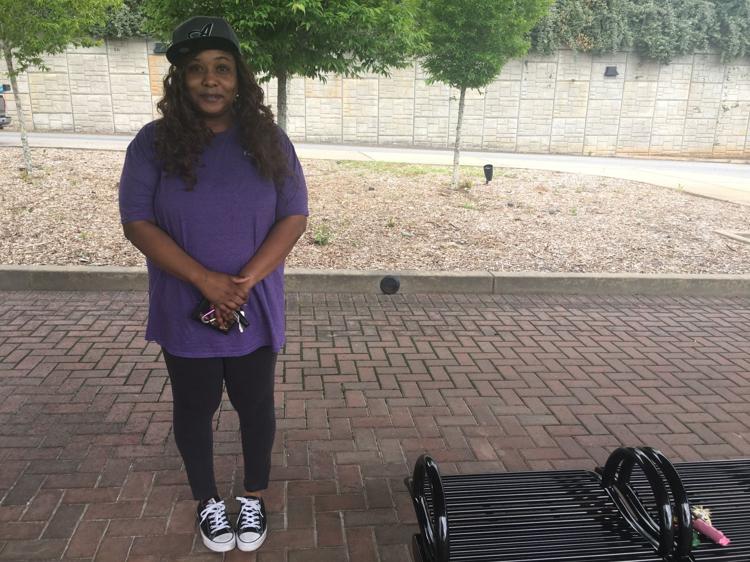 Dana Fingerle voted for Sims, who he said is a friend of a friend, under the Republican ticket.
Fingerle voted for Republicans "straight across the board" because he was unhappy with Democrats who have been recently elected into office.
"Democrats this year have caused me to never vote for Democrats ever again [because they are] being sore losers," he said.
No matter the party, the action of voting was seen as important for several residents throughout the day.
"I view it as a use it or lose it kind of thing," Hannum said. "Whether you are a CEO or not, as long as you have the right to vote, you have some say."
12 p.m. Supporters of various candidates have gathered outside of polling locations to support their candidates. They hold signs and are eager to chat with those coming to vote on election day.
GOTV for #WinfieldforCongress on Election Day in front of Chase Street Elementary with other candidates and supporters. He's running for #US Congress from #GA10 and he's the best. Saying it and not just as his wife. pic.twitter.com/f5oMlhiX7I

— Sujata Winfield (@SujataGuptaWinf) May 22, 2018
Supporters of different campaigns are standing near polling locations to get votes out for their candidates. #gapol #ElectionDay @redandblack pic.twitter.com/yj1DTJyYkT

— Erin Schilling (@erinschilling85) May 22, 2018
10:30 a.m. With polls having only been open for three hours today, crowds are just now getting out to start voting. Several candidates and campaigners have taken to social media to encourage local residents to cast their ballot before polls close tonight at 7 p.m. 
It all comes down to today. A huge Thank You is owed to everyone who helped us get here: Everyone who shared their time, their resources, their talents, and reminded me why Athens is such a special place to live. This Election Day, use your vote to make it even better. pic.twitter.com/61jMTCHdOL

— Mariah Parker (@MariahforAthens) May 22, 2018
It's Election Day! Today, we have important elections up and down the ballot. Very few people at my polling location this morning in Athens. Every vote counts!

For voters in District 117, while I'm unopposed in the Republican primary, I'd be grateful for your vote and support. pic.twitter.com/T4YaiTQjLM

— Houston Gaines (@houstongaines) May 22, 2018
7 a.m. Polling locations throughout Athens are now open until 7 p.m. tonight. Click here for a full list of polling locations or here for an interactive precinct map.
Before going to the polls, check out The Red & Black's coverage and tips on how to be an informed voter.
---
Ashley Soriano, Tony Walsh, Joseph D'Ambola and Maggie Holland contributed to this blog. 
---
Correction: A previous version of this article misidentified the race in which U.S. District 10 candidates Jody Hice and Tabitha Johnson-Green and lieutenant governor candidates David Shafer and Sarah Riggs Amico will be running in next. The Red & Black regrets this error and it has since been corrected.