A longstanding disagreement between popular brunch spot Mama's Boy and its 68-year-old neighbor has become political this year, resulting in an escalating battle between signs. 
Brunch connoisseurs may have noticed a "Donald Trump 2016" sign previously planted outside near the line between Mama's Boy and Warren Blackmon's property went missing. 
It was later discovered the sign had been stolen by Robert Young Hagwood, a 44-year-old employee at the restaurant, who said he felt the sign "reflected poorly on the business," according to an Athens-Clarke County police report. 
Blackmon said the theft was an attack on his free speech and pressed charges against Hagwood for theft by taking. 
Since then, a new Trump sign has appeared, taking the place of the stolen one. 
Blackmon said it was never his intention to disrupt Mama's Boy's business, and he only wants to exercise his first amendment right. He also said his signs have continued to disappear even after the original incident with Hagwood.
However, Mama's Boy co-owner Cooper Currin said the sign debacle has a "long history" that goes beyond the one incident.
Since the restaurant's first year, Currin said Mama's Boy has been pushing back against Blackmon's decision to fly confederate flags, during Confederate History Month, on the vacant plot which he owns beside the restaurant.
Mama's Boy tried to combat the negative attention it brought the restaurant by putting up a sign informing passerbys that it was "not our flag," as well as through Facebook posts. 
In a 2012 interview with The Red & Black, Currin called the flag a "symbol of hatred." In a recent interview, Currin said she still remembers the event, and the messages she received from both sides after the flags came up.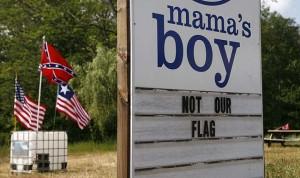 Now, Mama's Boy is taking a more humorous approach with the Donald Trump sign. When the signs were put up, the restaurant responded with a sign of their own that read, "Bacon and Biscuits 2016."
The sign was the work of the social media manager Keela Singelton, who said the sign has helped Mama's Boy employees and patrons understand the restaurant will not be taking sides this election season. 
"I just decided with everything that was going on recently, not just here but in Athens in general with the political climate being so intense here, [to put up the sign]," she said. "It also says what we're about. Plain and simple, we are a breakfast place."
Jazmine Griffin, a junior finance student at the University of Georgia, was on her way to brunch at Mama's Boy when she noticed the signs.
"Everyone can have their own political opinion, but I was hoping they weren't Mama's Boy signs," she said. "It didn't seem like something they would do."
Griffin said she would feel hesitant to dine at a restaurant displaying a Trump sign. But other patrons said they would not care if the restaurant was promoting a political agenda or not. 
"They're a privately-owned business," said Haley Andrews, a sophomore early childhood education major. "I'm just here for the great breakfast."
Blackmon, who said he will continue to put up the signs, did not comment on whether he found the Mama's Boy sign humorous, but did say his central message was that everyone should vote. 
"I just want people to vote, and I think Trump is the best candidate. That's why I put up those signs," Blackmon said in an interview with The Red & Black.
As for Currin, she said for now, the sign will serve as a reminder of the restaurant's central purpose. 
"We want everyone to feel welcome. We are serving eggs here," she said. "But if there's one thing that I do agree with Warren on, it's that come Nov. 8, people should vote."