Protesters demanding stricter gun control laws could be heard in cities across the nation on Saturday, March 24, as the March for Our Lives movement took place.
The movement, spurred by the Parkland, Florida, shooting in February, is a student-led initiative that aims to stop school shootings through petitioning and protesting lawmakers across the country.
And while the Athens and Oconee marches didn't quite hit the 800,000 protesters mark that the Washington, D.C. march did, there were still ample crowds.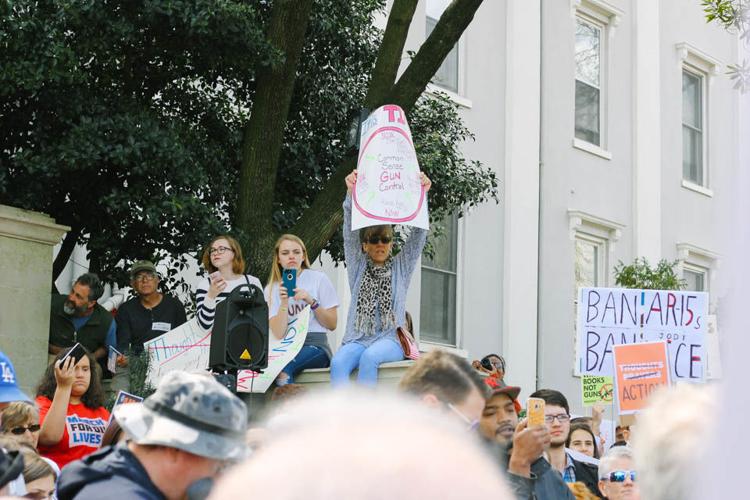 The Oconee March for Our Lives event started at 11 a.m. in the Oconee Veterans Park where members of the community held signs with written phrases such as "How many more must die" and "Enough is enough."
The demonstration ended at 1 p.m., which gave people time to also attend the Athens March for Our Lives demonstration at the Arch, which ran from 1-3 p.m.
A political issue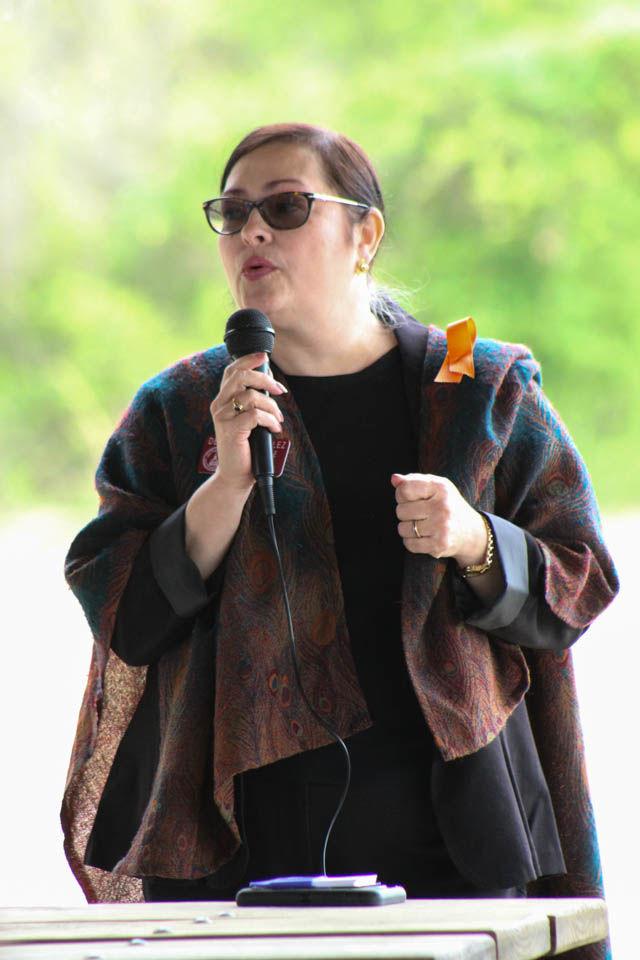 Georgia State representatives John Wallace and Deborah Gonzalez were two politicians who spoke at both rallies.
In Oconee, Wallace said the purpose of the rally was to develop a relationship and to talk about solutions to keep kids safe in school.
University of Georgia senior Mallory Harris, who organized the Athens rally, similarly said its purpose was to educate the community on gun legislation, memorialize the 19 students killed in schools since the Parkland shooting and demand action from state and local politicians.
A major theme of these local protests as well as the national movement was to increase political involvement for students.
Wallace and other politicians encouraged people to register to vote, and there were volunteers on hand to help with registration.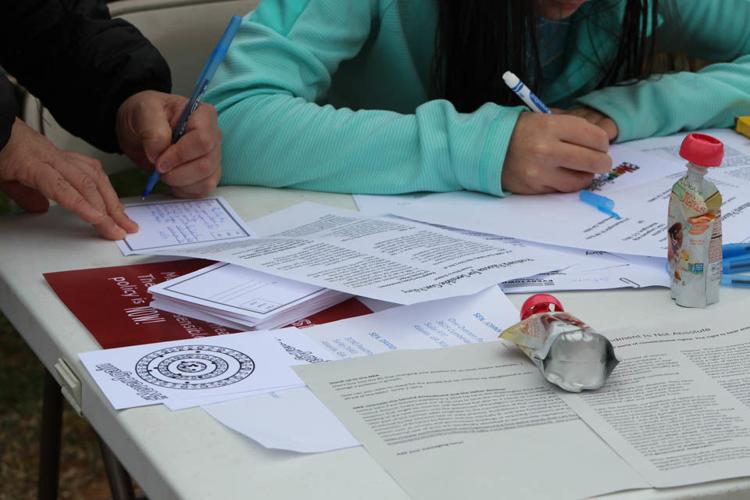 In Oconee, a postcard-making station was set up for attendees to make postcards to send to legislators.
"Our goal is to create opportunities for people to communicate directly to their legislators through postcards, which is not as intimidating as a letter or email or a phone call," said Hilda Kurtz, organizer of the postcard booth.
The politicians present also reassured the community that they will fight for stricter gun laws as well.
Other politicians at a local march included 10th Congressional District candidates Chalis Montgomery and Richard Winfield, Georgia State Senate candidates Marisue Hilliard, Dawn Johnson and mayoral candidate Kelly Girtz.
In the signs and speeches during both marches, there were constant reminders that the people protesting were fighting, not just for general gun control legislation, but specifically for students' safety.
Signs such as "Fear has no place in schools" and "School zones should not be war zones" emphasized the movement's message, but the March for Our Lives movement wasn't notable just for this concern.
The movement was started by students, and students organized or led many of the sibling marches across the country.
"One of these things that I am so proud of are these students who have stood up," Gonzalez said. "On March 14, I was very proud to be a part of a group of legislators that walked out of the chambers in support of them walking out of their schools."
Students voices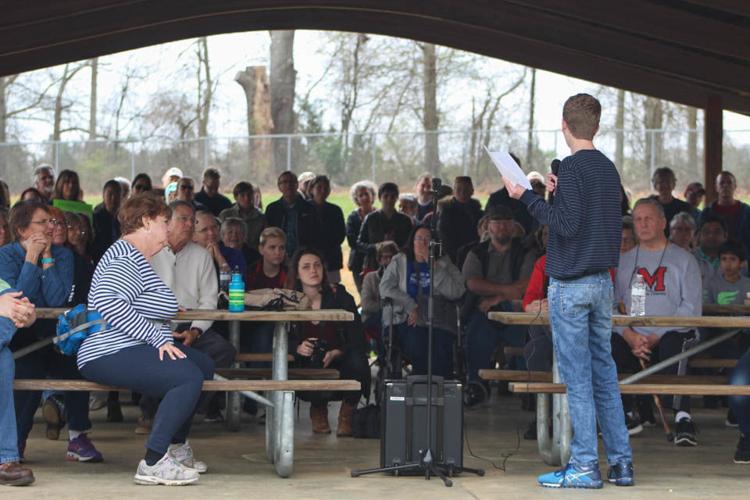 High school students from Clarke and Oconee counties participated in both marches, speaking and rallying along with other supporters. Rallies across the nation saw similar student participation, with Vox citing the Washington D.C. protest as "one of the biggest youth protests since the Vietnam War."
"The common denominator in every one of these mass shootings in schools is guns," said Clarke Central High School sophomore Katie Grace Upchurch to the Athens crowd.
Upchurch cited lack of action from politicians as a reason these school shootings keep happening.
"Because of our incompetent and insensitive representatives that willingly ignore students and our teachers that are dying in a place that is supposed to be safe, warm, and a place for us to grow up, nothing changes," Upchurch said.
Students voiced similar opinions at the Oconee march.
"I am around several students everyday that just don't make good decisions, and I can guarantee you that a student will think they're being funny, they're messing with the guard, maybe they're pretending they have a gun when they really don't, and there will be a guard that shoots a student," said Whit Lill, a North Oconee High School student
The youngest participants in the Athens rally helped with the memorial ceremony for the victims of the Parkland shooting.
Seventeen children, some as young as 5, held up posters with an image of a victim, their name and age in front of the Athens demonstration.
Community support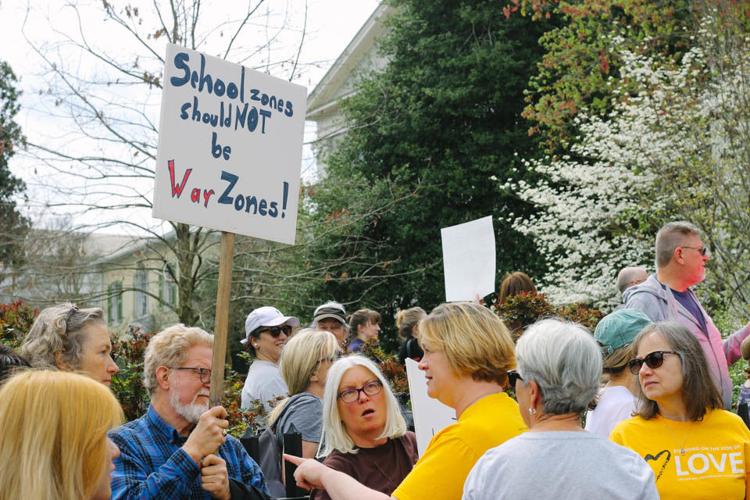 The Athens-Anti Discrimination Movement, a social justice group and one of the organizers of the Athens march, took their involvement in the rallies one step further.
Mokah Johnson, president of AADM, took 17 students and five adults to the Washington D.C. march to participate.
"It was an empowering experience," Johnson said. "The one thing that I did appreciate about the rally is that the kids made an effort to diversify the movement. They made sure they spoke, not just about the mass shooting, but also about issues that happen in the black and brown community."
AADM raised around $7,500 in the two weeks leading up to the march for the expenses of the trip.
"Even with our organization, we always say it's not about a political party, it's about the issues that matter, and they were saying the same thing," Johnson said.
AADM Vice President Knowa Johnson stayed behind to speak at the Athens rally.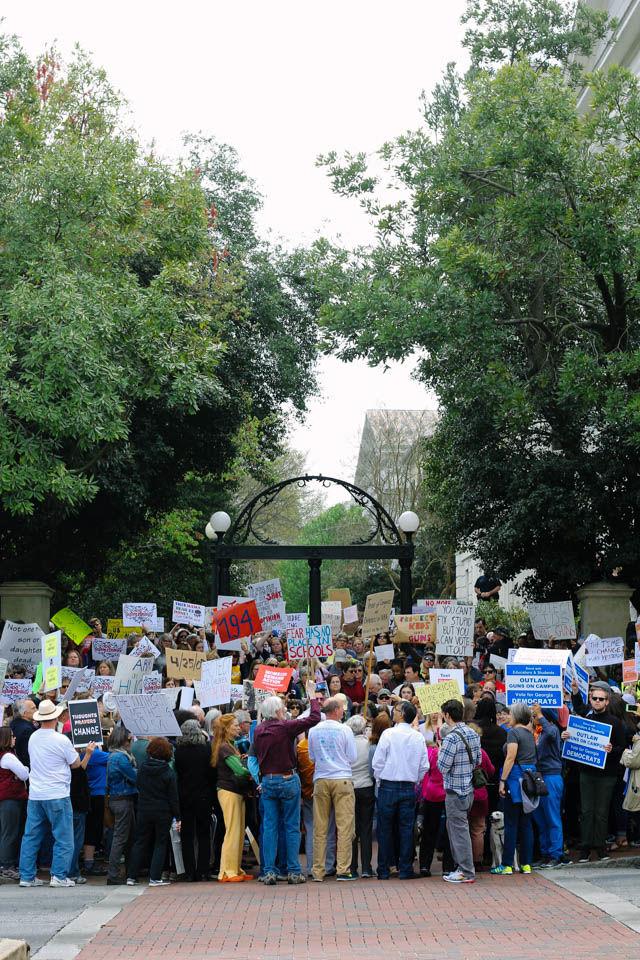 Police had to remind participants to keep out of the road near the Arch.
A small group of counterprotesters were also at the Arch, demanding people to consider issues such as opposing abortions and other radically conservative points. Despite the few in opposition, the demonstrations as a whole reassured some participants that they aren't alone advocating for change.
"You can sit at home and think that for people in the south, everyone loves their guns, but you come out and see that actually there's a lot of people who have the same viewpoints and want to see change and are scared about kids dying in school," Oconee resident Mandy Stinson said.