As a college town with a largely liberal populace, it's no secret that Athens has a tendency to lean blue. However, in the case of Athens' own Democratic mayor, Nancy Denson, party loyalties are beginning to blur.
On Thursday, Sept. 28, the Athens-Clarke County Democratic Committee will hold a vote to decide whether to oust Mayor Nancy Denson for crossing said lines during the current District 117 special election.
The committee has charged Denson with violating bylaws stating that members are not to support candidates in the opposition. In the context of the District 117 special election, Denson supported the Republican candidate, longtime colleague and friend, Houston Gaines, by hosting a fundraiser for his campaign at her home.
Denson has also donated $1,000 to his campaign thus far.
"Nancy Denson has been involved with [the committee] for probably 30-some-odd years. In the last five or six years, not so much," Democratic Committee Chair Denise Ricks said. "She is in clear violation of our bylaws and the state's bylaws, and in talking with the state's legal counsel, this is how we are proceeding."
The committee technically requires two-thirds of a quorum vote to remove Denson, with a quorum in this case being 40 percent of the members. But Ricks said she has no doubt they will meet that amount.
---
"She will be removed as a committee member. It will happen."
-Denise Ricks, Democratic committee chair 
---
"She will be removed as a committee member," she said. "It will happen."
Ricks said Denson is able to attend the meeting Thursday night to plead her case, but Ricks said this effort won't help her case.
"They can talk until they're blue in the face, but she is clearly in violation," Ricks said.
Gaines worked as the campaign manager for Denson's 2014 mayoral race and knew Denson prior to the campaign. Gaines said the committee would be "publicly displayed its extremism" by removing Denson from the party.
"The Mayor has served this community throughout her life, and her record gives her credibility when she says she's the supporting the candidate she believes is best to represent us," Gaines said in a statement.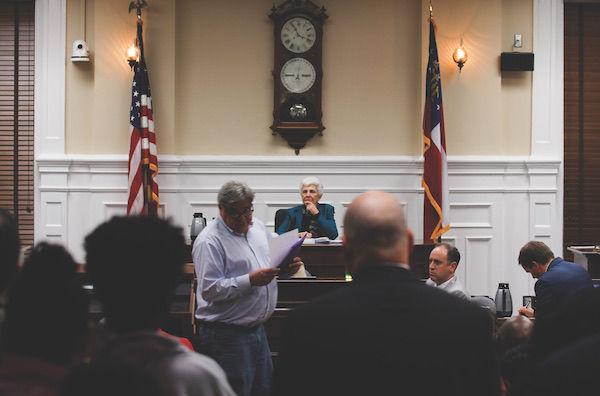 Despite Denson's decades-long history with the party, Ricks said there is some "ill will" between Denson and members of the party.
"Upon speaking to her ... she doesn't plan on coming [to the meeting]," Ricks said. "She feels that the Athens-Clarke County Committee has left her behind—that she is the true Democrat and we are not."
Denson declined to comment until after the vote.
The audience
For community members watching these events unfurl, many feel context is key when looking at elections at the local level.
Jeff Snowden, a local co-owner of a marketing and sales firm, said at the end of the day, Denson's dedication to the community was unquestionable.
"I absolutely adore Mayor Denson. And I say that having been the communications director for a campaign that ran directly against her," said Snowden, having worked on Charlie Maddox's campaign in 2010. "She knows everyone. She knows everything, and she puts her whole heart and soul into it."
---
"She knows everyone. She knows everything, and she puts her whole heart and soul into it."
-Jeff Snowden, co-owner of marketing and sales firm 
---
However, Snowden said Denson and Gaines, connect with their communities on a level much deeper than Democrat or Republican.
"One thing that Houston talked about that was really important to me with student government was his commitment to mental health," he said. "And it wasn't a partisan subject, it was just a needed subject."
Snowden said he identifies as a left-leaning independent who tries to pick the candidate, not the party. However, he also said he recognizes some inconsistencies in the community's party-related accusations.
Despite Athens' typical Democratic leanings, Gaines is leading in campaign funding with a total of $66,136.33, compared to Gonzalez's $7,451.25 in donations, according to their campaign finance disclosures.
"I see the attacks," Snowden said. "I see them attacking good people because they're supporting a kid who's best for Athens, not best for party."
The split
In 2004, registered voters passed a referendum to require Athens elections for mayor and commissioner to be non-partisan. Snowden said he feels this vote says a lot about the community and the need to look beyond party affiliations.
However, for Athens local Chris Dowd, Denson's removal from the Democratic Committee rests on solid ground.
From the Archives: Nancy Denson
Since the 1980s, Nancy Denson has been a staple in Athens-Clarke County politics. She was the first woman elected to the Athens City government. Denson served on the city council from 1980 to 1985. Then she served as a Clarke County tax commissioner from 1985 until 2010. In 2011, she was elected mayor and has served in that position since. 
"She's been fundraising for a Republican candidate for this election cycle, even though there is a viable Democratic candidate with a chance to win," Dowd said. "And I even heard that she violated the bylaws of the Democratic Committee in other ways by not attending meetings ... So I think even just on that reason, that would be cause for removal actually."
While the bylaws do not stipulate a penalty for missing committee meetings, Ricks said Denson has recently become more inactive in the past five or six years.
Dowd said he understands Athens voters' decision to incorporate non-partisan elections for selecting the mayor and commission but said he finds value party labels.
"I think this stems from there being a supermajority of Democrats ... in this town. So [Republicans] got tired of not being able to be elected. With a non-partisan race, they can kind of blend in," he said. "But I think that's a problem. Letting people know and getting the word out that, say, 'This person is actually a Republican,' is valuable information for voters to have."
University of Georgia political science professor Keith Poole said politicians tend to follow party lines rather than their own personal beliefs. As a result, parties are pushing further to the right and left.
"The best cue for what to do is to what the party affiliation is of the politician in question," Poole said. "American politics have become increasingly insane. It's a big mess and it doesn't surprise me that it's reflected in local politics."
Having taught Gaines previously, Poole said he wasn't surprised to hear of Denson's support for Gaines in this election.
"It was easy [to see] from reading the paper that Nancy was as close as you can get to a moderate Republican in this context," he said.
The special election will take place on Nov. 7, when Athens and surrounding areas will decide two representatives — one to fill Rep. Regina Quick's District 117 seat after Quick was appointed as a Superior Court judge, and the other to fill Chuck Williams' District 117 seat after Williams resigned to accept the position of director of the Georgia Forestry Commission.