An estimated 1,500 people rallied against the injustices the black community faces, while organizers' livestreams garnered more than 25,000 views, in downtown Athens Saturday. 
The Athens Anti-Discrimination Movement hosted the rally in front of City Hall. Local politicians, musicians, students and Athenians in face masks listened to speakers on the stage assembled at the intersection of East Washington Street and College Avenue Saturday afternoon.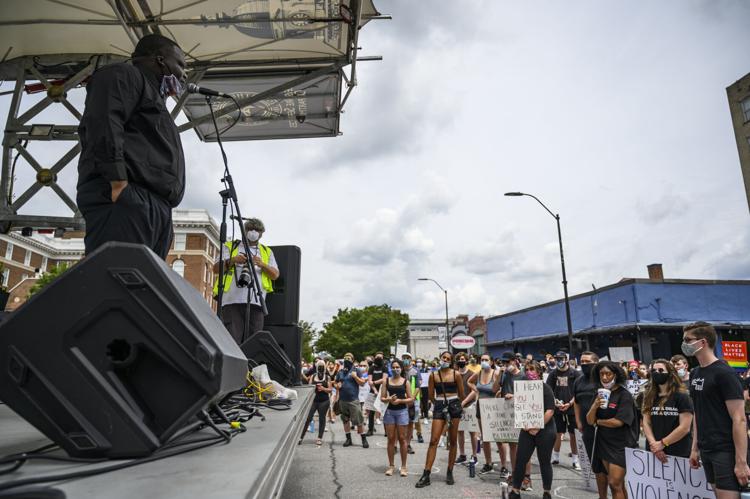 "They attacked peaceful protesters in my town one week ago. We came back stronger. We will not stop until we have justice," Athens Anti-Discrimination Movement co-founder and rally leader Mokah Jasmine Johnson said in a message to The Red & Black.
"Whose town?" chanted Johnson, a candidate for Georgia House of Representatives District 117. 
"Our town," the crowd responded.
As activists called for police reform, the police were present throughout the rally. The University of Georgia's campus was barricaded, the National Guard congregated at East Campus, helicopters and police drones circled above the rally and police were positioned on the roof of a nearby building.
"It's uncomfortable, and why is Kemp here?" Johnson said in an interview with The Red & Black after the rally.
Gov. Brian Kemp posted on Twitter that he was in Athens Saturday. 
Johnson said the police presence was "too much" and that she would like more communication with the police, particularly after unsubstantiated rumors of possible violence at the rally circulated on social media. Some businesses, such as Mellow Mushroom and On The Rocks boarded their windows.
Nevertheless, the two-and-a-half hour protest remained peaceful.
The threat of COVID-19 was also present. One of the organizers of last week's protest, Athens-Clarke County District 2 Commissioner Mariah Parker, stayed home after announcing on Facebook Wednesday that she tested positive for COVID-19. Protest organizers implemented precautions to prevent the spread, such as requiring masks and providing hand sanitizer.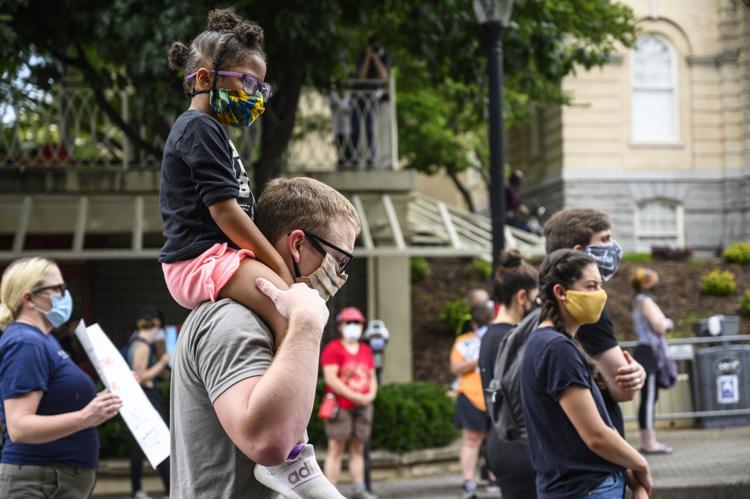 The protest remained stagnant at City Hall to facilitate social distancing. Circles drawn in chalk marked places for people to stand, although they eventually stood shoulder-to-shoulder.
Saturday's protest contrasted with the smaller, daily protests held at the Confederate monument downtown this week, which attracted around 70 people a day. The first protest in Athens last Sunday was spurred by recent killings of black people in the U.S., from Ahmaud Arbery in Brunswick, to Breonna Taylor in Louisville, Kentucky, to George Floyd in Minneapolis. 
The protests began in Minneapolis on May 26 and spread across the nation — people in every state have held a protest against police violence over the last week, according to the USA Today.
A movement, not a moment
The event started with an eight minute and 20 second moment of silence — the same amount of time a Minneapolis police officer kneeled on George Floyd's neck.
Ahead of the June 9 election, Johnson called for attendees to vote. Her daughter, Daelynn White, is 18 and eligible to vote for the first time this year. Johnson said this rally was also the first her daughter asked to speak at. 
"We are one of the most diverse nations, and our government does not look that way," White said. "Educate yourself … If y'all aren't voting, how is there going to be any change?"
Mokah Johnson's daughter speaks for the first time. "We are one of the most diverse nations, and our government does not look that way ... Educate yourself ... If y'all aren't voting, how is there going to be any change?" @redandblack pic.twitter.com/tyQ75rDs4M

— Sherry Liang (@SherryLiang) June 6, 2020
The rally also heard from musicians and poets in the community. Some performed their pieces, others gave speeches pleading for attendees to take action. 
Local rapper Ishmael Cuthbertson, who performs under the name Ishues da Artist, spoke about Edward Wright. Police killed Wright, an Athens resident and Cuthbertson's neighbor, in 1995. 
Cuthbertson said Wright left his house at night and his mother called the police because she was worried for his safety. The next day at school, Cuthbertson heard his neighbor was dead after being shot multiple times by the police.
Cuthbertson and Johnson emphasized the need for the crowd to keep pushing for change after the protest through voting and community involvement.
"If we have not turned this gathering into a movement, then it was a party," Cuthbertson said. "And you wasted your time."
Showing up 
Jarron Gravesande came to the protest to see the large group of people there to support the cause. He said although he is a black man and has seen people in his community face injustice because of their skin color, he was silent about it for a long time because he felt like that was normal.
"I think seeing people actually support my cause openly gave me more of the courage to actually just come out and also support my own cause," Gravesande, a graduate student at UGA studying plant pathology, said.
Gravesande said he wants the nationwide protests to lead to recognition of the inequality faced by the black community. Changing laws requires recognizing that the system is unjust, he said.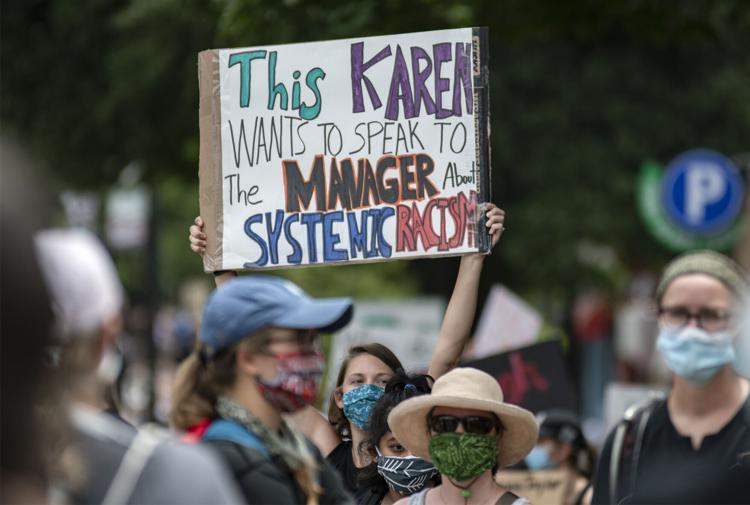 Michael Almestica said he's also become desensitized to police violence in the news. Growing up, he moved between cities in Florida and Georgia but never participated in activism. In 2018 he began participating in politics, and in Athens, he began working with ACC commission candidate Jesse Houle. Almestica's first protest was Friday, which he said "totally changed me as a person."
"I'm already 30, so police brutality isn't a new concept. It was just something I was born into seeing all the time," Almestica said. 
The peaceful Sunday protest against police violence ended with ACCPD using tear gas on protesters around midnight.
Spruill later confirmed that he ordered the release of tear gas, and he said sponge and bean bag rounds were used to prevent people from picking up the tear gas canisters and throwing them back at police officers. 
Johnson ended the rally urging protesters to remain peaceful. She said she was concerned for the night protest because of how Sunday's protest ended. 
"This is your city. If you break a window, if you vandalize a building, you're not hurting the government. You hurting the people," Johnson said during the rally. "I ask you to stay down here peacefully if you choose to. But I want to live to march another day, and I want y'all to be able to march with me another day."
As the rally ended, people migrated down College Ave. in front of the Arch. Johnson's closing words at the rally: "We're going to go home peacefully, come back, and march again." @redandblack pic.twitter.com/w4sbRVwB3n

— Sherry Liang (@SherryLiang) June 6, 2020
After the rally, some people moved to the intersection near the Arch to protest. Johnson said she would not attend the protest because she didn't want to encourage people to stay. 
"I really hope that tonight just rolls out peacefully," Johnson said.
---
Anila Yoganathan contributed to this report.