Minutes after four Athens-Clarke County commissioners and Mayor Kelly Girtz were sworn in, the new Mayor & Commission held its first meeting on Jan. 8 inside a packed ACC City Hall. The meeting included many commissioners and Athens residents congratulating the new public officials, but also touched on topics such as SPLOST-funded projects and the decriminalization of marijuana.
In his first remarks as mayor, Girtz thanked his family and the Athens community for their support and their "giving spirit," while also speaking of Athens' encouraging future.
"I think that it's a time when we're going to see increased opportunity for every sector of Athens," Girtz said. "A great era of equity approaches, and I thank everybody in this room and everybody beyond for being part of that."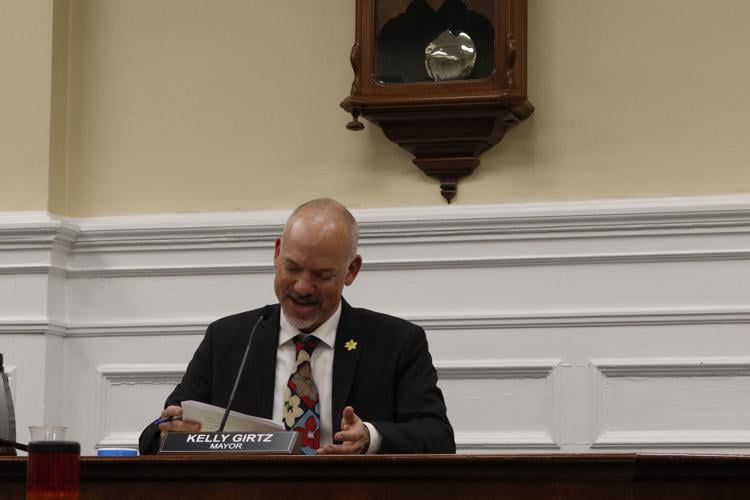 Afterwards, the commission elected District 6 Commissioner Jerry NeSmith as mayor pro tempore, a position that takes over the mayor's duties if the mayor is absent, and Girtz assigned standing committees to the commissioners.
---
Standing committees assigned 
Assigned to the Government Operations Committee were District 8 Commissioner Andy Herod, District 6 Commissioner Jerry NeSmith, District 5 Commissioner Tim Denson, District 1 Commissioner Patrick Davenport and District 3 Commissioner Melissa Link. Girtz asked this committee to address the Sidewalk Cafe Ordinance to see that the ordinance is "going to be in keeping with the streetscape that we want to see on Clayton Street."
Girtz also tasked the committee with addressing the opportunity for property tax freezes based on income and senior status or disability.
District 4 Commissioner Allison Wright, District 9 Commissioner Ovita Thornton, District 10 Commissioner Mike Hamby, District 7 Commissioner Russell Edwards and District 2 Commissioner Mariah Parker were assigned to the Legislative Review Committee.
These commissioners were assigned to look at the Minimum Drink Ordinance, review the Control of Vegetation Ordinance and to work on the Motorized Vehicle Ordinance, which is occurring within the 12-month ban of Bird electric scooters.
Parker inquired about assigning marijuana decriminalization to the Legislative Review Community, while Wright said she "would be happy" for the decriminalization study and research to be done.
Link, Edwards, Thornton, Wright and Davenport were assigned to the Audit Committee.
---
Future SPLOST projects held for discussion 
The commission voted eight to two in favor of waiting and discussing SPLOST funding for a judicial center and an affordable housing fund before any action is taken. The funding was previously discussed one meeting prior on Dec. 4.
At the conclusion of the meeting, commissioners were allotted time to share their thoughts on the commission and on Athens, which Denson used to denounce discrimination.
"I look forward to working with this body, who I respect greatly, the staff and the great people of Athens, Georgia to make this city what it was destined to be: a shining beacon of justice, compassion and solidarity," he said.
---
Correction: In a previous version of this article, The Red & Black misidentified the number of commissioners sworn in. The Red & Black regrets this error and it has since been fixed.