Chief of Police Cleveland Lee Spruill Sr. considers his visits to about seven different barbershops, hairdressers and other Athens businesses are some of the most important actions he has taken since his start in the position on Feb. 4.
AADM hosted a town hall on policing with Spruill in attendance on Feb. 21. He pushed for a relationship with the community and emphasized how he wants to listen and engage with its members, and visiting storefronts with community leaders and members is an example of this relationship building.
"By him being in the community and being active, that's a plus to me because a lot of people sit behind a desk and don't get up," said Mykeisha Ross, Athens community member, regarding Spruill's actions so far.
Spruill described his vision for the ACCPD as a "modern, enlightened, 21st-century" department. This vision includes a diverse organization, a building of trust and highly trained and well-equipped officers.
Spruill's new position comes after ACC Manager Blaine Williams forced former Chief of Police Scott Freeman to resign in September, allegedly due to factors including high turnover rate among officers and reportedly low morale in the department. Williams oversaw the search and selection process for a new chief, and Spruill's selection was announced in January.
Mokah-Jasmine Johnson, president of Athens Anti-Discrimination Movement, said AADM and the police department need to figure out how to work together because race relations and police brutality are big reasons why AADM exists.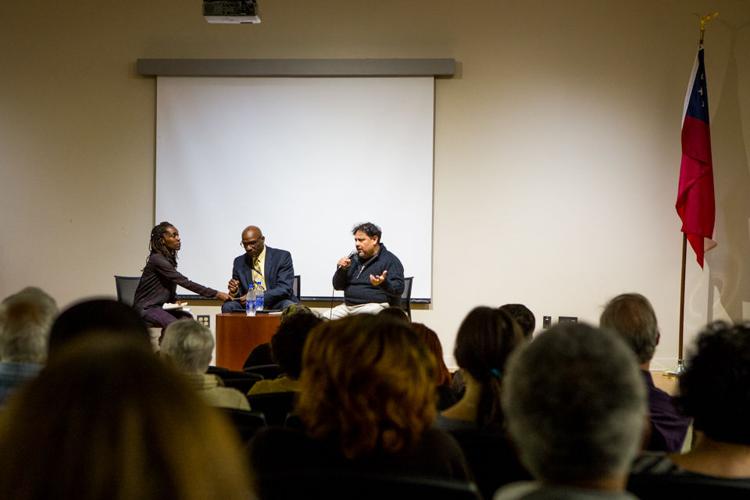 "We have to figure out how to build a relationship with the police, even though there's lack of trust," Johnson said.
Johnson said she worries about transparency and accountability within ACCPD, a concern the organization has discussed in the past following both Freeman's unexpected departure and incidents of police violence.
Growing up, Spruill said he experienced crime, violence, and fear of the police in New York and Virginia, two of his hometowns. This gave him multiple perspectives on law enforcement.
"When I come as a police chief, I'm coming also having known what it feels like to be a kid who is afraid to go outside to play because there's a gangbang on every corner and there's drug dealers on every park," Spruill said.
The crowd agreed seemed to agree with Spruill on topics such as how people addicted to drugs or those dealing with mental health issues should receive help and resources, instead of being incarcerated.
Regarding ACCPD as an entity, Spruill said the department should be training and looking for opportunities to de-escalate or avoid using force when it doesn't jeopardize the safety of the officers.
"Just because you can use force doesn't mean you should use force," Spruill said.
In his new position, Spruill said he wants to help youth by implementing "youth programs," discussing the value of education, mentoring and a sharing of ideas with young people in the community.
Beto Mendoza, coordinator of the Athens Immigrant Rights Coalition, led the conversation to a topic of immigration law and deportation, questioning how AACPD would handle illegal immigrants in the community.
Spruill said that the ACCPD isn't U.S. Immigration and Customs Enforcement, and it won't be enforcing the 287(g) program of immigration authority, a partnership between ICE, state and local law enforcement that allows ICE to enforce federal immigration laws independently of local laws as part of its homeland security mission.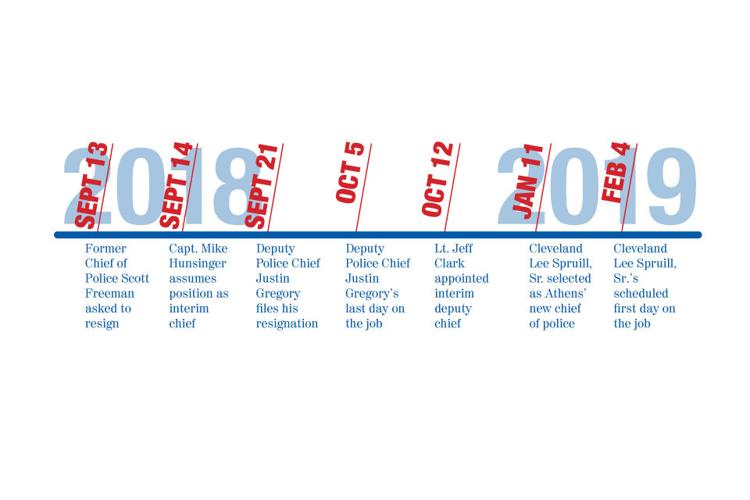 Erin Stacer, who works for AADM and local progressive group Athens for Everyone, was part of a group of people who demanded that Williams, during his selection process, include diversity as a factor in his consideration of a new police chief.
"I am happy to see a black police chief. That's great," Stacer said. "I'm more concerned about him treating the larger population here in Athens," Stacer said.
Stacer said she wants the new police chief's vision to align with positive actions AADM has been working on, and she simply doesn't want any wrongdoings coming from ACCPD.