Amid a sea of rainbow on Washington Street at the 2019 Athens PRIDE Street Festival, Oconee Street United Methodist Church members handed out water and told passersby about the church community just east of downtown Athens. The small gesture was emblematic of the congregation's recent steps toward creating a more welcoming atmosphere.
In February, delegates from the United Methodist General Conference passed the "Traditional Plan," an effort which affirms the church's current bans on ordaining LGBTQ+ clergy and officiating or hosting same-sex marriage.
After months of deliberation, Oconee Street members unanimously voted to join the Reconciling Ministries Network, a Methodist organization attempting to make the church more LGBTQ+ inclusive, on Sept. 15.
With the unanimous vote, Oconee Street joined more than 900 "reconciling" communities in a network that disagrees with the 2019 General Conference vote. RMN traces its history back to 1982, when movements within Methodism began helping local churches "declare their support for the concerns of lesbians and gay men."
RMN is currently working to equip its affiliated communities with ways to be more inclusive of LGBTQ+ members who may be in the congregation, according to Helen Ryde, the group's Southeastern Regional Organizer. Ryde said the group works with communities on general LGBTQ+ awareness, as well as making churches more accommodating by avoiding gendered pronouns and offering gender neutral bathrooms.
The current mission statement of RMN — to equip Methodist communities to "resist evil, injustice, and oppression as we seek justice for people of all sexual orientations and gender identities" — aligns with the statement of Oconee Street, which says the church is welcoming to all persons regardless of sexuality or gender identity.
'Not a trick'
Sarah Sumners, who has attended Oconee Street since 2013, was initially skeptical of the welcome statement. In her experience, welcome statements could be undermined by a general feeling of exclusion among a congregation. But at Oconee Street, Sumners and her wife found what they were looking for.
They soon realized the mission statement "was not a trick," Sumners said. After a long and complicated relationship between her sexuality and faith, Sumners and her wife had found a congregation where they felt comfortable as partners and parents.
When the issues relating to the LGBTQ+ community came up at this year's international conference, and the General Conference voted to maintain its policy, Sumners and the rest of the Oconee Street congregation had to decide how it would respond to the vote.
"It was this recent vote that forced this issue on people in terms of having to decide where they stood," Sumners said.
Allison Floyd, the church's coordinator of youth and young adult programs, said aligning with RMN would show potential congregation members, "particularly younger people moving into the community who might be looking for a faith community online," that Oconee Street had taken its official stance on the debate.
"The church started to talk about whether to join RMN as an outward sign to the community — that Oconee Street is affirming of all people and that it's not just in the mission statement," Floyd said.
The congregation's dedication to living its mission statement is what won over Sumners, and according to Brandon LaReau, who has attended Oconee Street for three months, it's what sets the congregation apart.
"What makes Oconee Street so unique is how committed they are to being inclusive at every level," LaReau said. "Even if you completely disagree with everything Oconee Street stands for, and you walk in the door, you will leave saying to yourself 'Wow, even though I disagree with them, they really practice what they preach.'"
LaReau said the vote helped to legitimize the congregation's commitment "to making sure that everyone is a part of the ecosystem."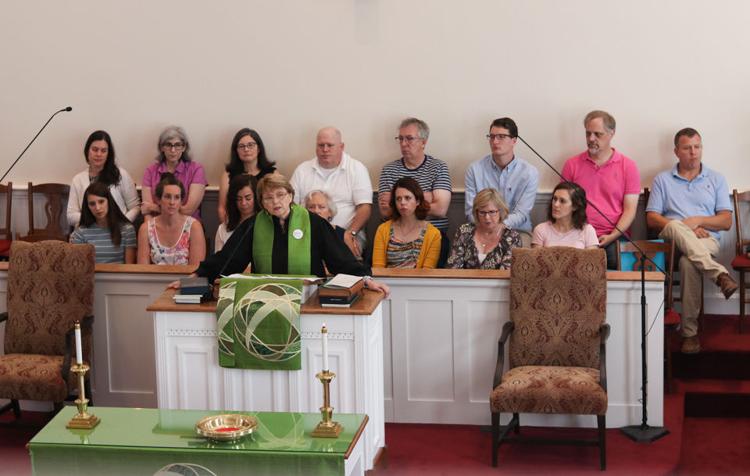 Going forth
Although a decision in favor of joining was somewhat expected, the vote was anonymous and the tally was initially meant to be unknown, to not discourage any minority opinions in the congregation. Sumners said they "requested that the actual count not be known," so the vote would not be "divisive in any way."
The only circumstance that would warrant announcing the tally would be a unanimous vote in either direction.
"It was wonderful. The most joyful thing ever," Sumners said of the announcement. "When it was unanimous, our minister revealed that, and it was definitely a joyful time."
Floyd said the unanimous decision was "phenomenal," considering any one member out of around 100 that voted could have dissented without the group knowing it was them. Floyd also mentioned the diversity of age at the vote; newly confirmed members and members in their eighties all voted the same.
Sumners understands the importance of the vote, but she has found the debate "distracting." She believes it has taken time away from the church's goal of "spread[ing] the word of Jesus Christ."
"I also am looking forward to a day when it's a non-issue," she said. "When we don't have to talk about it anymore."
Sumners hopes Oconee Street continues its mission, so young people today are not as skeptical as she was. Sumners wants to work on making sure the language used at church gatherings is not inadvertently exclusionary, especially with transgender persons in the congregation.
"We might have people who are in the pews … who want to hear that type of affirming language," she said. "So I need to be able to do that. I need to be able to use the language that is not discriminatory, it's not hurtful. And they won't have to do as I have done, and ignore it."