On this year's Independence Day, the United States turned 242 years old.
In honor of this day, members of Indivisible Georgia District 10 discussed connections between a centuries-old document and today's ever changing society.
This chapter of a national progressive action group hosted a public reading of the Declaration of Independence at Cali N Tito's on Cedar Shoals Drive in honor of the Fourth of July. Approximately 20 people rotated onto the stage, each pitching in to read bits from the document.
This was the second reading that the Clarke County chapter of Indivisible has hosted since their start on Jan. 7, 2017. The event included a brief history of the signers of the document originally from Georgia – George Walton, Button Gwinnett and Lyman Hall.
"We weren't aware of anybody doing that in Athens," group member Jackie Elsner said. "It's very powerful to read the document again and realize that in 2018, we're still challenged by the same tyranny that King George was bringing to the colonies."
The U.S is no longer separated into colonies or under the supreme rule of British royalty, as it was when the document was written. Yet, Elsner made many comparisons between the challenge that the founders faced more than 200 years ago and the challenges being faced by citizens today.
"We believe that in order to affect positive change we must stand up to our congressman and senators and hold them accountable for their votes," Elsner said to the crowd. "Together, we have the power to resist and together we have the power to win, and we have a lot of work to do."
She believes the duty of all citizens is to protect their rights in order to continue living in the state of freedom the declaration originally sought to provide.
Indivisible strongly opposes President Donald Trump's administration and the members of Congress in partnership with him. Georgia's 10th Congressional District is currently represented by Republican U.S representative Jody Hice and includes 26 counties, including Clarke. Indivisible wants to change where the power lies.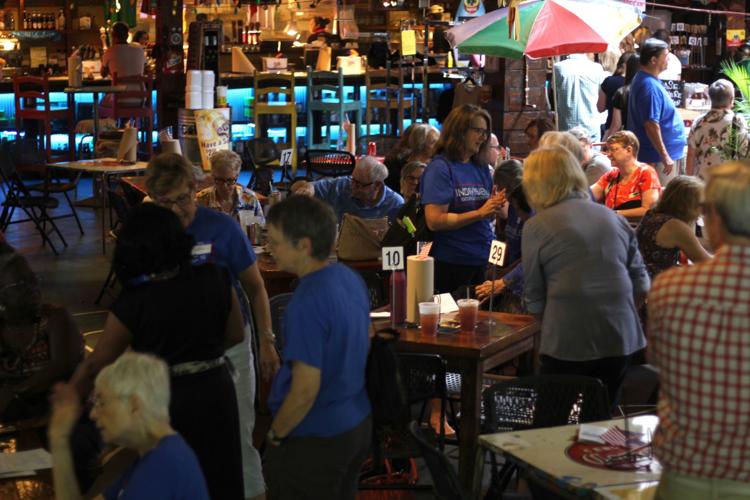 Tabitha Johnson-Green, candidate for District 10 U.S Representative who will be running against Hice, was in attendance. The election between Johnson-Green and Hice will be held on Nov. 6.
"A large part in getting an Athens vote is getting the students who live here, who historically don't turn out as much," said Max Rogers, a volunteer on Johnson-Green's campaign.
As a third-year student at the University of Georgia studying microbiology, Rogers represents a civically engaged student whose goal is to get other UGA students politically involved. Though he did not originally plan on participating in the reading, he was recruited at the event. He also believes that the declaration remains extremely relevant.
"We can always look to it as a moral guide," Rogers said. "As our understanding of how that applies to today changes, we always have to come back to it."
Also in attendance were Marisue Hilliard, candidate for Georgia State Senate District 46, and Deborah Gonzalez, U.S. representative for Georgia House District 117. Both have the support of Indivisible.
"Sometimes people think of these documents as part of history – old and not relevant anymore," Gonzalez said. "But it is very relevant, and I think to have people actually read it and to bring it back to the modern day reminds people of how our country was founded."
For Gonzalez, the relevancy of the declaration comes from the fact that every citizens' rights remain outlined in the document. Yet still, rights for equality remain a point of contention.
Elsner mentioned this conflict when discussing Frederick Douglass in her introduction, and his "What to a slave is the 4th of July" speech given on July 5, 1852.
One issue that Gonzalez has taken head on is gun reform – she said as a mother and a grandmother, she does not want guns in any schools. Indivisible is also an advocate for this type of legislative action, something Gonzalez feels speaks for their values.
In regards to the reading, Gonzalez feels these kinds of events promote "non-violent, democratic values" and promote "civic engagement."
General manager of the restaurant, Arjun Patel, said he welcomed Indivisible to host their event in accordance with Cali N Tito's principles of bringing a variety of people together for good food and a good environment.
While the event was politically charged, Patel said that the restaurant is not "taking sides."
---
Correction: In a previous version of this article, the District 10 U.S. Representative election date was mistaken. The Red & Black regrets this error and has since fixed the mistake.