When he stepped foot into Athens, 61-year-old Peter Munson was 251 miles and 17 days into his walk across the country.
His goal? Raise a dollar per step as a part of his 6 Million Steps for Kids project, which aims to support four charities that help children both in the U.S. and around the world.
"My feet are a lot more sore than they normally are," Munson joked.
Munson, an Episcopal minister from Denver, Colorado, started his journey in Folly Beach, South Carolina, and hopes to finish in San Francisco by November 2019. At the finish line, he will have walked more than 6 million steps and 3,600 miles.
A decade in the making
Ten years ago, Munson was completing a hike in the Rocky Mountains when he received the beginnings of the idea that has now become possible.
"I didn't hear audible words but I felt like I got a message [from God] to walk across the country and speak and write along the way and raise money," Munson said. "At the time I wasn't sure for what kind of project, and in the last couple years I've gotten to know organizations and the theme was they were all concerned with children, so I thought maybe I can raise money for children."
Munson spent a good portion of last year completing the IRS application necessary to create his 501(c)(3) nonprofit, Bright Future For Children, which will ease the process of collecting donations and distributing them to the charities.
He said that this walk is his first project, and that the nonprofit organization will lead other projects in the future. Munson said the name chosen for the nonprofit comes from his personal mission.
"This walk is just the first project, so in theory this organization will have other projects in the future," Munson said. "We just came up with that name [to ask] how can all children have access to a bright future, and recognizing that not all kids come into the world with the same privileges I came into."
The charities Munson chose to represent on his walk are the Episcopal Church in Colorado, Episcopal Relief Development, REMAR and Street Fraternity.
Accepting a new path
After many discussions with his family and parishioners in the church where he presided for almost 18 years, Munson made the decision to quit his job to pursue his new calling.
Ultimately, Munson said, it was good timing, because he wanted what was best for his congregation and felt it was time for them to have a new priest. He knew, however, that the hardest part of his journey was being separated from his wife, Julia.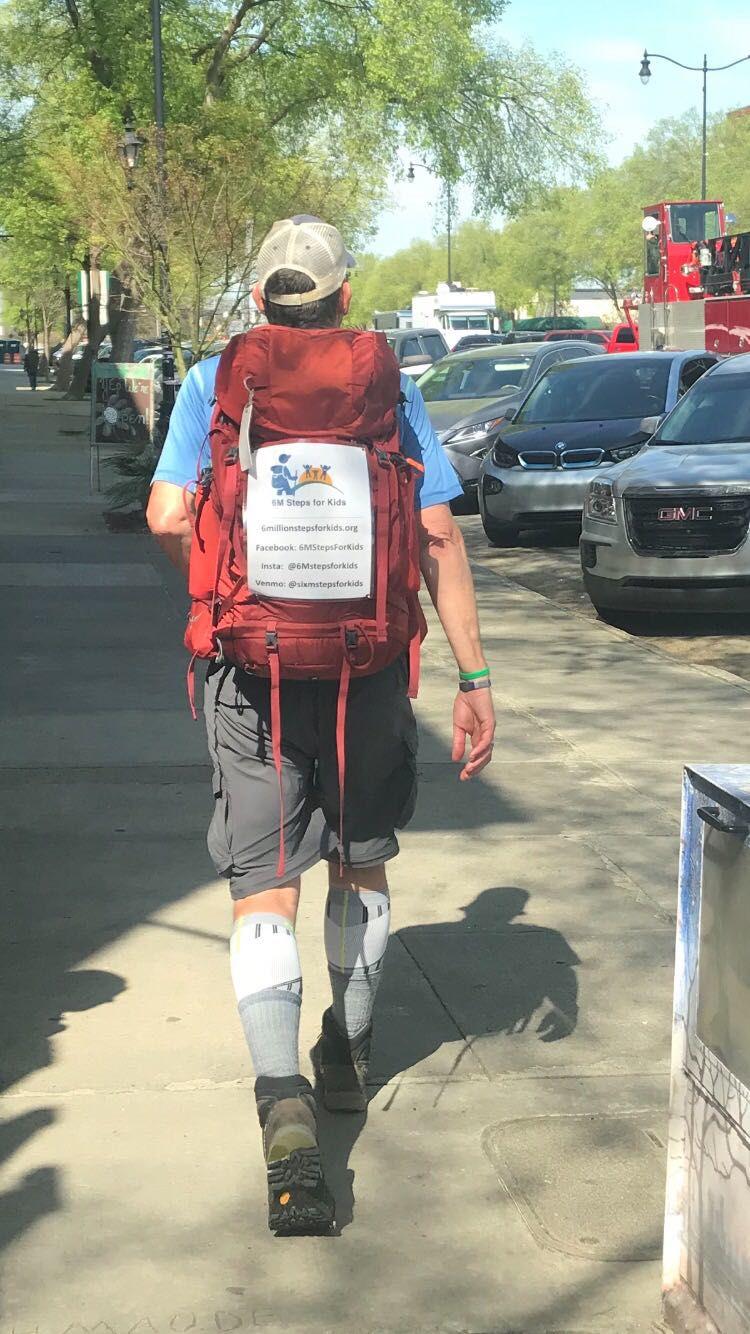 "We're both already noticing how much we miss each other, but what's also true is she's been incredibly supportive," Munson said. "All throughout our marriage we both really enjoyed supporting each other's dreams."
The decision was still difficult, Munson added, especially after they shared concerns about losing his job benefits and still not being ready to retire after his walk is complete.
"We both had freakout days," Munson said. "We try not to have those on the same day."
While Munson has planned out some of his stops and speeches along the way, for the majority of his trip he relies on the goodwill of people he meets to offer a bed or meal for the night.
---
"Part of this is recognizing that there's children in that situation and the walking is in solidarity with people who don't have another option." 
- Peter Munson, founder of 6 Million Steps for Kids project
---
People like Donna Purdy, who saw Munson's sign on his backpack as he was walking down the road and decided to inquire about it.
"I saw him walking down the sidewalk in Washington, Georgia," Purdy said. "I was impressed with his eagerness to represent a worthy cause."
Purdy offered her extra camper for the night, Munson said. Purdy said she backpacked in the past and called the act of doing something for another hiker "trail magic."
"It feels like there's a new theme about what does it really mean to trust on a day to day basis," Munson said. "And how do I even deepen my trust not only in God's graces but the people God works through."
To skeptics wondering why Munson doesn't bike his way across the country to cut the time or simply donate money without sacrificing his job, family and safety, Munson believes this is something that God planned for him.
"Part of this is recognizing that there's children in that situation and the walking is in solidarity with people who don't have another option," Munson said. "I've always hiked and walked and it's been a passion of mine, so when I got this message from God I really felt like this dream is suited for me because I love to walk, write, speak and meet new people and foster those relationships," Munson said.