After noticing the community around the Triangle Plaza was struggling to access fresh, healthy food, Broderick Flanigan had the idea to build a community garden that would provide the people of East Athens with fresh vegetables.
Flanigan was able to see his idea come to life with the help of his Lead Athens team and community sponsors.
"Two years ago we started talking about things we could bring in to enhance the community, and one of the things we were talking about was a garden," Flanigan said. "It's really a collaborative effort from the community."
The team has been working together since August to get all of the resources together for the garden.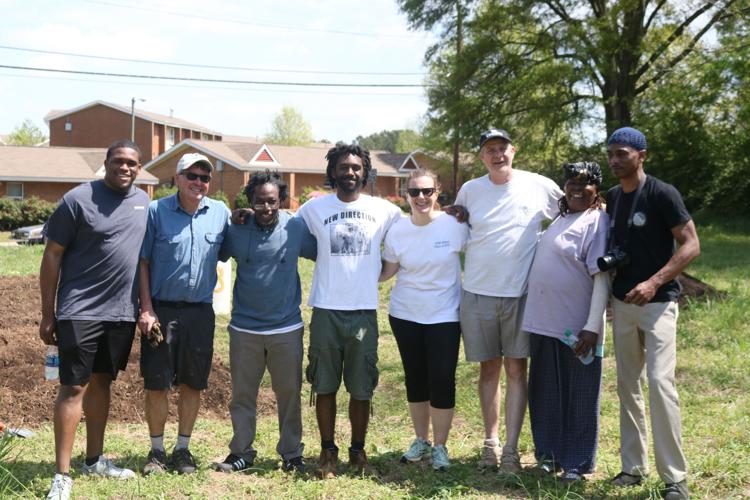 Other than convenience stores such as Vine Street Grocery and Carryout and the Vine Street Market, the people who live in the part of the east side surrounding the Triangle Plaza don't have many options when it comes to getting fresh food, said Sarah McKinney, president and CEO of the Athens Area Community Foundation and team member of Flanigan.
"If you needed to walk or bike to a grocery store, you reasonably cannot do that," McKinney said. "There's a couple of convenience stores, and those are important to the local economy, but you really cannot access anything fresh. I think it's important we offer accessibility to all."
The closest store in walking distance is the Daily Grocery Co-op, which is more than 2 miles away, about a 45-minute walk, according to Google Maps. There are only two bus routes in the area, neither of which go directly to a grocery store.
Former SGA president and member of the Lead Athens team Johnelle Simpson said the garden has given the community an opportunity to come together to work toward a common goal.
"It's really good because the local school, community, the teachers and students to all come together to engage," Simpson said. "It gives us an opportunity to provide something that's fresh and good for everyone to enjoy."
The garden is located on a plot of land beside the Nellie B Community and was sponsored primarily by Isaiah Ellison, owner of Ellison's Insurance and Income Tax Services, who played a major role in making the garden happen, Flanigan said. 
"Mr. Ellison's nonprofit called Feed My Sheep has been really crucial in making this happen, and they're going to help to maintain it as well," Flanigan said.
On the first planting day, April 14, more than 20 people came out to plant kale, mustard greens, onions, squash and zucchini.
Flanigan and Ellison decided all of the vegetables grown there will be free for the community.
"We eventually want to turn it into a farmers-market type of space, with weekly or monthly events where people can come to get fresh produce," Flanigan said. "In the first couple years, Mr. Ellison said he wants us to make it free for the community."
Flanigan hopes the garden will be a way for the community to connect and grow.
"We want to be able to share this and spread it around, to build community around this space," Flanigan said.