Police used tear gas to disperse about 100 protesters at the Arch in downtown Athens around midnight on May 31.
The group was the remnants of an anti-police brutality protest that drew several hundred people and began to thin out around 7 p.m., after two hours of marching and chanting through downtown.
Athens-Clarke County instituted a 9 p.m. curfew around 9:45 p.m. and restricted access to downtown. Roadblocks on Clayton, Lumpkin and Thomas Streets remained from earlier in the evening, and police dressed in riot gear blocked off the entrances to North Campus.
Protesters remained in the intersection of Broad Street and College Avenue. Around midnight, an ACC Police Department drone hovered over the protesters and, citing the curfew, ordered them to disperse.
"You may be arrested and criminally charged. There is potential that force may be used against you during arrest," the prerecorded message announced.
While some protesters left the scene, most remained, forming a square in the road, before police advanced down Clayton Street, firing tear gas canisters.
At least six people were arrested after refusing to leave the scene. Most protesters fled the scene.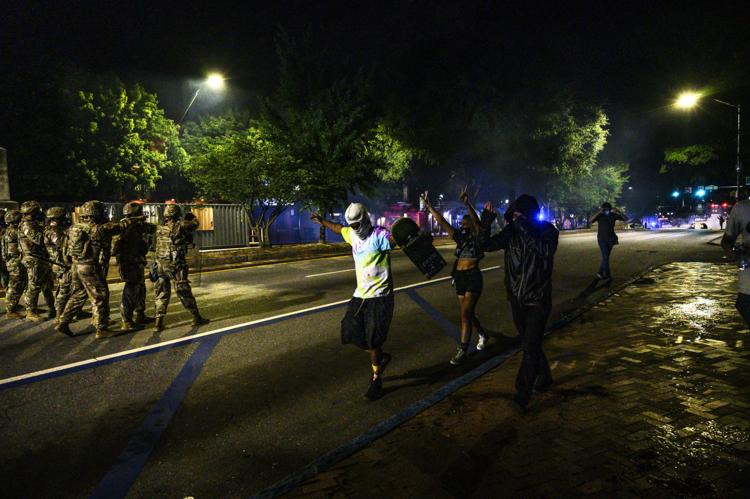 On scene were ACC police, National Guard troops and state police armed with riot gear and armored vehicles.
Before the dispersal, protester Rachelle Berry said she was there to support the remaining protesters with resources such as water, eye wash and access to legal support.
"I am in solidarity with anybody who feels they need to be out here and not leave here until our demands are met. Which is a world without cops," Berry said. Berry acknowledged that goal would "not be achieved tonight," but spoke about her support for District 2 Commissioner Mariah Parker's proposal to reduce ACCPD officer positions by 50%.
The protesters were peaceful and did not damage any property except for spray painting graffiti on the Confederate Monument that stands in the middle of Broad Street.
"There's no reason for them to remove us. They blocked off the street, there's no cars coming," Berry said. "They're only trying to remove us because they want order, not peace. They don't want the end of violence, they just want an ordered city."
---
Correction: A previous version of this article stated that there was no property damage after protests on Sunday night. The Soldier's Monument on Broad Street was spray painted with graffiti.