Following violence in Charlottesville, Virginia over the weekend, what was initially intended on Tuesday to be a protest to defend immigration rights turned into a candlelight vigil in solidarity with the University of Virginia community.
Aldo Mendoza, a University of North Georgia student and Deferred Action for Childhood Arrivals recipient, said he was there to not only stand in solidarity but to defend DACA for himself and his friends and family. 
The Trump administration has worried some by being ambiguous on their stance regarding DACA, which currently protects minors who enter the United States without documentation.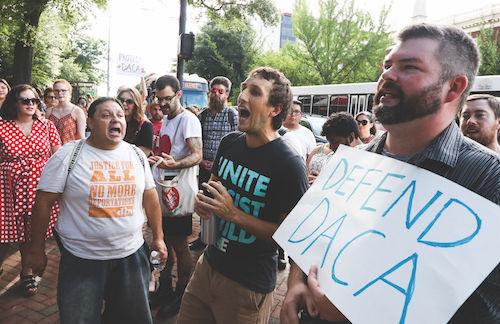 "For many people like me, DACA is not just a work permit, but an opportunity," said Aldo Mendoza in his speech. "An opportunity to work legally and support my family, an opportunity to drive safely without the fear of deportation, an opportunity to be able to access a higher education."
The protest was initially organized by Humberto Mendoza, a leader in the Athens Immigrant Rights Coalition.
The vigil was added to the event as a memorial for one counterprotester who was killed and 19 others who were injured on Saturday, Aug. 12 after being struck by a car during the violent outbreak between white nationalists and counterprotesters at a "Unite the Right" rally in Charlottesville. 
Humberto Mendoza said he believes the two reasons for the rally are closely connected.
---
 "For many people like me, DACA is not just a work permit, but an opportunity."
- Aldo Mendoza, protester
---
"It's a great crowd here today," Humberto Mendoza said. "These are people who understand where the oppression comes from." Attendees said they felt it was important to join together both in solidarity with Charlottesville as well as to support and defend those who fear they may lose DACA in the coming months. 
Before lighting candles, volunteers came forward to speak to the crowd. Aldo Mendoza ended his speech by asking the audience to ask their senators to defend DACA.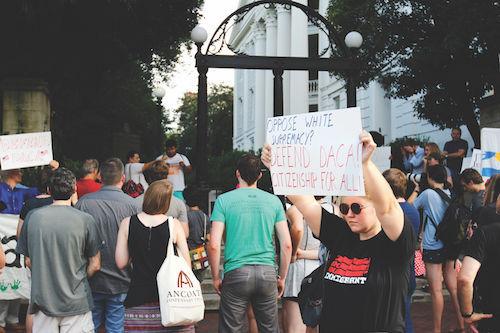 Speaker and activist Mokah Jasmine Johnson came forward during the vigil to speak and described the moment when she learned that protesters had been harmed and killed by white nationalists. 
"I thought to myself for moment, 'Man, this is going to make people afraid to stand up and fight for what they believe in," Johnson said. "We cannot be afraid to stand up and fight."
Prior to the vigil, on Sunday, a protest in solidarity of Charlottesville took place after news of the violence broke. Additional rallies are expected followed the Tuesday vigil including a "community conversation" held at the Athens-Clarke County Library on Wednesday regarding Charlottesville and the presence of the Confederate monument on Broad Street.