Despite the rain, Athens locals congregated downtown to fight for issues of injustice at the 41st annual Athens Human Rights Festival.
A stage was set up on College Avenue where musicians performed and people presented topics relating to the festival's "Social Justice, Environmental Justice" theme on May 4. The two-day event encourages the Athens community to unite for a weekend of activism.
Avery Evans is a junior international affairs and sociology major from Decatur. She serves on the festival's board and has worked to promote the event by taking over various secretarial roles. Evans described the festival as being a space "for groups to come together and learn from each other and be happy in that environment."
Although discussions at the festival deal with hot-button issues, such as immigration and climate change, Evans said that the people who show out typically focus more on uplifting and educating one another.
The event features a variety of local artists to entertain attendees. In between musical performances, a speaker takes to the stage to talk about topics pertaining to human rights or environmental issues. Each person has a 15-minute window to share their platform with the crowd and voice their opinions. The festival aims to represent and highlight a variety of issues.
McEver Dugan, an Athens Earth Strike organizer, spoke about the organization's mission, which is to advocate for a global general strike in September. Through this tactic, the organization hopes to persuade corporations and the government at the local and national level to directly address climate change. Dugan gave a passionate speech about humans' effect on the environment. During her 15-minute time slot, she broached the idea of "stopping capitalism and unjust hierarchies" in a bid to prevent what she described as an ecological catastrophe.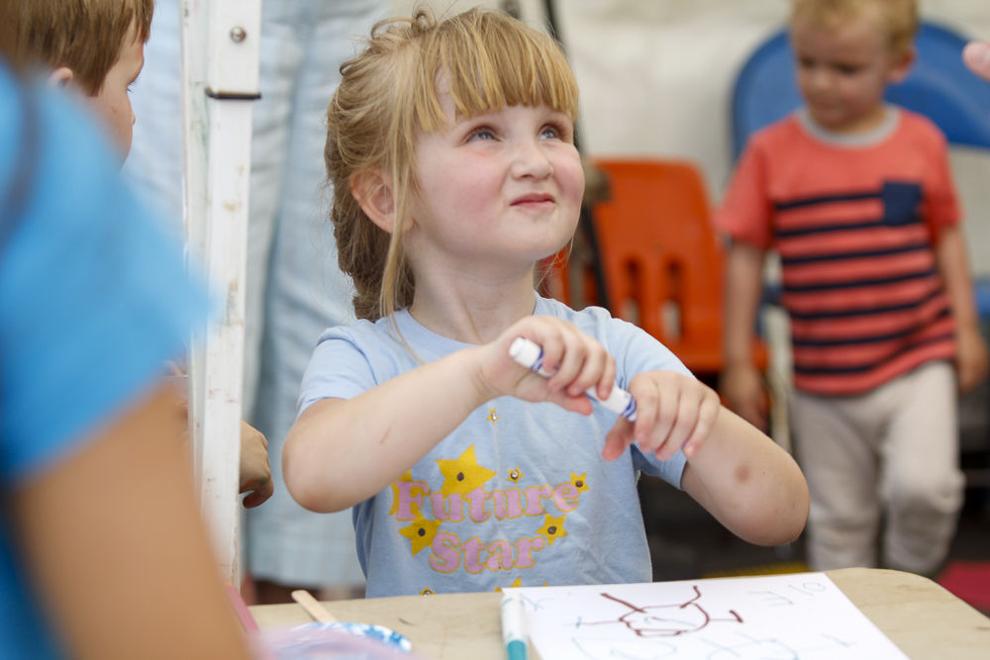 Executive Director of Extra Special People Laura Whitaker followed Dugan. She focused more on the topic of human rights issues, which relates to the organization's goal of supporting people with disabilities.
Whitaker metaphorically compared people with developmental disabilities to dandelions. Although many adults today view dandelions as pesky weeds, she said, children often find beauty in the plants. Whitaker encouraged festival-goers to adopt this childlike attitude and incorporate it into daily living as it relates to every individual, not just those with disabilities. She told her audience that each and every person possesses abilities that make them unique.
"I hope that you find those abilities, that you'll capture them, that you'll magnify them, and that you'll spend a portion of your life giving them away," she said.
Amnesty International at UGA is another organization that made an appearance. This club's mission focuses on educating students on human rights issues and empowering them to take action. Sabina Ashurova is a freshman economics major originally from Uzbekistan. She acts as the president of UGA's chapter and also works with Amnesty USA National Youth Collective. Ashurova also believes that the event's two main topics of human rights and environmental issues are connected.
"A lot of the people being impacted most by environmental issues are people who are already suffering from other human rights issues. They really go hand in hand," she said. "Unless we tackle environmental issues first, we won't be able to deal with social justice issues."
In addition to the stage, rows of tables lined the street to educate attendees about various causes. Among the organizations represented was Live Forward, which works to provide support and administer care to those affected by HIV. Live Forward is set to take the stage tomorrow for the second day of the event.
Another goal of the festival is to encourage inclusivity not only for people entertaining a variety of viewpoints, but also those representing a range of ages. For many, coming to the Human Rights Festival is a yearly tradition.
UGA's Latin American and Caribbean Studies Institute Associate Director and Outreach Coordinator Paul Duncan attended the event with the goal of introducing his two daughters to the importance of activism. This year's topic of environmental injustice resonated with him.
"Nothing else really matters if my kids don't have a planet to live on in three or four decades," he said.
His daughter Camille shared the same passion for education. A junior in high school, she said the festival serves as a way for her to learn more about issues related to the environment and human rights. She said she recognizes the significance of uniting with those around her and gaining exposure to different viewpoints.
"I'm someone who likes to stay involved in the community," she said. "I try to fill out my name on forms at the different tents, get involved in the community and meet new people to see what Athens is doing."
---
The Sunday schedule for the festival can be found here.