Several local residents and students braved the cold and breezy streets of Athens on Monday afternoon to protest discrimination in the community.
The protest began at the Arch on the University of Georgia's north campus with a speech from Versatyle tha Wildchyld, the leader of the All Love Movement, who reminded the crowd of Dr. Martin Luther King, Jr. and the reasons he marched on Washington, D.C.
"Today, we march for the same reason Martin Luther King marched," Wildchyld said.
From the Arch, the protest marched down East Broad Street towards Oconee Street and then headed towards Clayton Street. As the crowd walked down Clayton Street, they were told to march slowly.
"Let the bars know we're here," one protestor said.
---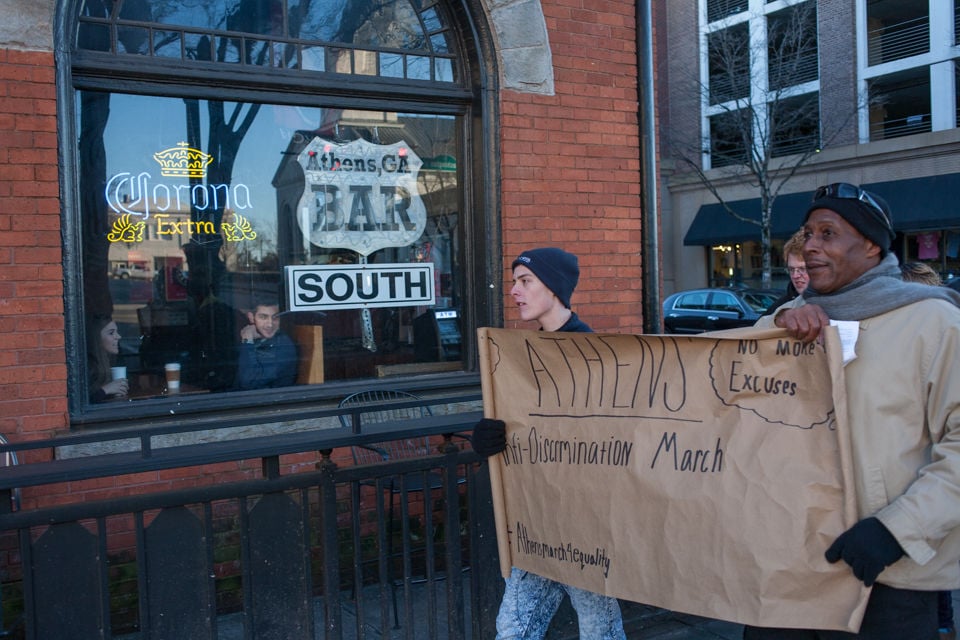 Crowds draw attention from bar goers as the Anti-Discrimination March passes Bar South. Jan. 18, 2016.
Photo by Landon Trust
---
The march came to a climax as it passed General Beauregard's, the alleged home of the controversial "N*****ita" drink that caused public outcry last semester.
Coming to a halt at City Hall, the rally began with a speech by Athens-Clarke County commissioner Melissa Link. Link made it a point to note that when she moved here, many of the Confederate paraphernalia and controversial issues in downtown, including flags and racist dress codes and bars, did not exist.
"This is not just about college students," she said. "We need to make sure [these businesses] can't do this."
In response to the various reports of discrimination, the commission introduced a resolution, which Link summed up as, "We don't approve of this."
The resolution condemns unlawful discrimination of any kind and maintains that it does not reflect the values of Athens-Clarke County.
"It's a shame that it was so necessary," Link said.
---
---
The University of Georgia had a representative, Jasmine Johnson, a member of the UGA chapter of the NAACP. She talked about students and prospective students who were or almost were scared away from attending because they heard it was racist.
One of the main goals for the rally was to encourage the city of Athens to introduce a human relations code and commission, which Athens for Everyone president Tim Denson spoke on.
"People have accepted that discrimination is something you have to live with," he said, "I'm tired of people who look like me running this city."
He encouraged that not only should this commission be brought forth, but that it should be independent from the city and should be diverse.
This commission would not just fight against accusations of discrimination in bars, he said. It would also be able to fight against any accusation of discrimination by any business that has a license to operate, being able to revoke a liquor or business license.
Denson mentioned Atlanta, Los Angeles, Philadelphia and Austin, among others, have already established such a commission.
The rally closed with a speech from Alvin Sheats, a representative from the local chapter of the NAACP.
---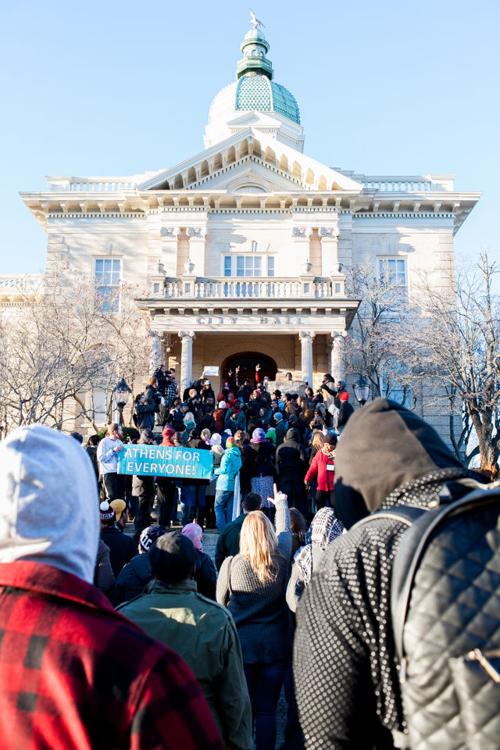 The closing speeches of the Anti-Discrimination March delivered on the steps of the Athens-Clarke County city hall. Jan. 18, 2016.
Photo by Landon Trust
---
Sheets put a great emphasis on the fact that this is not just the problem of one race or ethnicity, but that everyone needs to work together in order to move forward.
"People of color, especially young people, don't feel comfortable coming down and patronizing these businesses," he said.
Denson made it clear that this can only be the first step for them. The organizers will hold another meeting Feb. 7 at 3 p.m. at the Athens-Clarke County Library on Baxter Street.