With rain instead of snow and temperatures in the mid-fifties, the first day of December in Athens was not beginning to look or feel like Christmas.
But inside The Classic Center, Christmas came early.
Children from all over Athens-Clarke County gathered to meet their modern-day Santa Claus's in the form of students from the University of Georgia. With Christmas decorations lining the walls of The Classic Center ballroom and the sound of Christmas music in the air, Shop with a Bulldawg Event Day was underway. Shop with a Bulldawg, otherwise known as SWAB, hosts an annual event inviting children from the elementary schools around ACC to shop with a mentor.
Today was Isaiah Glover's second time bringing his younger brother to the event. For him, the annual event means much more than putting gifts under the tree. Today was about giving his brother a chance to experience receiving gifts he otherwise wouldn't be able to buy.
"As an older brother, I may not always be there to get what he wants at times. I do have a job, but I have to put money toward other things," Glover said. "It's a good chance for him to have a different start, to get things that make him happy, so I feel happy. It's a game changer for people that may not have as much."
His younger brother, Jy'aire Davis, is a fourth grade student at Howard B. Stroud Elementary School, and sports were at the forefront of his mind when choosing his gifts.
"I went to Walmart, and I got a lot of sports stuff and clothes," Davis said. "I was happy because I love sports, and [my mentor] was nice. It was great."
School buses from the elementary schools dropped children off at The Classic Center where they met their mentors and had a Chick-fil-A breakfast together. Then, they went to the Walmart on Lexington Road to begin the gift shopping. They ended the day back at The Classic Center, wrapping their gifts with their mentors and taking pictures at the photobooth.
This year, there were a total of 714 mentees and 1,400 UGA mentors. Each mentor raised $60 throughout the year, and two mentors were matched with one mentee. The children, selected on both a need and merit basis, had a total of $120 to spend at Walmart on whatever they wanted — from clothes to toys to slime.
Haley Planson, the director of public relations, was at the event since 4 a.m., but seeing the joy on the children's faces today made all the late nights and early mornings worth it for her. As a senior, this was her fourth and last year participating, and the most fulfilling aspects have been conveying to both mentors and mentees the rewards of giving back.
"This is Christmas morning for the children. It's really fun to see them come out here, pick out their presents and be a kid for a day," Planson said. "All of them deserve it, so it's really good they get to come out here, relax, have fun, pick out all their toys and have a mentor they can look up to."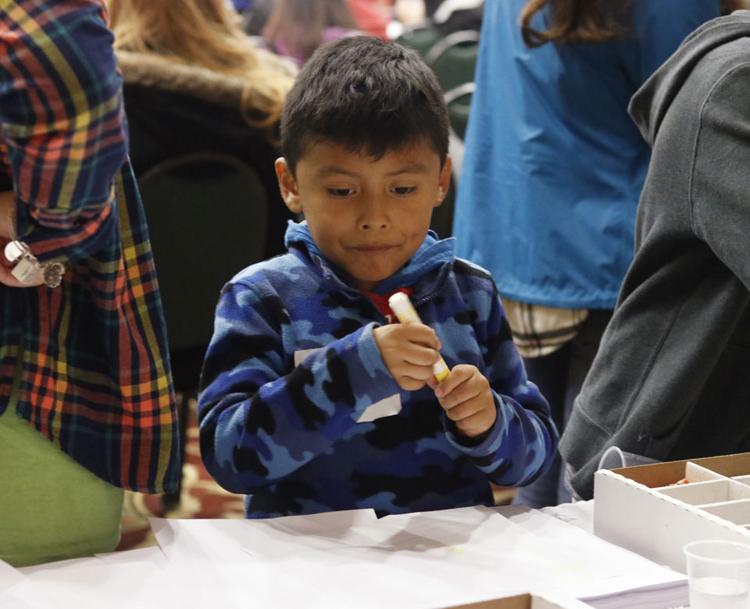 Despite it being a one-day event, fundraising and recruitment is a year-round effort. Jessy Tallant, the director of event operations, said this year, they booked The Classic Center in January 2018, only a month following the event in December 2017. Throughout the year, executive board and committee members promoted and fundraised for the event, and this year, they raised a total of $100,267, Planson said.
Tallant, a junior health promotion and behavior major, started volunteering with SWAB since freshman year, and for her, the most valuable part of the experience is learning about the Athens community beyond the campus.
"It's an opportunity to meet some incredible kids and get to see what Athens is as a city outside the UGA bubble," Tallant said. "It's just really cool to see Athens for something other than a college town, and I think it's important to recognize that and give back to the city because we take a lot from it."
Sporting a Christmas suit from Walmart with Christmas lights around his neck, Grant Mitchell was one of the two emcees at the event. Mitchell, the co-director of recruitment, heard about the event when he was a sophomore in high school from his older sister. Four years later, Mitchell is giving back to the community in hopes of relaying the holiday experience he was able to have as child.
"It's just so wonderful seeing all these kids come in a room together and get what they deserve, which is the privilege of having a holiday," Mitchell said. "We really tried to make it a hype day, so the kids get to see these mentors are here, and they value them so much. We want them to know that we care."
Bernice Smith learned about the event through J.J. Harris Elementary School where her grandson, Temarcus Maddox, is a student. This was their first time attending the event, and Maddox is an action-figure fan, who bought Ben Ten and Avengers figurines.
"It was a good experience, and he's very happy. It made a big difference for us this year," Smith said. "It symbolizes that there are people that really care about kids that wouldn't have presents if the organization and UGA hadn't stepped up and helped, so it really is a big help."