For most University of Georgia students, securing the HOPE or Zell B. Miller scholarships in high school was never a question.
According to University System of Georgia data for fall 2015, 98 percent of in-state, first-time freshmen attending UGA received one of these scholarships.
Across the state, however, it's a different story. 
Around 62 percent of in-state, first-time freshmen in the university system received either scholarship, with lower-income students having lower levels of eligibility.  
According to the Georgia Budget and Policy Institute, both merit-based scholarships are "out of reach for students of modest means." 
An analysis from GBPI showed that the scholarships are disproportionately granted to higher-income students.
"As a result, low-income students are underrepresented among scholarship recipients in the university system," a post from the institute said. 
This trend is noticeable when comparing the median income among Georgia colleges with the amount of students who are receiving these scholarships. 
At UGA where 98 percent of students have HOPE, the estimated median income is $129,800, according to a study done by the Equality of Opportunity Project based on students from the class of 2013.
By contrast, 79 percent of Georgia State University students have HOPE, and the school has a median income of $60,300. At Albany State University, 39 percent of students have HOPE, and the median income is $30,800, according to the same study.
With HOPE's disproportional aid to middle- and upper middle-income families, another trend became apparent to UGA economists Chris Cornwell and David Mustard — the rise of "hopemobiles."
HOPE-ful for a new car
According to a 2007 study by Cornwell and Mustard, HOPE had a significant effect on the increase in car registrations in counties with increasing numbers of HOPE scholars, specifically in looking at 1994 and 1995, a couple years after HOPE was implemented.
Based on their analysis, the economists found the HOPE scholarship money flows toward students who would have attended college without it and did not successfully increase economic diversity in colleges and universities. 
Since students who receive HOPE tend to have a higher family income, their college funds are re-allocated, a lot of the times in the form of a new car. 
Mustard said he was inspired to examine the issue after hearing a group of five economics students say they were "bribed" into attending UGA.
"She said, 'Well I was either going to go to Chapel Hill or UGA, but my dad said if you stay here, go to UGA and get HOPE, I'll get you a brand new car,'  and so she [stayed]." Mustard said. "I went around and the next girl said she had been bribed too … Every single person had the same exact story."
Mustard said the HOPE scholarship was successful in advancing the academic profile of Georgia's universities but did little to increase widespread access to higher education. 
"We basically found that the HOPE scholarship does not do a very good job of increasing access [to higher education]," Mustard said. "It really does a better job of increasing choice and keeping high achieving students in the state, but it does not really do a good job of giving students a chance to go to college who wouldn't have otherwise gone."
The genesis of HOPE
The idea for the scholarship did not originate in allowing parents financial leeway to buy their children cars. Its beginning can be traced back to the 1990 Georgia gubernatorial race. 
Candidate Zell Miller needed a way to distinguish himself in the race. Miller believed education was the answer to improving the state, so he paired education reforms with another popular want in Georgia — the lottery. 
"The best way to address Georgia's economic stagnation and inequities, according to Miller, was to fund education by any means possible," said Dr. Michael Lanford in a study analyzing the HOPE scholarship. 
In 1992, Gov. Miller was able to pass the HOPE scholarship along with the lottery referendum.
According to Lanford's study, HOPE was an incentive to do well in high school and go to college in the state, but it was also designed for social equity.
---
It really does a better job of increasing choice and keeping high achieving students in the state, but it does not really do a good job of giving students a chance to go to college who wouldn't have otherwise gone.
-David Mustard, UGA economist
---
The scholarship had an income cap of $66,000 when it was first introduced, designed to be high enough to include both middle- and low-income families, said Lanford.
HOPE was operating at a surplus in its first couple of years, so the income cap was raised to $100,000. By 1995, the income cap was removed altogether, which is around the same time Mustard and Cornwell found that car sales in wealthier Georgia counties were going up.
Without the income cap to promote Miller's social equity goal, HOPE was being emphasized more as a merit-based scholarship, according to Lanford's study.
Today, HOPE covers 90 percent of tuition after being scaled back in 2011. The Zell Miller scholarship was also created, another indicator of the merit-based emphasis.
UGA commits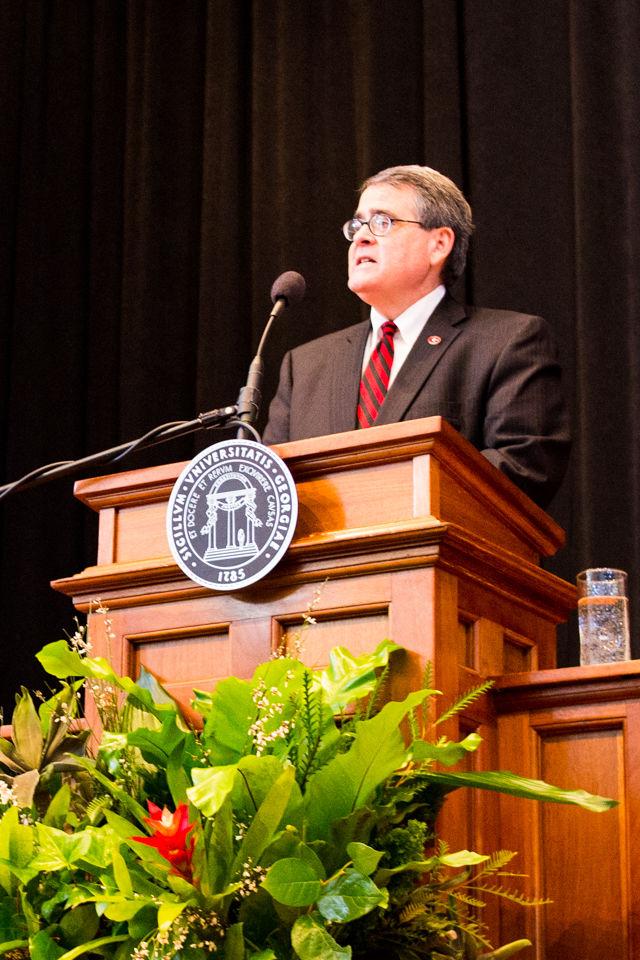 Without a statewide scholarship to fulfill the needs of lower-income students, UGA President Jere Morehead made increasing need-based aid a focus of his 2018 State of the University Address.
During his 2017 address, he announced plans for the need-based Georgia Commitment Scholarship program.
Recipients of the scholarship receive more than just financial support, said Tracy Coley, public relations coordinator for the Office of Vice President for Instruction.
Coley said one of the goals of the program is to help direct students who may be unfamiliar with how to navigate the collegiate landscape to resources that help them succeed.
"They receive more than just money," Coley said. "They also receive academic support. This program funnels them in because when a student comes in, and they're not used to having resources, especially at a large university, they might be afraid to ask questions."
The goal for the program is 400 scholarships. So far, around 80 of these scholarships were given out to students for this academic year, according to Bonnie Joerschke, the director of student financial aid.
"It's need-based, so it's based on the FAFSA, and therefore, low income students are eligible," Joerschke said. "We look at the student's eligibility through that, as well as the donor's wishes."
---
Correction: A previous version of this article misnamed Tracy Coley as Tracey Giese. The Red & Black regrets this error which has since been fixed.