Hattie Thomas Whitehead remembers her time in Linnentown fondly. 
She lived in the Black Athens community for the first 14 years of her life after her birth in 1948. A fourth generation resident, Thomas Whitehead spent her days playing softball, jump rope and jackstones with her six siblings and neighborhood friends. 
The children knew to keep to themselves. A fence separated their neighborhood from the white neighborhood, a reminder that they weren't welcome. Drivers sped up when Thomas Whitehead and her friends crossed Baxter Street on their way to the local grocery store. Students at the University of Georgia threw water bottles and called the children names. 
UGA's campus was so close that fans of the university's football team would park in front of the residents' houses on gamedays. Make sure nothing happens to those cars, Thomas Whitehead's parents would say. They didn't want any trouble.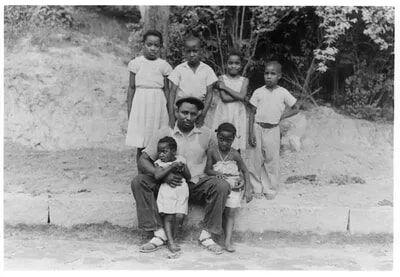 Trouble came regardless in 1962, when UGA and Athens used eminent domain laws to displace her family from their seven-room home as part of an urban renewal project. Eminent domain laws allow a government to seize private property as long as it provides monetary compensation to the owner. 
UGA dormitories Creswell Hall, Russell Hall and Brumby Hall now stand where about 50 Black families once lived. 
Almost 60 years later, Thomas Whitehead is one of several outspoken Linnentown residents seeking "recognition and redress." For decades, knowledge of Linnentown was essentially limited to the former residents. The story of increasing awareness starts with Joseph Carter, an employee for UGA Libraries, who presented Thomas Whitehead with data he found in his research in 2019. 
"It brought tears to my eyes. It brought negative memories to my mind that had been blocked out," Thomas Whitehead said. "Once I saw that, I knew I had to get involved. Because I knew everything that had been done was wrong."  
Efforts lead to awareness 
All Carter wanted was an example. 
He was researching how wage suppression and high rent prices in Athens relate to each other on behalf of a United Campus Workers of Georgia campaign. He figured it would be more compelling if he could mention a specific community. 
Carter gave Athens-Clarke County Commissioner Melissa Link a call. Link said she heard rumblings of an old community at the location of the UGA high-rise dorms but didn't know any specifics. 
Carter went to the UGA Special Collections Libraries, where he found a "treasure trove" of documents relating to urban renewal. The case file that detailed Linnentown's destruction was titled "Urban Renewal Project GA. R-50."It never mentioned Linnentown — or the alternate name "Lyndontown" — by name. 
Link had a friend of a friend, Geneva Johnson, who lived in the community. Johnson currently lives in one of only three surviving houses from Linnentown, Carter said. Her father, Davis Johnson, physically moved a house from the neighborhood to East Broad Street. 
Johnson introduced Carter to Thomas Whitehead, and they began extensive research into property values and the characteristics of the neighborhood. While learning about Linnentown, Carter learned more about Johnson and Thomas Whitehead, and the three became close friends.
"They are some of the bravest people I've ever met," Carter said. "Their tenacity to fight against injustice goes all the way back to when they were kids living in Linnentown. …  Teaming up with them, [I've seen] how profoundly unafraid they are to stand up for what they believe they deserve." 
Thomas Whitehead's speech at the Lyndon House Arts Center on Sept. 12, 2019, started the campaign for public awareness, known as The Linnentown Project. Johnson's 2013 interview with UGA's Richard B. Russell Library was the only other time either resident had spoken about Linnentown publicly. 
Initial discussions with UGA were fruitless, Carter said. The Linnentown Project, established by former residents and Carter, turned its attention to the Athens-Clarke County Mayor and Commission. The city of Athens had worked with UGA in removing Linnentown.  
Residents issued several reparational demands, including financial compensation and a wall of recognition. Supporters of the project packed a February Commission meeting holding signs in support of redress. 
In a Jan. 9 statement, UGA said it respectfully disagrees with the conclusions of the project.         
Linnentown's removal wasn't an isolated occurrence
By the mid-1960s, the oldest of the baby boomers — generally defined as those born between 1946 and 1964 — had grown up and were ready to attend college. 
Universities needed more land to accommodate the influx of students. At UGA, the acquisition of Linnentown and the completion of Creswell, Brumby and Russell Halls in 1963, '66 and '67 couldn't have come at a better time. 
The university's enrollment was essentially stagnant in the 1950s. But between 1960 and 1969, it skyrocketed. The student population tripled from about 7,500 to over 22,500, according to the UGA Fact Book.  
UGA was far from the only university to acquire property in the name of expansion.  
The University of Chicago played an active role in displacing over 4,000 families from the Hyde Park area during the 1950s and 60s. Further south, an expansion of the University of South Carolina forced an estimated 175 families to move, according to University of Richmond's "Renewing Inequality" project.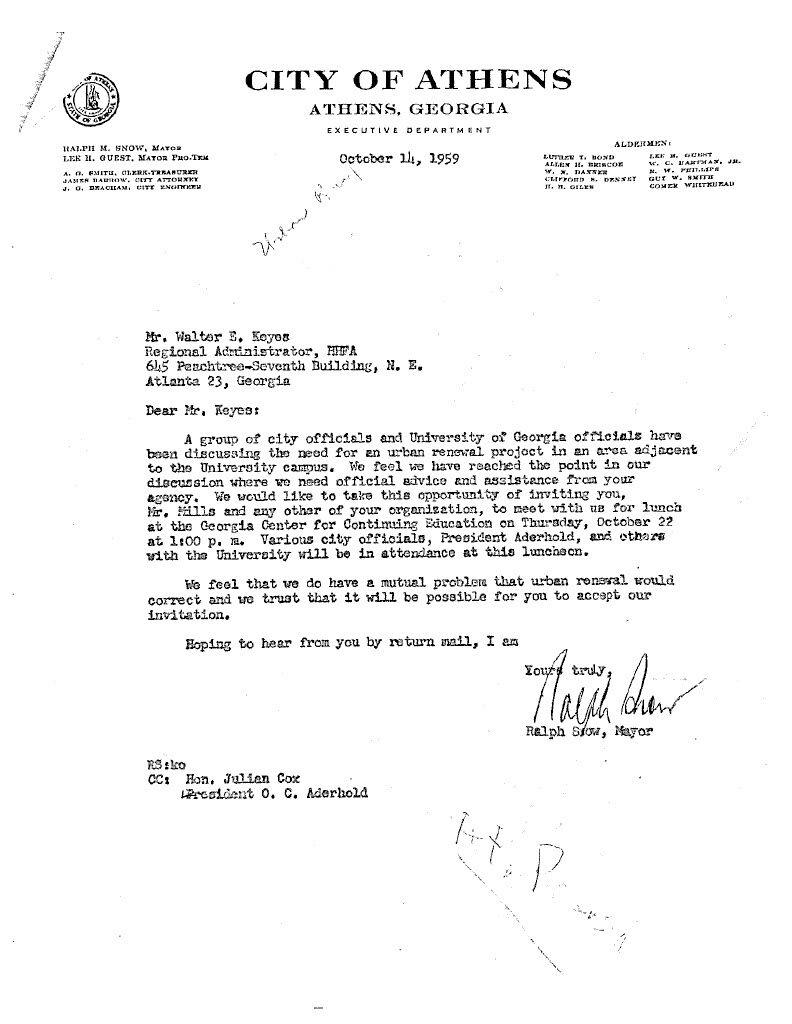 Universities and cities took advantage of the Housing Act of 1949, which authorized federal loans to local governments for the removal of "slum areas." Urban renewal was just one part of a decades-long discriminatory housing policy on the federal level, according to Richard Rothstein's 2017 book "The Color of Law."  
"Racial segregation in housing was not merely a project of southerners in the former slaveholding Confederacy," Rothstein wrote. "It was a nationwide project of the federal government in the twentieth century, designed and implemented by its most liberal leaders."
Urban renewal projects displaced 298 Athens families, including 176 families of color, according to the "Renewing Inequality" project. 
In addition to Linnentown, Athens city leaders used eminent domain laws to acquire the homes of 233 families in an area called The Bottom. That area, where emancipated slaves settled in the 19th century, included parts of College Avenue along the North Oconee River, according to Flagpole. 
Where the resolution stands
Thomas Whitehead was involved in civil rights from a young age.  Her family's move from Linnentown to public housing continued to inspire her. 
While participating in civil rights demonstrations downtown, she said police sometimes put her in jail. Decades later, she still leads a public life. In 2011, she founded Athens StepUp Scholarship Program, which gives money to high school seniors who overcome obstacles. 
Now she wants the mayor and commission to pass the Linnentown Resolution. In February, commissioners discussed the resolution. Two commissioners — Russell Edwards and now-deceased Jerry NeSmith — expressed reservations about the resolution's wording.
Since then, Mayor Kelly Girtz helped form the Athens Justice and Memory Project. The resident-led team will focus on Linnentown's destruction and serve as a "model process for coming projects," Girtz said. 
Thomas Whitehead led the first meeting of the project. Her activism will rely on data found in research, she said. During the spring 2020 semester, she assisted a class taught by UGA geography professor Jerry Shannon that digitized records and mapped the neighborhood. 
"Outside of former residents, five years ago most folks in Athens really had no awareness of the neighborhood or the redevelopment that destroyed it," Shannon said. "To see it on a map makes it more of a real place that residents can use and point to and say, 'Here's where it was.'"    
Shannon and his students determined that UGA paid Black homeowners much less money than white homeowners, even after controlling for the size of the house. A majority of Linnentown residents owned their own home, according to the Linnentown Project. Therefore, they missed out on the wealth that would have come with the housing price boom in the second half of the 20th century, Shannon said.  
Thomas Whitehead said she doesn't know when the commission will vote on the resolution. Compensation would help with the pain that lingers, Thomas Whitehead said.   
"Our parents didn't have a chance," Thomas Whitehead said. "Because, with the city, with UGA and with the senators that the president of UGA was writing to get involved, they didn't have a chance. They had nobody on their side."