An estimated 2,000 protesters marched through downtown Athens on May 31, calling for racial justice after the killing of an unarmed black man, George Floyd, by a white police officer in Minneapolis. The protest, one of many occurring nationwide, lasted for two hours and remained peaceful.
A small group of black activists led the protest, including Athens-Clarke County District 2 Commissioner Mariah Parker.
Parker led the group in a call-and-response chant at the Athens courthouse on Washington Street before leading them to the University of Georgia Arch. At the Arch, protestors blocked off the road, prompting police to set up roadblocks on North Lumpkin Street and North Thomas Street.
"I commit to the fight for black lives," the chant led by Parker began. "A world without cops is possible. And the work begins today. And continues tomorrow. And continues next week. Until we win. Black lives matter."
Before the protest, Athens Mayor Kelly Girtz said in an interview he understood people's desire to make their voices heard.
"I understand that everyone is understandably outraged and appreciate people expressing that outrage on the street, and being willing to work to change systemic tools of oppression," Girtz said.
Later in the evening, Girtz received cheers of approval as Parker handed him the megaphone to make a short speech. While Parker said she "loves" Girtz and "would not be on the commission without him," she and the other activists demanded Girtz work with Parker, who developed and passed out literature detailing a plan to reduce policing in Athens.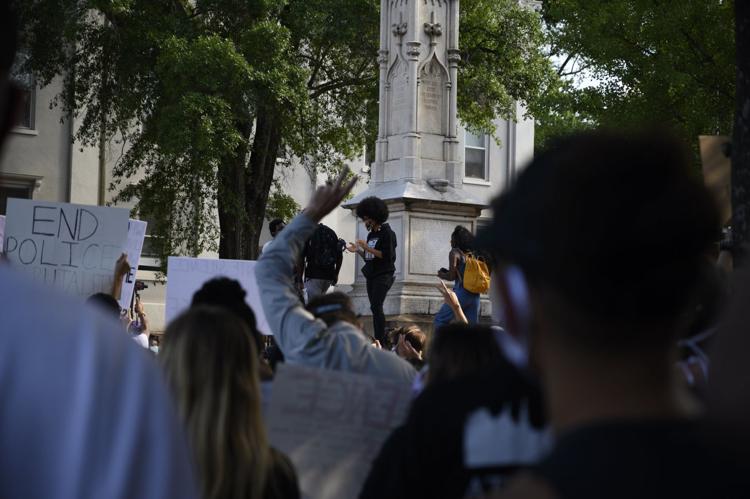 Parker called for 50% of Athens-Clarke County Police Department officer positions to be eliminated, and for that money to be used to hire social workers and mental health professionals.
Other activists encouraged police to interact with the community and change the system from within. They called on the protesters to hold themselves and their coworkers accountable. Many demanded more education and awareness on the struggle for racial justice. At one point, a 1-minute moment of silence was held in memory of those killed by police.
"Enough is enough," Athens resident Alycia Garth said. "We're tired, we're fed up. I'm here today because I have a black son, so I have to stand up for him and black brothers."
Speakers touched on familiar topics regarding racial issues in Athens, including the high poverty rate and the tense relationship with UGA, where black students are underrepresented compared to Georgia's demographics. One speaker criticized UGA President Jere Morehead's statement issued on Sunday about the national protests occurring, which did not explicitly mention black people or those who had been killed by police.
"How does [the pillars of the arch] represent us? Everyone is ... fucking tired of it," the speaker said (Morehead called for the UGA community to "recommit" to the three pillars of the Arch: wisdom, justice and moderation).
Speaker Rachelle Berry criticized the ACCCPD officers for shooting people who were experiencing "moments of crisis." ACCPD officers shot six people last year, several of whom appeared to be struggling with their mental health and charged at police.
Protest marshals handed out water bottles and offered squirts of hand sanitizer to protesters. Most protesters wore masks in accordance with Centers for Disease Control and Prevention recommendations for COVID-19 precautions, but the size of the crowd was not conducive to social distancing.
The protest was the largest in Athens since the demonstration on the day of Donald Trump's presidential inauguration in January 2017.
Toward the end of the protest, the crowd briefly panicked and started to scatter after a man was seen carrying a weapon. Police later told The Red & Black that the man, who was arrested, had a fake gun.
Shortly after the scare, five men appeared, armed with rifles, leading protest marshals to tell the crowd to go home. Some of the men, who said they were not affiliated with a specific group and that they were also protesting the police, were wearing Hawaiian shirts.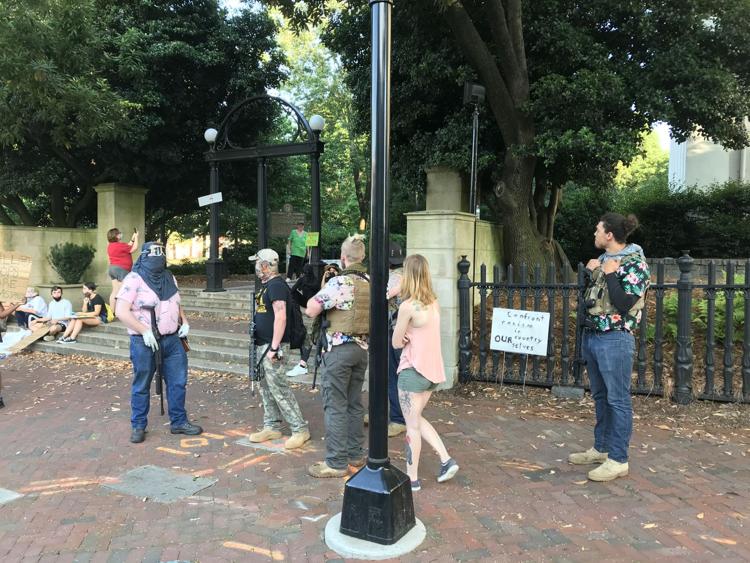 Other media outlets have reported that these shirts are being worn by far-right protesters to signal support for a race war, part of an internet meme called "Boogaloo."
Before the event, organizers stressed that the protest remain peaceful. Most protesters left around 7 p.m., but about 150 lingered. The protest remained mostly peaceful — the only property damaged was graffiti sprayed on the Confederate monument on Broad Street. Around midnight, police used tear gas to disperse the remaining protesters, citing a 9 p.m. curfew the ACC government had instituted. 
The Athens Anti-Discrimination Movement has scheduled a "Justice For Black Lives" march and rally for June 6 at 2 p.m. in front of City Hall.
---
Editors note: This story has been updated to reflect estimates of the crowd size by officials. It has also been updated to reflect the forced dispersal of protesters that occurred around midnight on May 31.