The Athens-Clarke County and University of Georgia Police Departments are both soliciting help in identifying suspects in the two armed robbery incidents that occurred on Oct. 10.
In a press release, UGA attached security cameras images along with a description of the two suspects who robbed a man shortly before midnight on Thursday based on images and victim statements.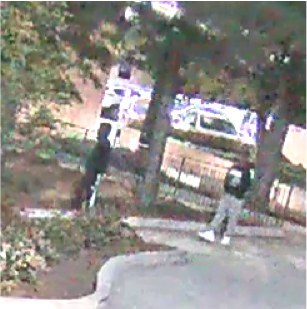 "Both suspects were described as black males in their early to mid-twenties, approximately six feet tall with slender builds. One of the males was described as having a dark complexion, short hair, short facial hair, wearing a dark blue or black long-sleeved t-shirt with a white design on the front, dark jeans with tears on the front and white shoes," the release reads. "The second male was described as having a medium complexion, clean shaven, wearing a dark grey hoodie style zip up jacket, dark pants with a white stripe down the sides, grey beanie hat and white shoes."
ACCPD, meanwhile, asked businesses and homeowners in the South Pope Street area to review any surveillance footage from Oct. 10, when a man was robbed on South Pope Street near Waddell Street shortly after noon.
According to an ACCPD press release, "the 21-year-old victim stated that he was robbed at gunpoint by a slim black male in his 20's, approximately 6' 1" tall, wearing dark clothing."
The man robbed on Pope Street lost an iPhone, a wallet containing $40 cash, a debit card, driver's license and student ID, a MacBook Pro, a backpack, Apple headphones, a phone charger, two Texas Instruments calculators, school supplies and a blazer jacket, according to the police report for the incident.
ACCPD included a Dropbox link showing surveillance footage of suspects.
---
A man with a weapon robbed a 21-year-old man on S. Pope Street near Waddell Street shortly after noon on Oct. 10, according to an Athens-Clarke County Police Department press release. According to the release, ACCPD searched the area but did not locate the suspect.
About half a mile away, another man was robbed at gunpoint by two men in the Lower Russell Hall parking lot near the West Campus Deck at approximately 11:59 p.m., according to a UGA special safety update.
Crime Stoppers is offering a reward for information leading to the arrest of the suspect of the first robbery. ACCPD has asked anyone with information to call the Crime Stoppers tip line at 706-705-4775 or Det. Paul Johnson at 706-613-3330, ext. 522 or Sgt. David Norris at 706-613-3330, ext. 556.
UGA Police asked anyone with information about the second robbery to contact UGAPD.