Body-mounted camera footage released from the Athens-Clarke County Police Department press conference on March 10 at 4:30 p.m. depicted multiple points of view of the fatal shooting of 34-year-old male Thomas Swinford, who was armed with an airsoft gun.
This footage was a compilation of several body cam views from the officers involved at the scene. There were more than 15 officers on the scene, Police Chief Cleveland Spruill said.
Over the PA system, an unidentified ACCPD officer encourages Swinford to put down his weapon and cooperate with the police.
"I know there's a lot going on, but we can work this out, we can work through it," the ACCPD officer said. "You have to give us a chance."
As Swinford quickly approached the officers after a 20-minute standoff, he raised the weapon in his right hand. At this time, according to Spruill, the officers on the scene feared for their lives and fired their weapons at Swinford. Swinford was struck, fell to the ground, and officers transported him to the hospital where he succumbed to his wounds.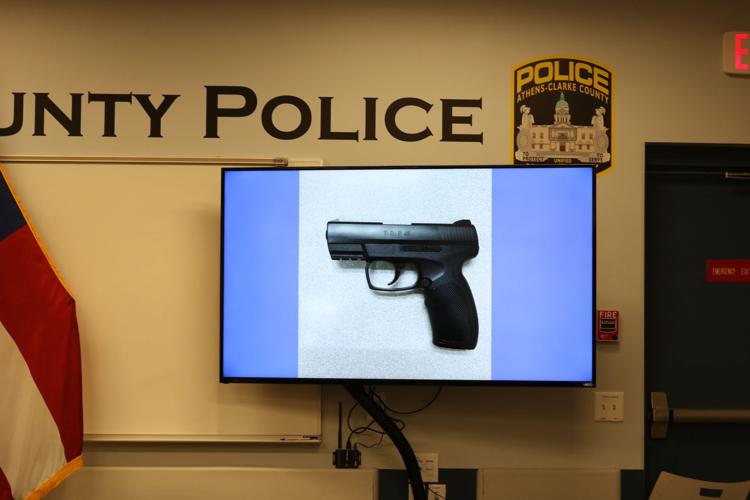 At the time of the incident, the officers were not aware the weapon Swinford possessed was an airsoft gun. The seven officers involved in the shooting have been placed on administrative leave.
"If it looks like a gun, the police have no way of knowing whether it's real or not," Spruill said. "The reality is, you're making a decision in a split second. The consequences of getting it wrong are you might lose your life."
ACCPD spoke with Swinford's father and mother to relay his death the night of the incident. Swinford did not have an address in the Athens area and first made contact with the officers at a family member's residence on Friday, March 8.
---
"When a person loses their life, whether it's justified or not, we've somewhat failed at our mission."
- Cleveland Spruill, ACC police chief 
---
Just before 6:30 p.m. on March 8, officers were investigating the theft of a motor vehicle and other items belonging to one of Swinford's family members, Spruill said. They were also investigating reports of erratic behavior on part of Swinford. Officers witnessed Swinford earlier and saw what looked like a firearm in his hand but at the time were not aware of Swinford's criminal record, Spruill said.
As their investigation continued, they learned Swinford was a convicted felon. Possession of a firearm by a convicted felon is a crime.
Later that evening, ACC police officers responded to this same residence to follow up on this case. At this point, they encountered Swinford with the firearm still in his possession. Swinford then got into a car and fled the scene. Officers followed and found him in the 800 block of West Lake Drive where the actual shooting occurred.
"We take no joy in having had to take Mr. Swinford's life," Spruill said at the press conference. "It's part of our job … When a person loses their life, whether it's justified or not, we've somewhat failed at our mission."
The investigation has been turned over to the Georgia Bureau of Investigation. ACCPD is awaiting the final decision and review by the ACC district attorney.