UPDATE — Republican Senate Majority Leader Mitch McConnell announced on Tuesday, June 27, that the vote on the draft of the Senate health care bill will be delayed until after the July 4 recess. 
McConnell said that legislation of this complexity frequently takes longer than expected to come to a resolution. 
"We're optimistic that we're going to get to a result that's better than the status quo," McConnell said. 
See original story below
On Monday, June 26, residents of Athens-Clarke County and neighboring communities came together at the University of Georgia Arch to protest H.R. 1628, or the Better Care Reconciliation Act of 2017, better known as the Senate health care bill. The rally was hosted by local activist group Athens For Everyone in conjunction with the Protect Our Care Georgia campaign. 
Hundreds showing up at the #AthensGA #ProtectOurCareGA rally! pic.twitter.com/tkv81DAH5v

— Athens for Everyone (@Athens4Everyone) June 26, 2017
The Senate GOP-proposed legislation targets the Affordable Care Act, better known as Obamacare, and promises savings from reductions in Medicaid outlays and changes to the ACA's nongroup health insurance subsidies. 
According to a score issued by the Congressional Budget Office (CBO), the department which handles nonpartisan analysis for the U.S. Congress, the Senate bill would increase the number of people who are uninsured by 22 million by 2026. This would raise the total number of uninsured people in the U.S. to roughly 49 million people. 
Adam Lassila, board member for Athens For Everyone, helped lead the rally, and began by telling attendees that efforts like this are a major part of making sure the bill is not passed.
Lasila encouraged attendees to use public spaces to come together to oppose the Senate bill. Voting Democrats into office and continuing phone outreach to senators, Lasila said, are also important parts of the process. 
"And now in this time of political awakening, we are excited enough to have lots of candidates running for lots of things on progressive platforms," Lasila said. "This is super exciting, especially in a place where Republicans have too often run unopposed for these offices."
Chalis Montgomery, a Barrow County resident and Democrat slated to run against Republican House Representative Jody Hice for the congressional seat in the Georgia's 10th district, was the first official speaker of the rally.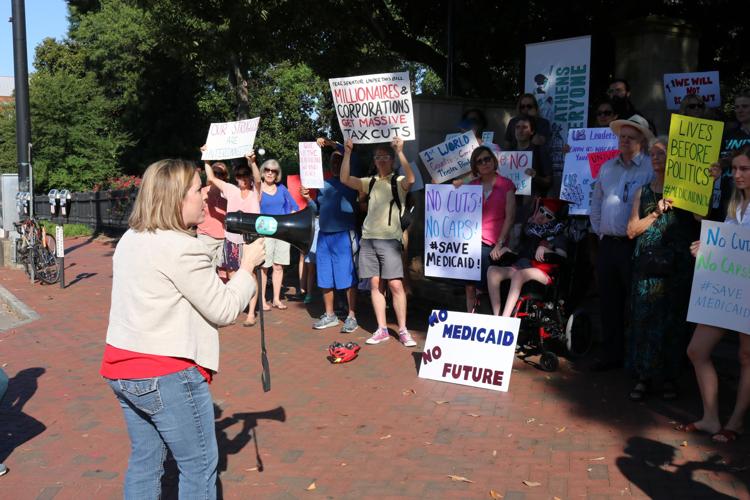 Montgomery described the proposed Senate health care bill as the "wealth-care" bill. She told listeners the story of her daughter Gwendolyn Montgomery, who was diagnosed with rheumatoid arthritis at two years old.
Montgomery said her daughter lives with constant pain, despite her medication, and in a given year Gwendolyn sees multiple specialists, undergoes lab work, and has multiple MRIs and prescriptions. 
"I'm here for Gwendolyn and children like her, and the more than 30 million children covered by Medicaid who have no political party," Montgomery said.  
Montgomery noted specifically that she seeks to help children, single mothers working multiple jobs, the disabled, veterans and the Athens community, with regard to health care. 
The second scheduled speaker at the rally was Richard Winfield, a research professor at UGA who is currently exploring running for the House seat against Jody Hice, for  Georgia's 10th congressional district. 
Winfield said that Obamacare was a step forward to recognizing health care as an inalienable right, but that it was ineffective as it did not provide universal coverage, it didn't truly guarantee affordable care for those with coverage and didn't contain a course of options for reducing health care costs. 
Richard Dien Winfield speaks on single payer health care: https://t.co/On50aUSm7Q via @YouTube

— Richard D Winfield (@rdwinfield) June 27, 2017
Winfield suggested that looking forward the best option is to find candidates and supporters for medicare for all, and who support mental, physical and dental care without co-pays, deductibles or medication charges.
Only with those measures will health care truly stand as a right," Winfield said.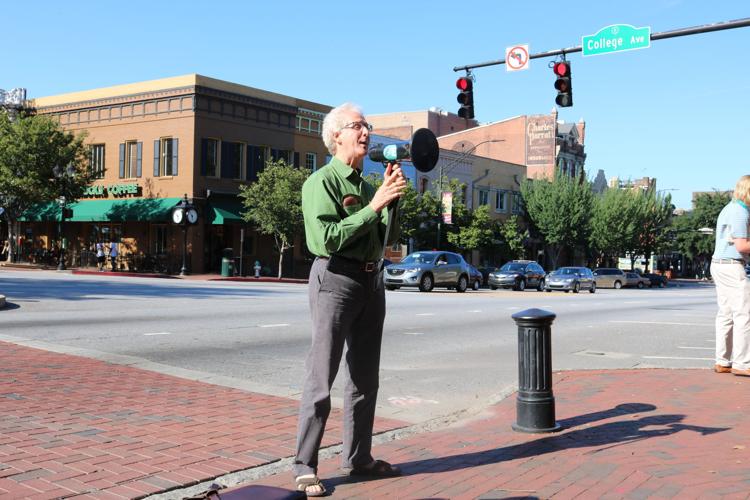 Tim Denson, organization coordinator for Athens For Everyone, was the final official speaker at the event. Denson said that similar rallies were taking place across the state, in areas like Macon, Savannah, Atlanta and Gainesville, and that people were coming out last minute to take a stand against the proposed bill. 
Every corner of #Georgia rallying to tell @SenatorIsakson & @Perduesenate , vote NO on Senate Healthcare bill. DM to set one up in your town pic.twitter.com/iod8bBsYEQ

— Athens for Everyone (@Athens4Everyone) June 24, 2017
According to Denson, if the Senate bill is passed over a million children will be in danger of losing their health care. 
"We'd like to let our senators know that we're extremely concerned about this bill," said Athens resident Eleanor Davis. "As the draft stands, it would be incredibly damaging to Americans in general and Georgians in particular, especially Georgians on Medicaid."
Following the official speakers the rally was opened as a forum for people to tell their stories. Denson encouraged attendants to keep fighting, keep calling, keep showing up and keep calling Georgia senators. 
The Senate bill is expected to be voted on Wednesday, June 28.