UPDATE: House Bill 481 received approval from a state Senate committee on March 18. This means the bill will soon be voted on by the entire Senate. 
The bill, which would ban almost all abortions in Georgia after a heartbeat is detected in the fetus, passed the House on March 7. If the bill passes the Senate, it will end up on Gov. Brian Kemp's desk. If Kemp signs the bill, it will become law. As a candidate, Kemp pledged to enact the toughest abortion restrictions in the nation. 
---
On March 7, the Georgia House passed the "heartbeat" abortion bill, which would make abortions illegal once a heartbeat is detected in the fetus — which is approximately six weeks. Deborah Gonzalez, former State House representative, organized quickly before the state Senate votes on the bill.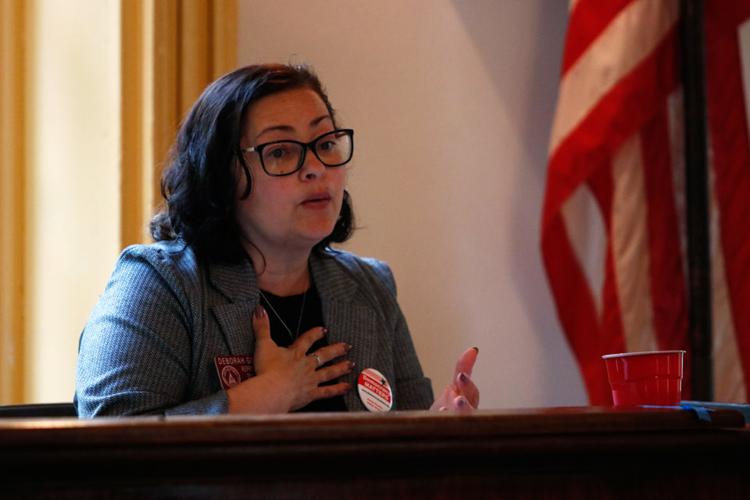 "This will be the most restrictive abortion law in the entire United States," Gonzalez said.
The Living Infants Fairness and Equality Act passed 93-73 on March 7, many waking up to the news Friday morning. Gonzalez expressed her dismay and organized a meeting at Ted's Most Best via Twitter.
It's International Women's Day and my legislature has betrayed me and my sisters. Girls time to roll up our sleeves again. If you are around I'll be at Teds Best in Athens from 11:30-2 pm. We need to talk. Pizza's on me. Share.

— Deborah Gonzalez (@DG4GA) March 8, 2019
Some attendees included Jonathan Wallace, who held Wiedower's seat in the previous session, April Greene, the executive director of the Samaritan Center and founder of the Magnolia Fund and Toni Reed, co-chair of Indivisible Georgia District 10.
From 11:30 a.m.-2 p.m., Athens pro-choice advocates cycled their way in to share stories and send their signatures of disapproval to Marcus Wiedower, District 119 representative, and Houston Gaines, District 117 representative, both of whom voted for the bill.
"We're watching you. We are watching, and we will continue to watch you, and we will watch every move you make," Reed said.
There were approximately 20 men and women at the event sharing stories, listening and organizing. Many more dropped in to quickly give their signatures, and by 2 p.m., there were approximately 65 signatures, two women taking their own sheets to collect more.
Gonzalez said she intended on reaching the Capitol post-haste with these signatures.
Attendees discussed organizing a book club with Handbook for a Post-Roe America to raise awareness about the bill and its potential effects. A point of concern was the speed the bill moved through the House, which many attendees said alarmed them.
"For a bill to be dropped and passed in the same legislative session is lightning fast. Most bills take years to become law. Five years is a relatively normal length of time for a bill to become law," Wallace said, "The speed prevents time for debate and engagement from constituents on such a sensitive, important bill."