Surveillance video obtained by the Atlanta-Journal Constitution shows Devin Willock, Warren McClendon and other University of Georgia football players leaving Toppers International Showbar at approximately 2:30 a.m. on Jan. 15.
The group was shown leaving the club about 15 minutes before the car crash that resulted in the death of Willock and Chandler LeCroy, a University of Georgia recruitment staff member. The group was accompanied by two women who resemble the University of Georgia employees involved in the crash, according to the AJC.
The crash occurred about 2.5 miles from Toppers, at the intersection of Barnett Shoals and Stroud roads, when the car left the road and hit two trees, two poles and came to rest against an apartment complex, according to a crash report released by the Athens-Clarke County Police Department.
Willock, 20, and UGA recruiting staffer Chandler LeCroy, 24, died. McClendon, 21, suffered minor injuries and recruiting staff member Tory Bowles, 26, suffered serious injuries.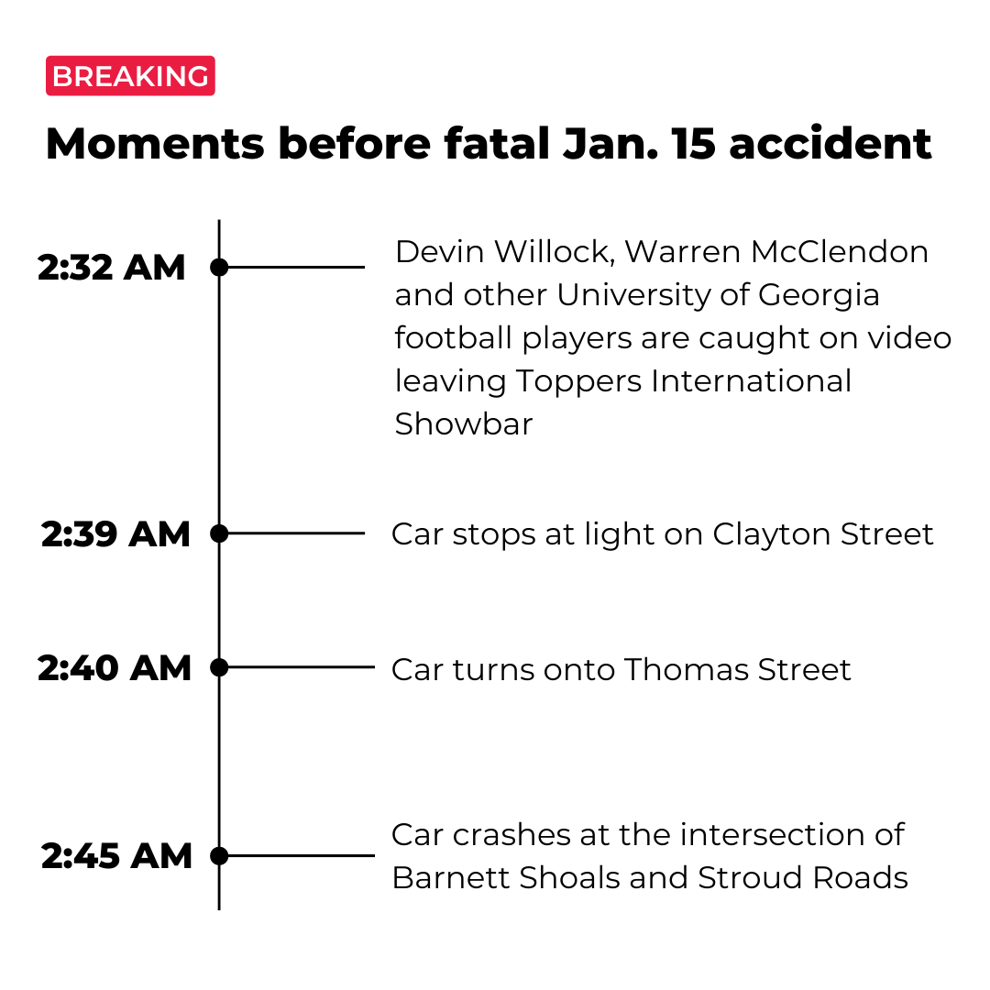 Speed was a contributing factor in the crash, according to the crash report.  
The group was among the last to leave the bar, which closed at 2 a.m., according to the AJC. 
Willock and McClendon were identified in the video by the AJC using photographs and social media posts. The two were wearing the same clothes and hats they had been photographed in hours before. It is not clear when Bowles and LeCroy met up with the athletes, according to the AJC. 
UGA has not answered any questions from the AJC nor released a new statement concerning the video.
The Red & Black has reached out to UGA Athletics, ACCPD and Toppers for a comment. No response has been received at the time of publishing. 
This is a developing story. The Red & Black will publish updates as they are available.