The dress code for the protest near the Arch on Feb. 5 was all white except for a bloodstain on the crotch of the protesters' pants.
Though this wasn't actually a requirement for anyone wanting to join the Bloodstained Men in their protest against circumcision, the group themselves came donned in this eye-catching attire, complete with signs decorated in more faux blood stains.
"The bloodstain is what shocks people the most. I have never seen a protest symbol in human history that has the power of the bloodstain," said Brother K, who founded the organization in 2012 and started protesting circumcision in the 1980s.
The protesters' goal is to show people that circumcision, a practice almost exclusive to American medicine, is traumatic body mutilation for babies who cannot give consent for the act. Any adult male would decline having his foreskin cut off, said the Bloodstained Men's press director Harry Guiremand, so the group wants this nonconsensual surgical procedure to become a thing of the past.
About 10 men stood holding signs with statements such as "Vote no to circumcision" and "Foreskin is not a birth defect." They started the protest around 11 a.m., according to the Facebook event.
This stop in Athens was one of many for the Bloodstained Men's protest tour of Georgia. They started in Atlanta on Super Bowl weekend because the event brings so many people into the city. Guiremand said the group protests in about 60 cities a year all over the country and Canada.
"When the Super Bowl is not held in a very, very cold place like Minnesota — we can't go there, it's too cold — we come out and protest because it's a huge crowd and we can reach a lot of people," Guiremand said.
Today, the group is in Statesboro, and on Wednesday they stopped in Augusta. 
Athens was an obvious stop, Guiremand said, because it's a major city in the state and the group can educate college students about circumcision before they have children of their own and must decide. 
"It's the young people who can make a difference and protect their boys," Guiremand said. "If they understand it's harmful, not necessary and violates his rights — all the problems with it — they don't cut their boys. Parents don't want to harm their kids."
Bill Darby, a 58-year-old retiree from Athens, stopped to talk to the protesters. Darby, a pro-life activist, said he always tries to understand and educate himself about issues people are protesting and recommended the men direct some of their efforts toward pro-life work.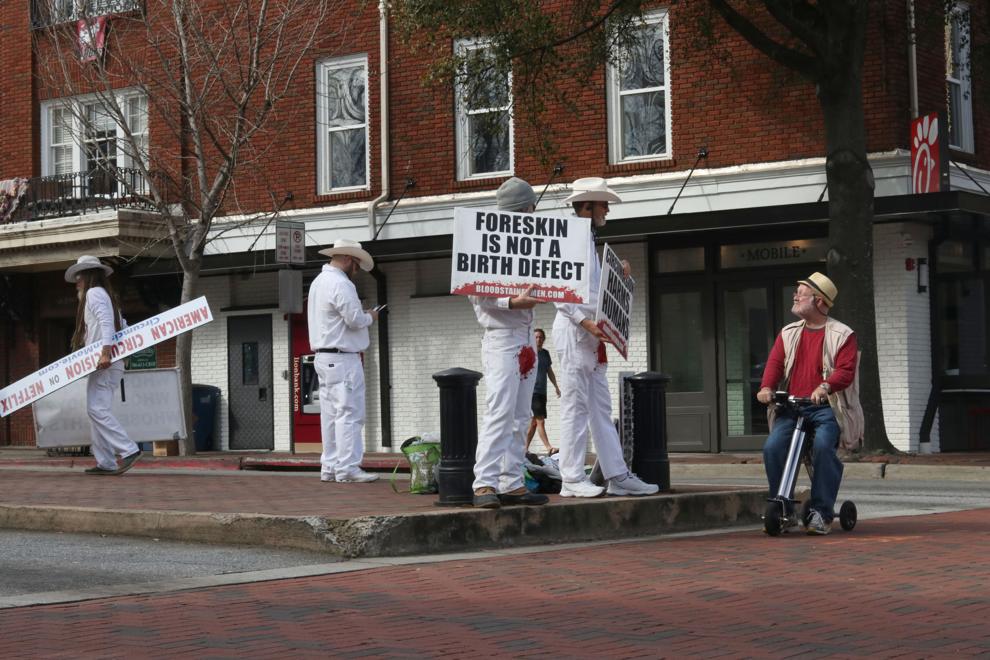 "The death of a child is far more cruel than circumcision," Darby said. "I don't know if circumcision is good or bad, but I know killing a child is really bad."
As the Bloodstained Men protested, they were greeted with some honks and a few questions from passersby, one of whom wondered how foreskin affects the contraction of STDs, a question Brother K said they get a lot.
From Brother K's time protesting across the country for this issue, he said the responses have been increasingly positive, something that Guiremand echoed.
"I've been doing this since 2012, and we've seen less hostility and more positive reactions from the public," Brother K said. "We're seeing that across the board."