AFTM rocked an excited and enthusiastic crowd on Saturday night at the Southern Brewing Company Mainstage on the second night of the 23rd AthFest Music and Arts Festival. The local band treated the audience to its Southern brand of rock — their music was energetic and varied, offering a mix of faster and slower songs.
Throughout the show, AFTM maintained a positive rapport with the audience. The band members stayed focused on their performance, but they grinned for the entire concert.
Audience members could be seen dancing and happily cheering the band on. Lead vocalist Forrest Whitlark took as many chances as he could to thank the audience for coming out, and at one point he even tossed a hat into the crowd.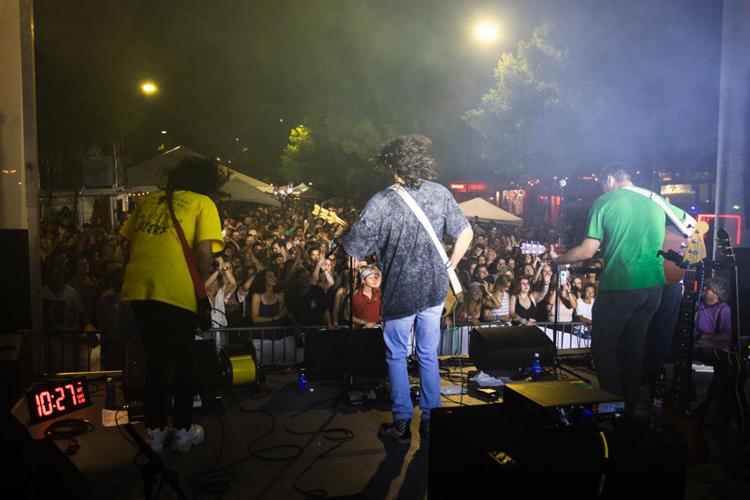 Perhaps the biggest crowd-pleaser, however, was the group's saxophonist. Clad in a sparkling suit jacket that clashed with Whitlark's green Braves t-shirt, he produced a sound that broke from the more traditional rock set. He never failed to elicit a roar of approval from the audience whenever he began to play.
The band sampled songs from its new album "Around for the Moment" that it released in January as well as some new songs like "You and I," which was just released on Thursday.
They even played an unreleased song presumably named "That's What I Came For," which drew loud sounds of support from the crowd.
"We thought that a big stage like this might be a good one to test some new material on," Whitlark said.
Near the end of the show, the band promised to play one more song before proceeding to play a couple more. At one point during this final sequence, they stopped playing entirely, tricking some listeners into believing they had finished.
Finally, they ended with a cover of The Who's famous "Baba O'Riley," a nod to University of Georgia football games. The crowd seemed thrilled by their performance.