The 2022 AthFest Music & Arts Festival, hosted by the nonprofit AthFest Educates, is well-known for being a weekend full of live music. The event takes place downtown with multiple stages, after-hours shows at iconic Athens venues and a lineup composed of dozens of artists. Equally as impressive as the musical talent, however, is the festival's artist market — a sea of white tents promising prints, paintings, jewelry, pottery, woodwork, leatherwork and more.
This year's market featured over 55 vendors, according to the AthFest website. Each offered festival goers something unique, with art and artisan goods ranging across mediums, styles and price points. The artist market shows that Athens' artistic talent extends beyond its acclaimed music scene and into the visual arts community.
Artists from near and far
University of Georgia alum and artist Sophie Goode, owner of Sophie Shannon Art, sold her ceramics at this year's market. Her first time attending AthFest as a vendor was 2019, and she said she was glad to be back.
"Everybody's just really excited to have it back," Goode said. "It's a great way to showcase Athens art, music — I just feel lucky that there's a big enough community to support something like this."
Goode fell in love with ceramics during her studies at UGA, where she majored in studio art, she said. Ceramics allow her to incorporate her love of drawing into a three dimensional medium. To prepare for this year's festival, she started making her products about two months leading up to the event, she said. She aims for variety in her work and tries to replicate designs that have been popular at her past shows, such as patterns featuring mushrooms.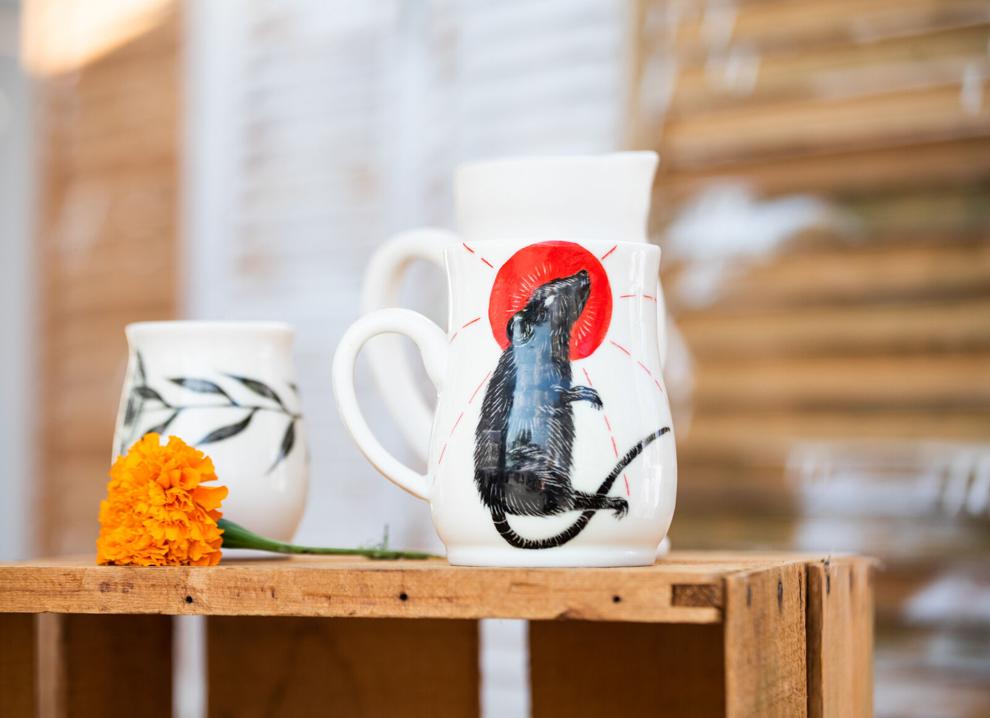 Former art teacher Dan Smith also sold art at the festival. His booth stood out from other white tents nearby, marked by a banner of a green creature with the words "See Dan paint!" scrawled on its teeth. Red banners with bones that read "Spontaneous Monsterfication" hung vertically on both sides of the tent.
Smith's distinct style of art, punctuated by simple lines, bright colors and cartoony, monster-inspired faces, could be found beyond the corners of his tent. He created the theme art for this year's festival, found everywhere from stages to the nonprofit's website and even the cover of Flagpole.
He was originally chosen to do the artwork for AthFest in 2020, before COVID-19 shut down the festival for two years. He said finally having his art displayed at the festival felt a little anticlimactic after two years, but was also relieved that AthFest decided to hold off on using his illustrations until the event could return in person. As an artist, he's glad to be back at in person markets.
"It's good to be back doing things like this. Probably the last market I did was probably 2020, Big City Bread, and I don't think I've had anything else. It seems like a century ago," Smith said.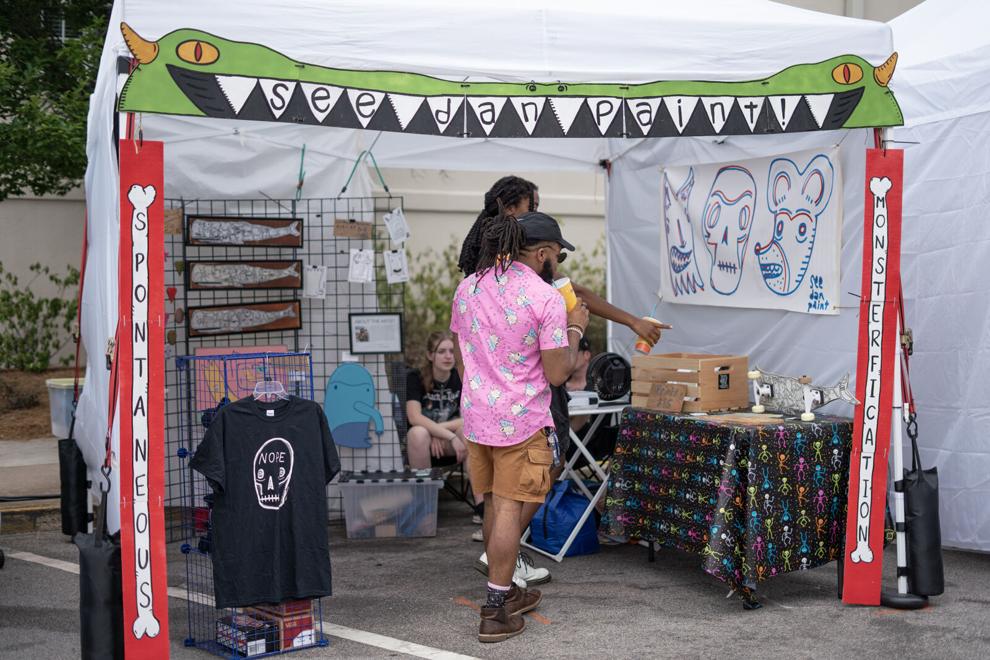 Other vendors traveled from outside the city to be a part of this year's market. Merrie Knox, from Atlanta, and Migdalia Pace from Florida, traveled to sell their jewelry and clothing items, respectively. The market was open from noon until 10 p.m. on Saturday, not exactly giving traveling vendors a lot of time to explore the city. Still, Knox said she was excited to eat at The National, which she visits every time she's in town, and Pace said she was eager to explore some local breakfast nooks before heading back to Florida.
Pace specializes in illustration and screen printing. Her signature designs are sugar skull mermaids, which she draws and then prints on merchandise ranging from tank tops to stickers. Pace had a double booth at AthFest — two of the market's standard white tents placed side by side — to give her more space to sell her merchandise. Although it was her first time at AthFest, she said she loved Athens and appreciated how open and receptive people were to her art.
Knox, who founded and owns Oh So Fitting, a jewelry business, has attended AthFest in the past. She said she was glad the festival returned this year, adding that customers seem equally excited to return to the market. She designs her products to be lightweight and hypoallergenic, and most of her business comes from art shows like AthFest. She does a show around the Atlanta metro area just about every weekend, she said.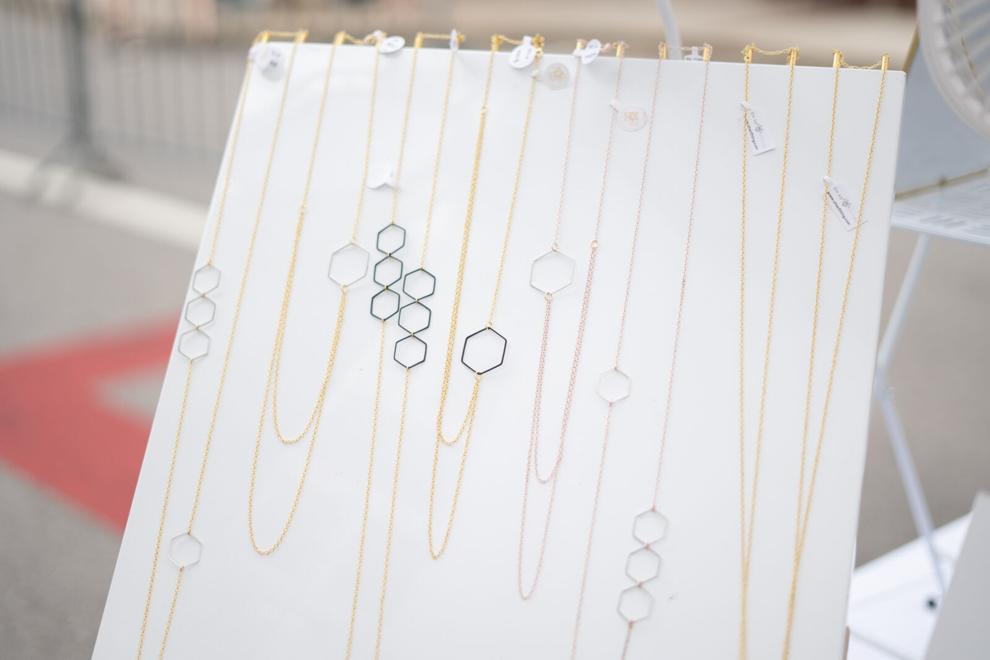 A community of creatives
Like the artistic vendors, festival attendees came from a variety of places to see AthFest's live music and market. Leilani Segura, a Georgia native, said she was visiting Athens with her friend who attends UGA. It was her first time visiting the city and although she hadn't crossed any state lines when she entered town, she said it was hard to believe she was in the same state.
"I've lived in Georgia my entire life, and I actually just told my friend it's surprising to see there's this many cool people in Georgia, because I'm guilty of thinking of it as just a red state and all the stereotypes with that … I like the community and just seeing how everybody's so creative," Segura said.
In addition to first-time visitors, the festival hosted a number of veteran attendees — Athens locals who attend the festival every year. Jeff Auerbach is one such festival goer, who was at the festival Saturday with his two daughters. He said events like AthFest are part of what he loves most about living in the city. He said they went to the reproductive rights rally earlier in the afternoon and then headed over to the artist market. Coming back to AthFest after two years made him feel like things were returning to normal, he said.
"It feels like things are O.K. now. One of the things we love so much about living in Athens [are] the events, and it feels back like we're living in Athens again," he said.
Goode said she appreciated living in a town where young people can work as artists full time. In addition to selling her ceramic art, she works as a studio manager at Southern Star Studio. While her studio gig helps pay some bills in between doing art shows. She is glad she decided to stay in Athens after she finished school, she said.
"I'm thankful that Athens puts on events like this, that support and expand the artist community," Goode said. "I just feel really lucky."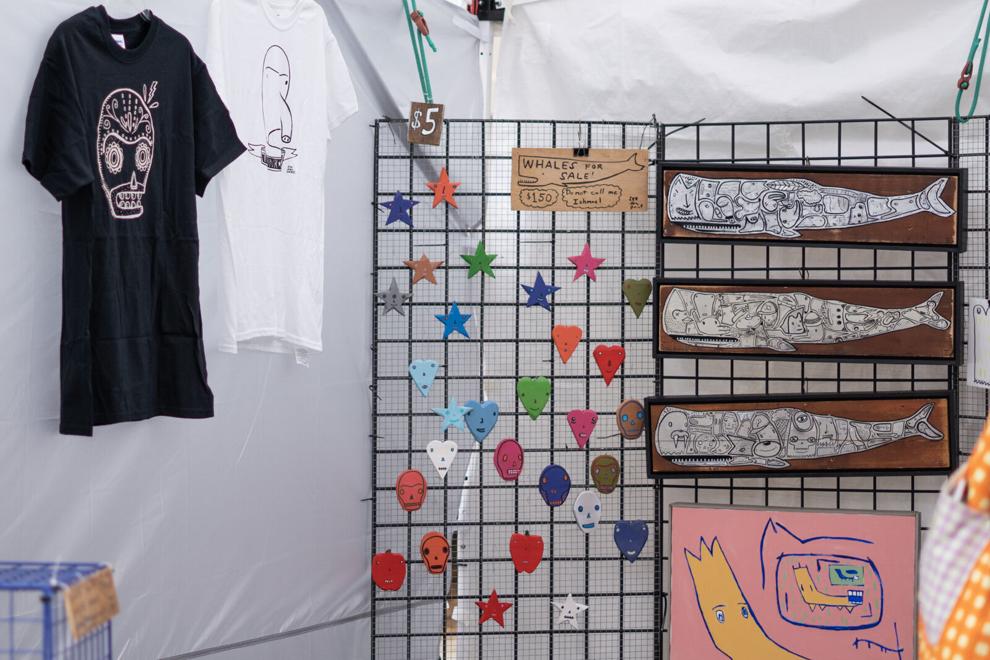 Smith echoed Goode's sentiment, but added that it is especially fulfilling to work in a festival that benefits AthFest Educates. Smith worked as an art teacher for 20 years at Gaines Elementary and Barnett Shoals Elementary and is currently the Fine Arts and Physical Education coordinator for the Clarke County School District. He said AthFest has helped him fund a lot of initiatives and "extra things," like inviting artists in to meet students, during his time working in education.
AthFest also offered Smith a chance to reconnect with former students, several of whom came to visit his tent at the market. He said reconnecting with students was one of his favorite parts of the weekend.
"One of my kids came back and he was like 'I remember Bobster the Monster. You drew him all the time when you taught,' so that's awesome," Smith said.
As the final day of the festival came to a close and vendors packed their goods, many artists had upcoming shows to prepare for. Goode said she's planning on selling her products at the Oconee Fall Festival, and Knox said she plans to be back in Athens around Christmas time for another show. But regardless of plans for the future, the return of AthFest offered vendors and attendees alike a chance to appreciate the visual arts and each other, even if just for a weekend.