AthFest is here and all that dancing and head bobbing is bound to cause an appetite. To get a head start on the hangry stage, find what you want to eat before you head to the stages.
Walking up Hull Street, the gates on the left leading down to the main stage is where you'll find most of the booths with food in them. Sauce House is the first booth visible on Washington Street, with solid BBQ to satisfy the southern music lover's appetite. There's also J.R. Crickets with wings and things, right next to Freddy's serving their normal fair of hotdogs, steak burgers, and fries. Smoothie King is right across from them for those who need a fruity boost of energy.
Following Washington Street toward the rambunctious Southern Brewing Main Stage, Street Stix has a large food trailer with all kinds of meat and veggies grilled up and served on a stick.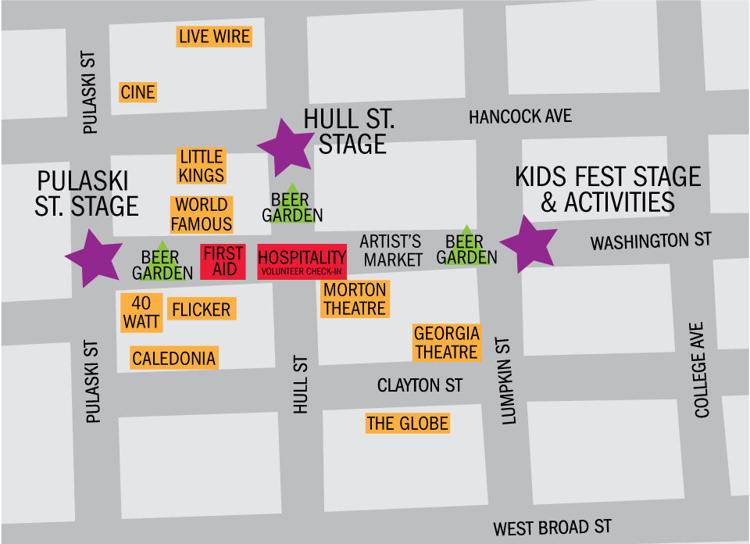 Right in front of Street Stix is a Southern Brewing Beer Garden with lots of room to chat up some friends, make good with some foes, and above all, let the music take you where you want to go.
Behind this beer garden, another lurks off the main road. Rook and Pawn's beer garden boasted open spaces, prime seating (being right next to the Main Stage) and a Creature Comforts booth.
On Hull Street, there's not much in the way of eatery except some covered seating and non-booths, so keep on walking up the street toward the KidsFest Stage to find more munchies. Heading towards the KidsFest side of things, there's the iconic Kona Ice truck, a family favorite, and Little Jimmy's Italian Ice.
As for nonbooth fair, all of the restaurants up Washington and Hull are open as usual, but many have a livier energy sure to make the eating atmosphere more enjoyable. To top it off, restaurants like Trappeze or Clocked have outdoor seating where you can enjoy sit down service close enough to the stage to enjoy the music.
The stand-out hits include the Creature Comforts tasting room with a special hangout area resembling their own beer garden, Ted's Most Best with the best outdoor seating right outside the gates of AthFest — perfect for viewing the main stage, The World Famous with a great view of the Hull Street Stage, and Trappeze which is located right in the heart of the action.
Wherever you decide to eat, gather some friends and find some outside seating. Great music and good food are the perfect way to usher in AthFest 2018.