As the sun set on day one of the 23rd AthFest Music and Arts Festival, Calico Vision serenaded the area in and around Hull Street Stage with psych-pop tunes.
The self-described "psych-pop mind-melt" quintet was the last performance of the day under the tent on Hull Street, where festival-goers sipped drinks and bobbed their heads to the band's care-free melodies.
Singer Bren Bailey sported a palm tree sunset-toned bathing suit that matched the setting sun as the band played old and new material for the crowd.
While Bailey delivered lyrics and played sublime guitar melodies, keyboardist Naoko Uno hopped around the stage, clad in a broken egg shell costume and banging out warm synth chords.
Midway through the set, she took off the costume, opting for regular clothes and jokingly singing modified lyrics from The Killers' "Mr. Brightside."
"Coming out of my shell and I've been doing just fine," Uno sang in between songs.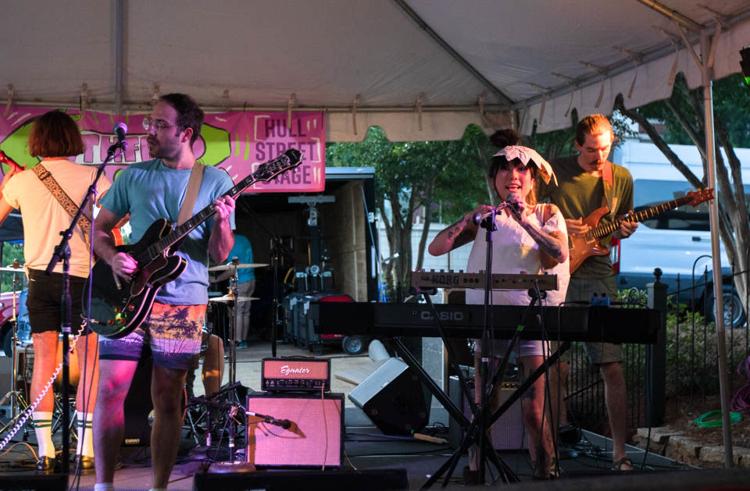 The band was introduced by Patrick Davenport, Athens-Clarke County commissioner for District 1, before it launched into its first song.
Calico Vision played poppy, dreamy songs, with a healthy dose of reverb, to the slowly growing crowd.
The band won the pop category at the Flagpole Music Awards on June 20.
"Thank y'all so much for hanging out!" Bailey shouted out as the set ended.