Thayer Sarrano
From above the crowd on the Georgia Theatre's Bridge Stage, AthFest performer Thayer Sarrano created an otherworldly atmosphere in the venue.
Thayer has been making music for over 10 years and has worked with several other local artists and bands during that time, including fellow AthFest performer of Montreal.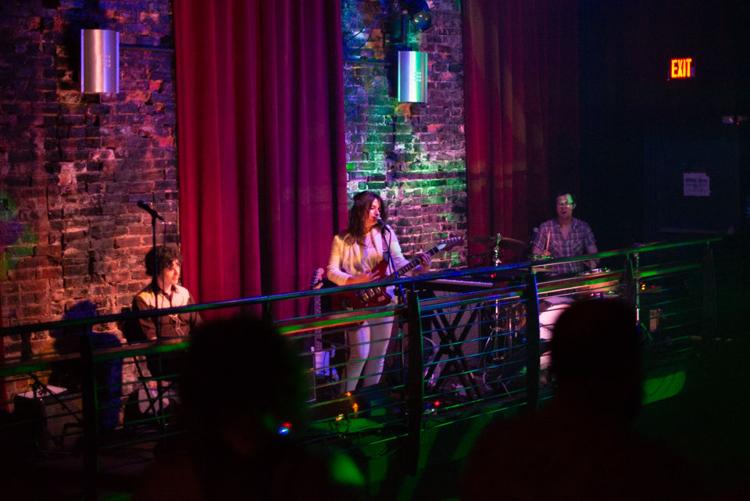 Sarrano only said a handful of sentences to the crowd during her set, which might've been off putting at another show. However, the lack of audience interaction only seemed to intensify the hypnotic effect of Sarrano's haunting, ethereal singing.
Sarrano explained that the strange, beautiful quality of her songs is the result of her songwriting process.
"I'll be dealing with whatever is happening in front of me or the emotion of a beautiful or terrible situation, and the lyrics that I'll get for some reason usually tend to come more from the abstract higher place because it provides more clarity," Sarrano said previously.
Sarrano's unique musical style could be described as southern gothic or psychedelic indie, but her instrumentals stray from those genre definitions. At the show the keyboard took on a sound reminiscent of a church organ used in gospel music, and other moments the drums and guitar had a rock 'n' roll quality to them.
The diversity of Saranno's instrumental sound is likely a result of her classical training on the piano.
The theatre had a more relaxed, low-key quality during Sarrano's set than was experienced at some of the venue's prior shows. Rather than head-banging, there was swaying and subtle head-bobbing.
Saranno finished her 9:30 Club Crawl performance with some acapella vocals and a guitar solo before leaving the stage.
of Montreal
Kevin Barnes, of Montreal's lead singer, was introduced to the stage by a man in a skeleton morph suit wearing a Deadpool mask. He riled the crowd up for the show, making them question societal rules and norms and giving Barnes the opportunity to make a grand appearance.
The show deserved no less of an entrance, as the audience experienced sensory overload in the best way possible during of Montreal's crazy and colorful set.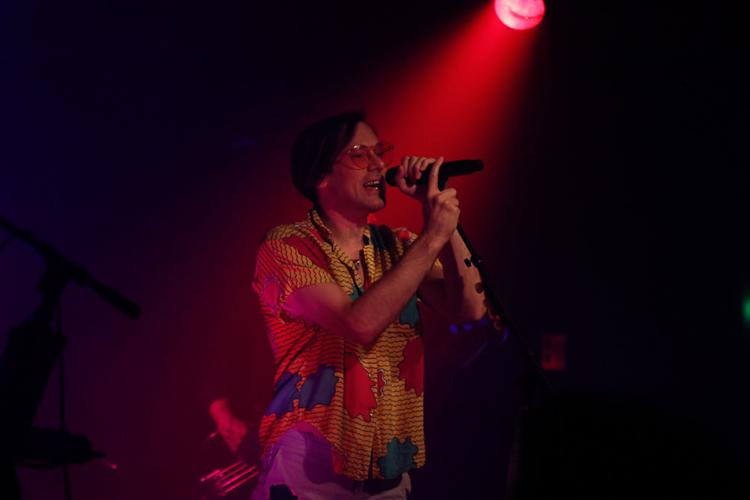 Barnes kept the crowd hooked and engaged for the entirety of the hour-long psych-pop and indie-rock show as well as during its three encores, played by audience demand.
The singer-songwriter jumped, clapped and danced during his songs, sometimes by himself and other times with a set of costume-clad background dancers.
The dancers were introduced during the first song, when they came out wearing alien-esque costume heads with red light-up eyes to dance in front of a large, colorful creature that was looming behind Barnes.
Wacky costumes were a theme for of Montreal's dancers, as they wore a new, creative and dream-like outfits when they came out every few songs.
The energy of the crowd was just like Barnes on Saturday night — happy and carefree. Both the performer and the festival-goers danced to the beat of their own drum as well as to the beat of of Montreal's music, all under a cloud of marijuana.
Ellen Hardin, 22, a 2019 spring graduate from the University of Georgia, is an of Montreal fan but said that the concert was nothing like what she was expecting.
"They did a really good job of playing what you hope to hear but keeping you excited about what you're going to hear next," Hardin said.
She said that she had heard since freshman year that of Montreal was the one band you were supposed to see before leaving Athens, and she was happy to fulfill that requirement Saturday night.
The psych-pop indie-rock group hails from right here in Athens. of Montreal thanked the 40 Watt Club as well as Atomic Clothing — where Barnes had gotten his colorful button-down shirt he was wearing — at the end of the show.
N1KI
Drenched in pink light and acoustic guitar in hand, Niki Neiconi greeted her fans in the outdoor section of the Iron Factory. Neiconi is a singer song-writer based in Athens, providing catchy, original indie tunes and well-loved covers alike.
People sat outside, gripping drinks and chatting with friends while Neiconi and her bandmates set up. A DJ playing Skrillex-esque dubstep music in Max Canada next door seemed to intrude on the peaceful preparations, but within five minutes, N1KI was ready to go.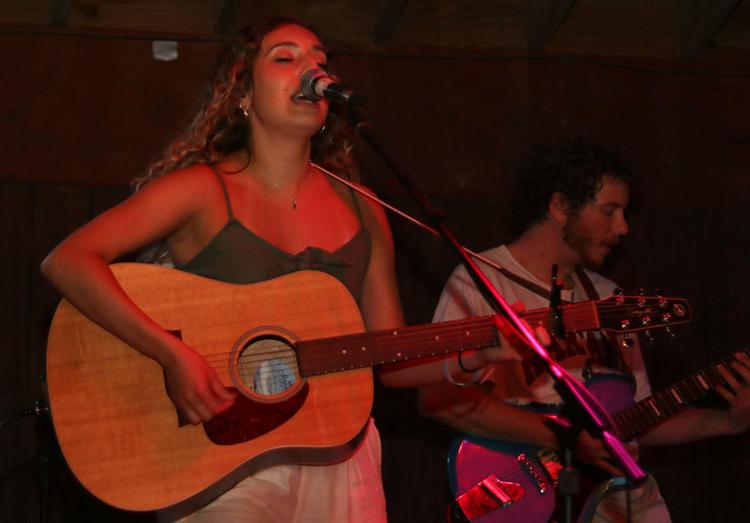 She first started with an original song called "Met You Too Late," high-tempo yet forlorning at the same time — apt with such a title. N1KI moved onto a more upbeat cover of "Everybody Talks" by Neon Trees. For the rest of the night, N1KI introduced the new and the old, intermixing covers of popular songs with the original N1KI tunes.
Abby Hellmann, from Alpharetta, met Neiconi in a freshman year public speaking class, and the two have been friends ever since. Hellmann has seen N1KI and her band grow over the years into the mature crowd-pleaser they were that night.
"I think that her music has really developed, and it's gotten a lot more personal, which is really cool for her," Hellmann said.
In N1KI's performance at the AthFest Music & Arts Festival, Neiconi dazzled the crowd with her talent and magnetic personality. Her indie sound messes with traditional genre barriers to provide a musical fingerprint totally her own, gracing both physical stages and digital platforms like Spotify.
Deep State
In the little sleepy burrow of the Little Kings Shuffle Club, one solitary man made his own mosh pit at the start of Deep State's performance. Soon, one man turned to about 20 people joining in on the transfer of pure kinetic energy. It was a sight perfectly matching Deep State's vigorous punk and rock sound.
After a sound check that seemed to have lasted only a minute or two, lead singer Taylor Chmura quickly thanked the crowd for coming before the band dove into their first song. Wave after wave of garage band punk sound rolled over the audience members, each bobbing their heads or head banging, as would soon become moshing. No one could remain still.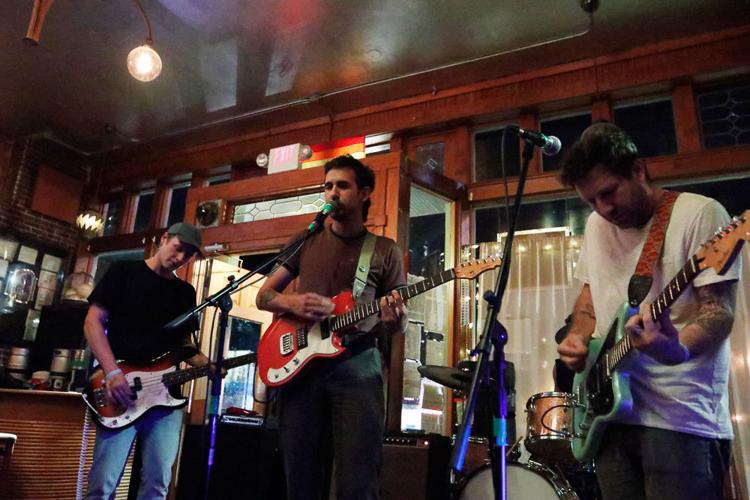 The second song ended, leading the audience to applaud wildly, while the band members sipped from their drinks. Someone from onstage asked an audience member to grab a flag from the Deep State merch table and pass it around. It was an American flag with "Peace please" written in two of the white stripes.
Anna Kate Thrash, from Tifton, Georgia, understands the deeper political resonances under the band's exterior energetic punk rock sound. Thrash has been dating Deep State's bassist Brandon Page for four years and has seen the 6-year-old band grow in its sound, confidence and message.
"Starting off, I knew their music was going to be great — just from hearing stuff Brandon would bring home and practice," Thrash said. "I knew that it was going to be something people loved … It's hard to hear the lyrics a lot of the time, but a lot of their stuff is very relevant to what's going on."
Deep State finished their show with as much energy as they started it. The crowd was disappointed they didn't get an encore, but everyone soon exited with the high-energy punk rock and political lyrics still ringing in their ears.