"Mama, ooh," bassist Tyler Walker belted into the microphone during sound checks. The Orange Constant talked their way through the checks and used the downtime to get the audience engaged and to make them laugh.
Funk-rock band The Orange Constant was the first headliner of the night for day two of the 23rd annual AthFest Music and Arts Festival.
Before the performance, Athens-Clarke County Mayor Kelly Girtz, donning a straw hat, walked onstage with ACC commissioners Tim Denson and Melissa Link to thank AthFest Educates for providing opportunities for local kids to learn about and become immersed in the arts.
The Orange Constant opened the night with a new song, a slower jam that was the perfect introduction to the rest of its funky rock 'n' roll show.
With subtle glances between band members, the group seamlessly transitioned from its new song into an older one — the music faded but never ceased, and the crowd cheered when the key change signaled the next song.
There was rarely a quiet moment during the concert, as The Orange Constant preferred to transition into songs rather than have definitive endings and beginnings — a testament to its musical talent.
The band utilized strong instrumentals throughout the set, jamming out extensions to almost every song it performed. Carrie Hutton, Walker's girlfriend, said this has been a recent trend for the band as each new member exerts his influence on the rest.
"Throughout the changes of people in the band, it was different influencers coming into play, and they just started to experiment more space-y jams," Hutton said.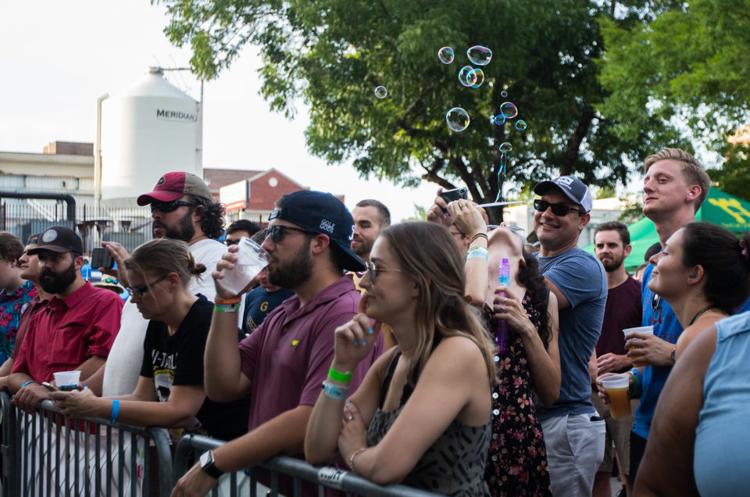 Hutton was a hit herself, as she blew bubbles throughout the set and let others partake in the bubble-blowing.
"Everybody loves them, it unites people, great photos," Hutton explained.
Besides the bubbles, the crowd seemed to love the solos that The Orange Constant so consistently provided. A cheer erupted after every guitar, keyboard, drum or bass solo, as well as following extended jam sessions at the end of most songs.
Vocalist and guitarist Andrew Brantley plugged the Sigh In July Music Festival — located right here in Athens — before playing the final song.
"It's been a pleasure hanging out and playing for you guys," Brantley said. "We're The Orange Constant — make sure you come see us in Sigh In July."
The Orange Constant ended in true rock 'n' roll fashion, using intentional inflections in the vocals and blasting the corner of Washington Street and Pulaski Street with intense guitar solos. During the ending jam session, Walker screamed into the microphone and the crowd responded with cheers of its own.
With fog filling the backdrop and multicolor lights flashing all around the stage, Walker yelled, "Thank you guys so much!" before the band played its last chord of the funky, energetic show.