The summer heat may have steered some fans away, but a little sweat didn't seem to bother the hundreds who stayed to watch Kishi Bashi give a soulful and fun performance at the KidsFest stage at 6:15 p.m. on Saturday, June 23.
Though music from surrounding bars poured into the streets, attendees didn't seem to hear it over the melodic violin strums and picks of single performer Kaoru Ishibashi.
When he got on the stage, Kishi Bashi said he didn't have a set list prepared. Whether he was bluffing or not is yet to be confirmed, especially considering the roar of applause that erupted from the crowd after every song, even the one he played that wasn't entirely finished that he was still working on.
Within the first song, patrons were clapping along, while some kids in the very front of the crowd were dancing and singing to the tunes.
Ishibashi set a beat, recorded it, then spoke over the recording while he strummed his violin passionately. At one point in the performance, he stopped and thanked the audience for coming before inviting the kids to come on to the stage.
---
"Music is so important, it's not just education, it grows your heart."
-Kaoru Ishibashi, of band Kishi Bashi 
---
Lacey Roy, mother of five children ranging from 4 to 17 years old, said she brought her younger kids to see Kishi Bashi because she wanted them to have fun experiencing music in the streets of Athens like everyone else.
"I want to give them an opportunity to experience music in our city," Roy said.
Ishibashi showed the kids how to play with the echo settings on the pedals before inviting them to sit on the stage as he played his last song.
Mark Lawrence, an Athens resident and long-time fan of Kishi Bashi, said this was his first time seeing the performer by himself instead of with a full band.
"It was so much more intimate," Lawrence said. "I think that's better for the kids though because I know he really cares about them."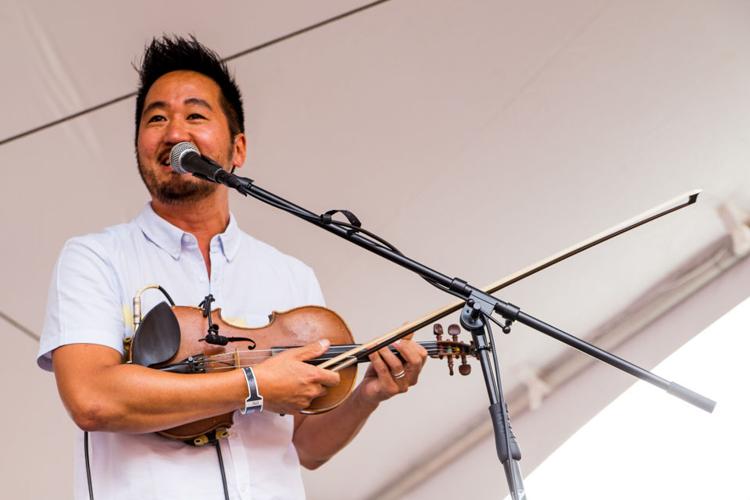 Before closing out the show, Ishibashi thanked the crowd, especially the kids, for coming to his show.
"Music is so important, it's not just education, it grows your heart," he said.
Other performers included the Rebecca Sunshine Band, who provided toy instruments for her young audience to play along as the morning got started. The band encouraged kids to engage with popular songs like "Old MacDonald Had A Farm" and "You Are My Sunshine."
---
"It's all about confidence, wellness and literacy. This is about being brave."
- Sara O'Brien, KidsFest performer
---
Following was Ty Rumble and Co., a family affair where father, Ty Rumble, and his jamming kids, Levi, Henry Natalie and Trey Rumble, all under age 15, rapped about things like silly bands and super heroes.
AthFest first timers Wise Xpressions Dance we're followed by Sara O'Brien & Community Rocks, who's new CD "Let Yourself Shine" came out recently "written with kids, by kids, for kids," according to the website.
"It's all about confidence, wellness and literacy," O'Brien said, "This is about being brave."
The Drapes, led by 16-year-old lead singer Sachio Goodie, received lots of support from family and friends in the audience.
"It's always just about having fun," Goodie said.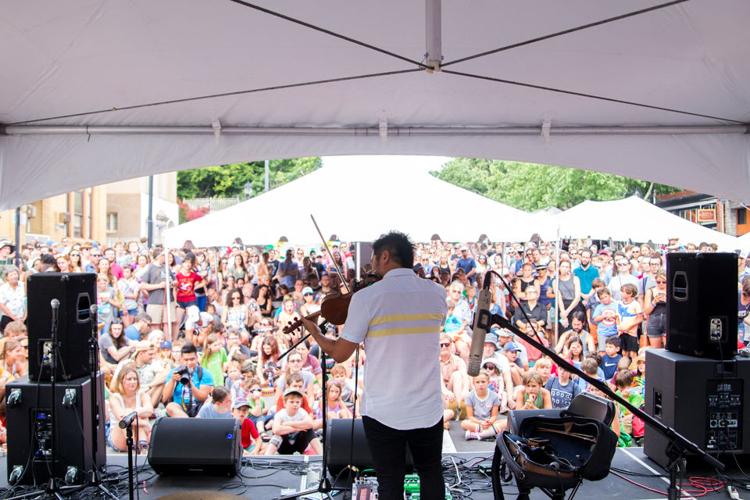 Musicians from the Girls Rock Camp Alliance and bands Cheese Dream and Kishi Bashi followed this performance.
Families had access to many activities, including arts and crafts provided by the Little Athens Children's Museum and the Home Depot, bounce houses and a dance party. Kids slurped on shaved ice from Kona Ice to keep cool.
"They love being able to come out and have something free," said volunteer and coordinator Emily Griggs. "A lot of people start and end their day here."
She thinks KidsFest gives families an opportunity to enjoy a popular downtown festival which can typically be very "adult centered."
Griggs estimated that close to 700-1,000 people attended Saturday's KidsFest, and organizers typically have a goal of around 1,500.
"I particularly like where there's crafts involved and they get a chance to be creative," said Timi Conley, father of three-year old Luna Conley and member of Timi & Wonderland Rangers, who mostly enjoyed building a tambourine and bungee jumping.
Conley sees athfest as "an institution" and thinks it's great that they provide KidsFest.