From an up and coming singer-songwriter who brought friends and fans, to a rapper with Bob Marley influences, the Southern Brewing Main Stage made a valiant comeback on the second day of AthFest with five different and diverse sets of musicians.
Opening the day at noon was Richie Bruckshot, or Richard Kennedy, an energetic rapper with Bob Marley and '90s Atlanta hip-hop scene influences. Although the day was early and the crowd fairly small, Bruckshot maintained a consistent level of high energy that got those who were present excited for what the rest of the day had in store.
The choice in music made a complete 180 with the next set, singer-songwriter Sarah Zúñiga, at 1 p.m. Zúñiga, who recently won the Flagpole Athens Music Award for the singer-songwriter category, typically takes the stage solo, but decided to change things up for her first AthFest performance by bringing two additional guitarists and a drummer to accompany her own acoustic guitar playing.
"It was the first time I saw her perform at a big stage," said Hannah Perschke, a good friend of Zúñiga's. "Usually she performs solo, but this time she performed with a band. The feel of her performance was a little bit different, a little bit bigger."
Next up was apparent fan-favorite, Andrew Blooms, the solo venture of the former Mosaic band member, Andrew Huang, whose set was flooded with friends and fans scattered about in supportive clusters throughout the Main Stage enclosement. With a acoustic-folk sound very reminiscent of The Lumineers, Huang played a few songs off his new EP, "From My Window to Yours."
"Every time I've seen Andrew gets more comfortable on stage. He's not up there to imitate somebody else. This is him, purely," said Peter Pin, a friend of Huang's. "Athens has a lot of musicians. I think Andrew is the most grateful musician I've encountered. He's just grateful for the opportunity."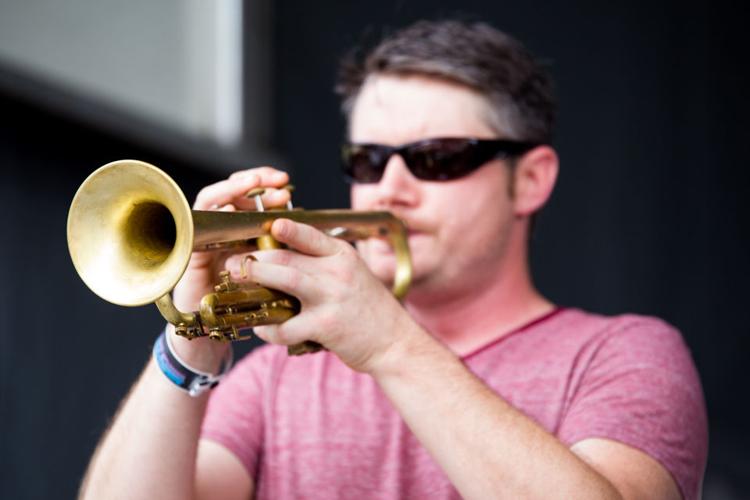 Wanderwild, a local dynamic rock band, then took the stage with each band member decked out in black skinny jeans and white t-shirts. The band played some songs off their last album, "In Due Time," as well as a some new material that has yet to be released.
Dangfly! followed shortly thereafter with an unexpected country rock performance. With an eclectic combination of fiddles, trumpets and guitars, the seven-piece bands gives off the impression that they'd be a folky-country music band. However, the dynamic group delivered a lively rock performance that had the crowd dancing and grooving along to the music.
Local legends, the Tuten Brothers, also returned home to delivered a lively country set to a full crowd of their friends and family. The group played a few songs off their May 2018 album, "Dancin' Boots," as well as some from past albums.
These bands warmed up the stage for Universal Sigh and Family and Friends to take on the stage in the hours to follow. While last night's Main Stage performances were made memorable by the unforeseen circumstances, the Main Stage was up and running to its full capacity for day two of AthFest.