Playing in the heat of the afternoon on the last day of the AthFest Music & Arts Festival, Pylon Reenactment Society (PRS) thrilled the crowd with its quirky brand of 80's rock.
The band drew a noticeably older crowd, which may be due to the history behind PRS. PRS is a relatively new band, but it is closely related to a beloved 1980s band from Athens named Pylon.
In 2014, Vanessa Briscoe Hay, the lead singer of Pylon, started PRS to carry on Pylon's memory. Many fans from the 1980s still remember the band's lyrics and sang along at the show.
However, this is not to say that younger audience members did not enjoy PRS's performance. To the contrary — many younger listeners could be seen dancing and cheering after a few songs.
Throughout the concert, the band maintained a fun and affable atmosphere. The band members' chemistry with each other was palpable.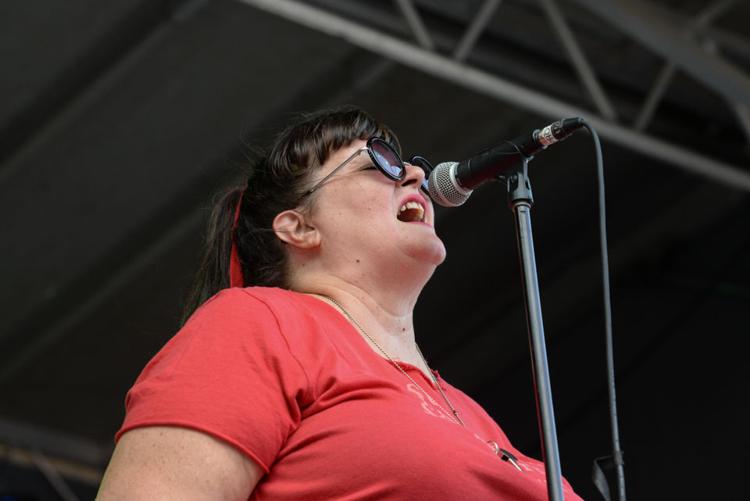 Guitarist Jason NeSmith danced and made train conductor arm motions during one of the songs. He also wore a Producers shirt in a welcome show of support for the following act.
Bassist Kay Stanton happily jumped around during songs, and she and NeSmith at one point leaned into each other back-to-back. At the end of the show, the band members took time to hug and fist bump one another.
"I like this band, and I love y'all," Hay said to the crowd.
With their lively performance, PRS definitely won itself some new fans. Derrick Alvarez, a sophomore Social Work major at the University of Georgia, is among its new followers. He had never heard of Pylon or PRS before the show but enjoyed the performance, likening it to R.E.M., another famous Athens band.
"They were good," Alvarez said. "They had a nice, old classic rock vibe."
PRS ended their show on the Southern Brewing Company Mainstage at a few minutes after 5 p.m., making it one of the last handful of acts to perform in this year's AthFest.