If you have been in Athens long enough, then you are bound to have heard of the Booty Boyz. Partly because not many names tend to stick out on a poster quite like their name does.
But also because their name seems to be squeezing into lineups all over Athens constantly. From University Union shows to weekly on the Georgia Theater Rooftop, the Booty Boyz have become a cornerstone of the Athens DJ scene.
The Booty Boyz are a group of three DJs: Z-Dog, Immuzikation and Twin Powers. They're also known as Zack Hosey, Alfredo Lapuz Jr. and Dan Geller, respectively. They used to try to use all three names, but they said that was too much for a Facebook post. They got in trouble one night for playing too much "booty music," so the name stuck.
"We wanted it to be fun and stupid like we are," Hosey said. "We sell a lot of merch because of that name."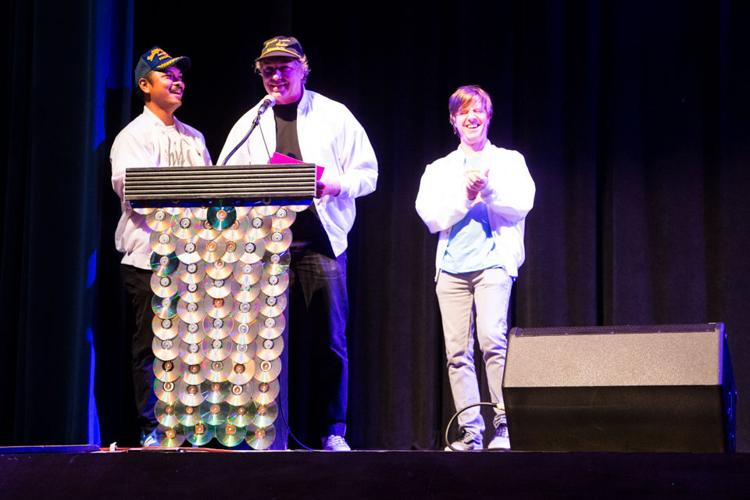 Booty music, to the Boyz, is dance music that you can dance "nasty" to. Geller said it needed a quick low end and Lapuz prefers Miami bass, but nasty dancing was the shared goal.
When the Booty Boyz DJ, they don't trade off or play one song at a time. All three DJ at the same time on separate dashboards.
"You're sometimes hearing two songs at once that you like," Geller said. "We'll play two songs or even three songs on top of each other. You'll be hearing the bass line of one song and the vocal track of another."
Their shows often pick one or two artists to focus on in their mashups, but they said they'll throw in something unexpected. Africa by Toto and music from the Lion King were two recent examples.
Hosey states the obvious by saying the Booty Boyz "don't take [themselves] seriously."
Keeping things loose and not serious helps with the flow of the funky music. While the artists are decided on beforehand, they don't prerecord any of their own music. All the mixing and mashup is done on the fly.
"My favorite thing is when I say, 'Wow that sounds like we planned it, but we never really do,'" Geller said.
The Booty Boyz were recently awarded best Live DJ at the 2018 Flagpole Music Awards on Thursday, June 21. The Booty Boyz will be closing Georgia Theatre's AthFest lineup on the night of Saturday, June 23. They're planning on breaking from their usual format of mashing up songs from just one or two artists for their AthFest set.
"I think for AthFest it's going to be such a crazy party that it's going to be cool to have that freedom," Lapuz said.