Between festival goers and vendors at AthFest, the eastside of downtown was washed in seas of tie dye and earthy patterns full of color that would have made the hippies of the '60s and '70s proud.
The entire weekend served as a runway for Athens locals to show off their best festival 'fits while strutting the same streets they frequent to go to work or school.
While the music may change year after year, festival goers still boast the same style associated with jam bands and early music festivals, almost like a fashion tribute to those beloved bands who got their start in the Classic City and inspired the music-loving town even more.
Most everyone dressed for the heat, sporting shorts, T-shirts and sandals, but you could tell it wasn't a normal summer day with harem pants, crochet tops and fringe also thrown into the mix.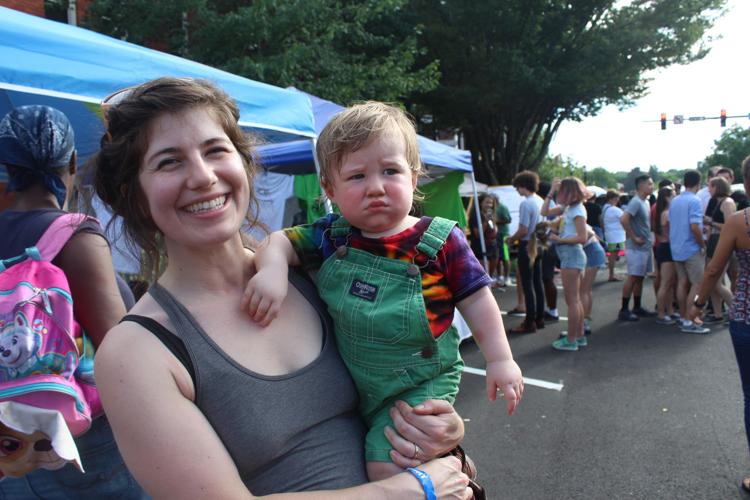 Tie dye, colorful patterns, festival finds
When Elizabeth Taddonio was dressing her son Grover, she knew she had to bring out his festival best.
"If you're going to AthFest, we'll do tie dye," Taddonio said. "You have to go tie dye."
Her toddler was wearing green overalls over a rainbow tie-dye shirt that Taddonio said he got from his grandparents in North Carolina.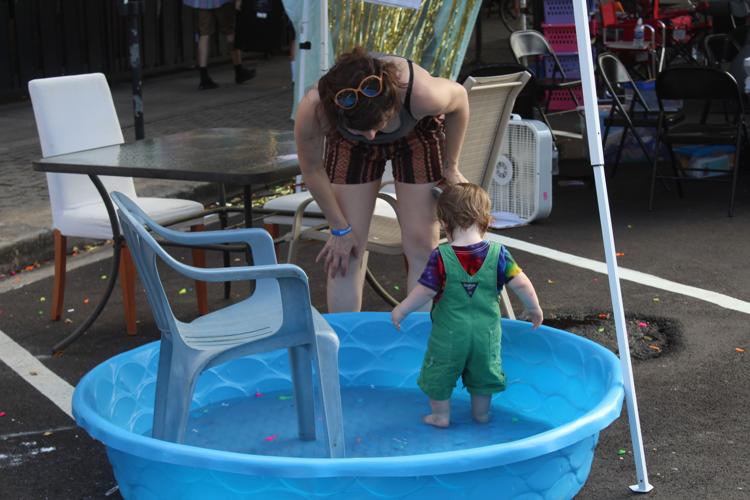 The rest of Grover's wardrobe is similarly stocked with cool clothes, which Taddonio doesn't give herself credit for.
"We have a lot of cool friends, so they give us hand-me-downs," Taddonio said. "When you already have cool pieces, you can just pull from them, so no matter how you put them together, they end up looking good. That's the key."
Tie dye could be seen as the main pattern in clothing vendors along Washington Street as well and was common among children and adults.
Chrystyn Fentroy went to AthFest for her first time this year because she's in the city from Boston teaching at a ballet summer intensive. On Saturday, she came dressed in a cropped black tank top and a reversible, wrap-around skirt filled with eclectic patterns.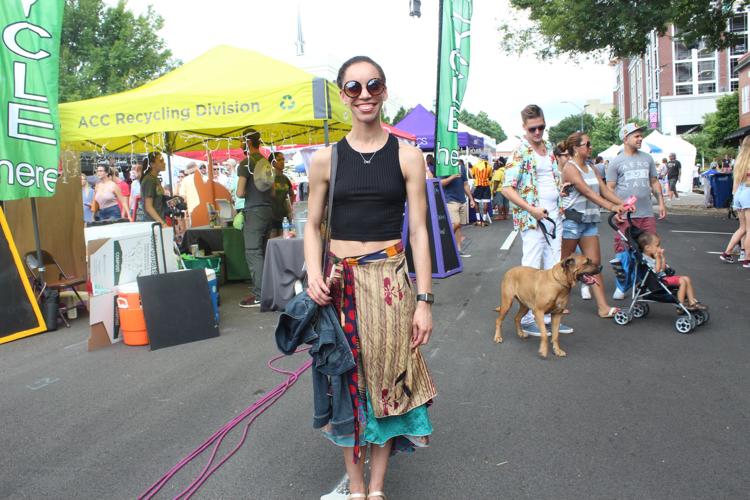 She bought the skirt from a similar festival and said her typical outfits for the heat will involve a crop top and a skirt.
Clothing wasn't the only colorful pieces, though.
Roswell resident Lila Boehnke had a chic bobbed cut that was dyed muted colors of the rainbow.
Pastel hair colors could be spotted throughout the streets, but it definitely wasn't a pervasive style, though anywhere in Athens is pretty common to spot unnatural hair colors.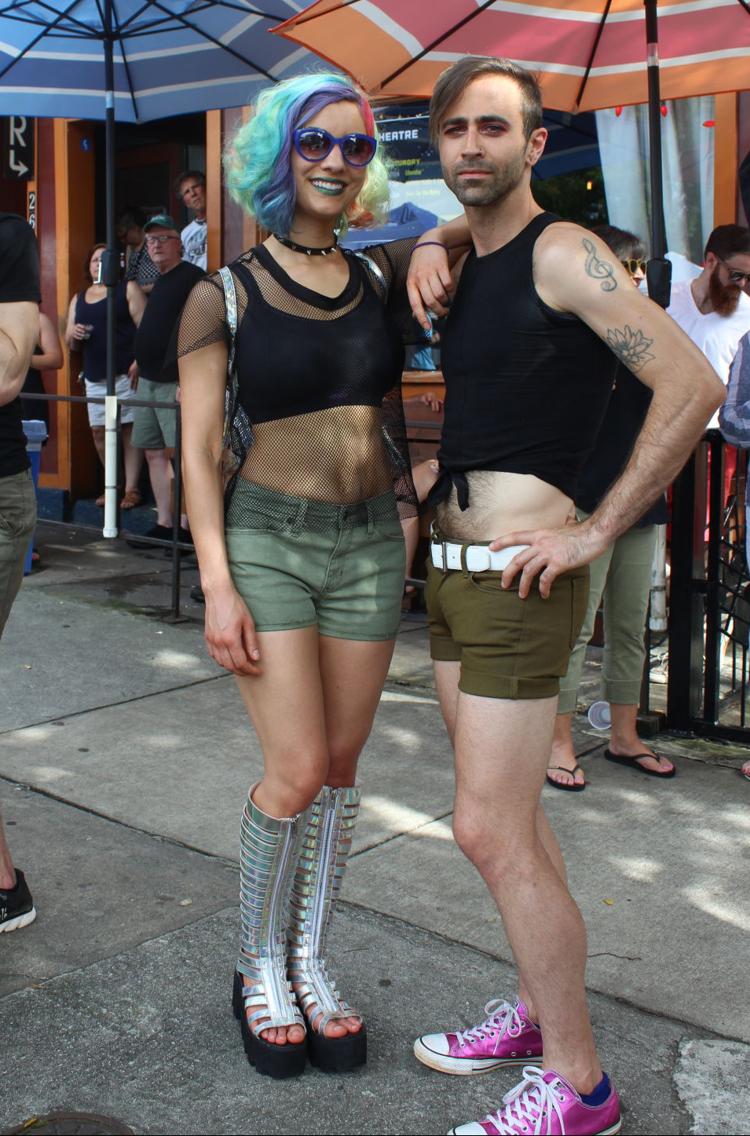 Boehnke's rainbow locks, along with her knee-high, holographic platform shoes and matching holographic backpack, made her stand out in a crowd.
Beat the heat, concert practicality
These shoes, from fashion-forward online retailer Dolls Kill, may not seem like a practical choice for the festival, but Boehnke said she wears them to most concerts.
"I wear these every year to AthFest since I got them," Boehnke said. "They're my most I'm-going-to-see-live-music shoes. It also helps in a crowd because I'm short but these make me way taller."
Platform shoes are in for the season, and many women at AthFest were wearing strappy, platform sandals.
Otherwise, people were wearing Chacos or comfortable sneakers to be able to stand in the heat all day, and some dogs could be spotted with little shoes of their own to protect their paws from the hot pavement.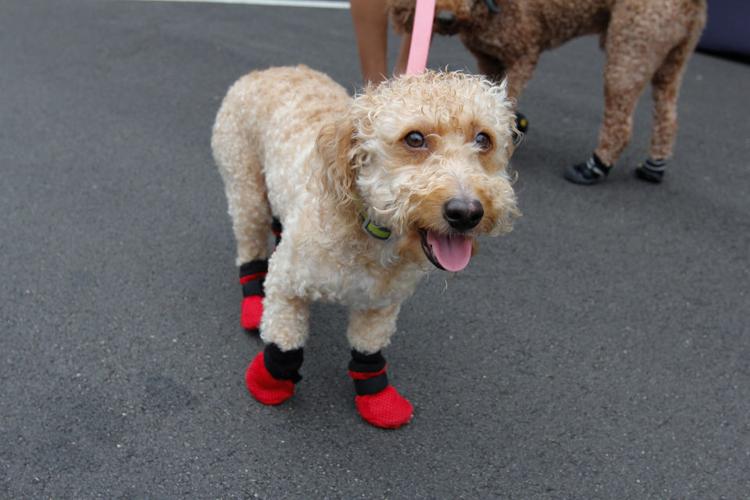 Sunglasses were also a must for the weekend, and Dynamite sales associate Nina Guzman said that's what most people come into the shop looking for this time of year.
"Every year, like clockwork, they come for some fun sunglasses to wear to the festival," Guzman said. "It'll be very intense sun and then it rains, so we also get people buying umbrellas."
Tank tops, T-shirts and shorts were basically a uniform across the board, and no one was safe from the sticky, 90-degree weather. Simple is better when it comes to sweating for hours at a festival.
Scott Cook, a vendor of Zen Festival Wear, sells mostly band T-shirts in his tent and takes his set up across the country.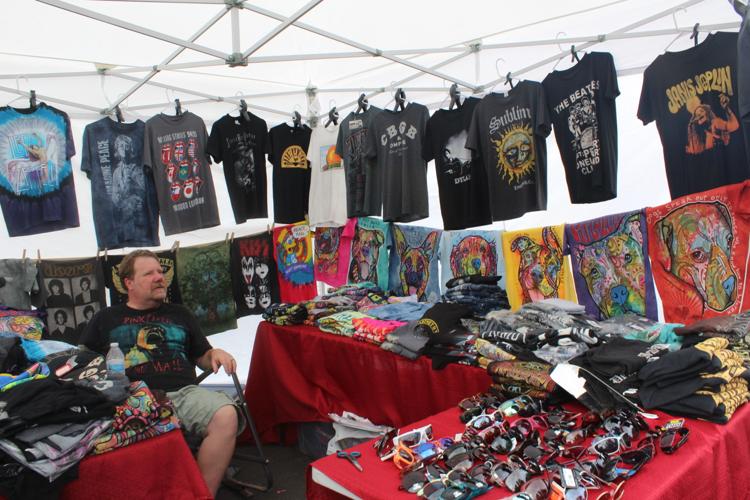 He didn't carry many newer bands, which he said is based on his customers.
"A lot of it has to do with the type of festival I go to," Cook said. "Newer bands can be trendy, but classic rock sticks around forever. Any Dead person is usually good to have."
Fashion wise, it was easy to pretend you were in the era of these classic rock icons with all the trends of those decades staying very much alive at AthFest, and Athenians, as always, brought their personal flare to the table as well.
"I love seeing how many different types of people are here because I didn't really expect that at this city," Fentroy said. "This is like something that I would see in New York."