The Producers, the penultimate act to play the Southern Brewing Company Mainstage at the 23rd AthFest Music and Arts Festival, brought 1980s nostalgia and new wave melodies to a medium-sized crowd.
A power pop quartet that originated in Atlanta, The Producers were met by an enthusiastic crowd of late boomers and Gen X-ers who swayed to the band's upbeat tunes. The band's heyday in the early '80s places them in a similar time and place as Athens new wave royalty The B-52s, albeit with a more poppy sound and less eccentric lyrics.
Dark clouds and wind gusts threatened the set with thunderstorms for its duration, but luckily the Sunday evening crowd never encountered precipitation.
"Oh that breeze feels nice, doesn't it," said bassist and vocalist Kyle Henderson.
While guitarist Van Temple sang a few songs, Henderson provided most of the vocals, grinning and laughing when he wasn't belting out lyrics.
"I Love Lucy," from the band's self-titled 1981 debut album, was a highlight. The climax of the set, though, came at the end, when keyboardist Wayne Famous played a twinkling build up to the band's most successful song, "She Sheila," exciting the previously mellow crowd of middle-aged townies into hip shaking glee.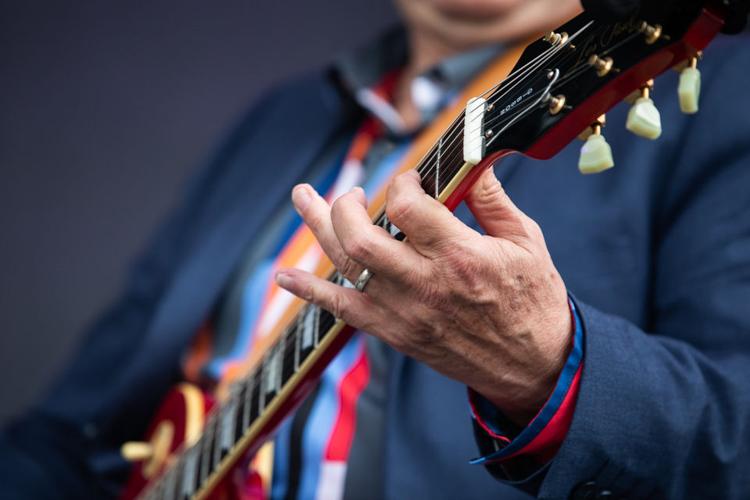 With five minutes left before they were scheduled to leave the stage, the band decided to end with a cover of the Beatles' "A Hard Day's Night," a callback to The Producer's days as a Beatles cover band called Cartoon.
"From our childhood," drummer Bryan Holmes mused before starting the cover.
The band encountered a few technical difficulties at first, pushing the start of the set back 10 minutes and necessitating several sound checks between songs.
Undeterred, the band sorted out the issues and played nearly without pause for the second half of the set.
"Here's to you, the people of Athens, awesome!" Henderson said after the band had played its song "Here's To You."