Disaster struck on the first day of the three-day music festival AthFest after just a few hours of smooth operations. After dealing with a 45 minute rain delay that left a few musical sets cut short, the workers of AthFest were ready to jump into action with the next set of performers, only to discover that most of the equipment at the Southern Brewing Main Stage was inoperable due to water damage from the rain.
With two last headliners, countless attendees and a ticking clock, the staff and volunteers at AthFest had to think quickly to come up with a solution. Volunteers in yellow shirts swooped into action, swarming the sound equipment and quickly transporting it to the pop up stage being constructed sporadically. Word quickly spread that the show would go on, and attendees began gathering within the beer tent as volunteers decoratively strung string lights from corner to corner.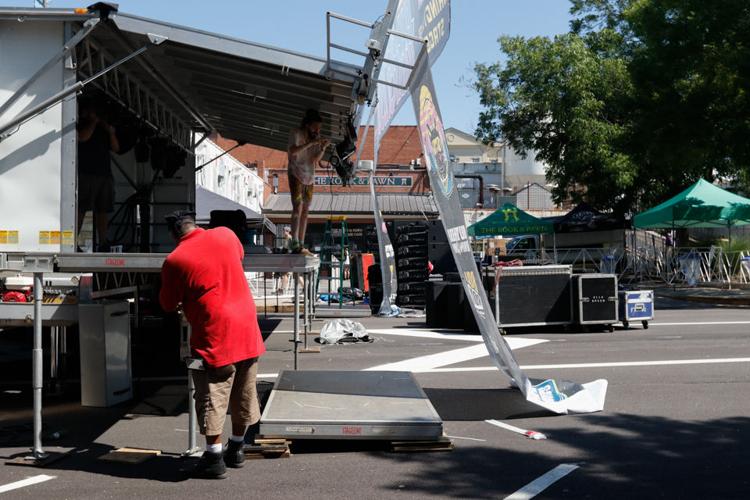 "Of course it threw off the set plan, but it rained and we dealt with it and moved on from there and adjusted to the circumstances," said main stage volunteer, Travis Williams. "It was just like 'Well this is the new now, so let's deal with that.'"
Taking things as they come and preparing for the unpredictable is just one aspect of being a volunteer worker at AthFest. Despite all the planning and prepping that goes into something like AthFest, not everything can be anticipated.
"You have to be ready," said Jennifer McClain, the volunteer director for AthFest.
A little known fact that's sometimes glanced over, the weekend long music festival is one of the primary and largest fundraisers for the nonprofit, AthFest Educates, a local nonprofit dedicated to the betterment of music and arts education in the Athens area. Subsequently, most everyone involved with making AthFest happen, both those planning 11 months out of the year and those that show up for their four hour shifts during the weekend of, are helping entirely on a volunteer basis, often balancing their volunteering with another job.
---
 "I can't imagine not doing it. I'm so grateful everyday that [my roommate] got me involved in it. I just like helping people, I can't not."
-  Jennifer McClain, the volunteer director for AthFest
---
"Everyone [volunteering] is of one mind and it doesn't feel like there's many egos that get in the way. We all do this for the mission of the nonprofit," McClain said.
Every year, McClain deals with organizing around 300 volunteers into about 20 different stations, depending on the volunteer's availability throughout the weekend. Each volunteer is normally given at least a four hour shift at wherever they're stationed, however most end up staying longer and helping out wherever help is needed.
"I'm volunteering at hospitality and merchandise, but I've already been to five different stations," said Dorus Rudisill on the first day of AthFest. "You run around like a monkey wherever they need you."
Rudisill currently lives in Asheville, North Carolina, but has served as a volunteer for the past couple of years and loves Athens so much, he couldn't miss out on another AthFest.
"It was just a fun thing to do and it's such a good community and all the volunteers are great," Rudisill said. "So long as you don't mind sweating a little bit, there's always cold beer at the end of the day."
That sense of community among volunteers is often what keeps them coming back to volunteer again. For a whole weekend, a massive group of people are working together to make something great happen and that sense of unity creates a bond. It might be a lot of work, really hot and a lot of unpredictability, but there's a sense of fulfillment among those that decide to take time out of their weekend, or their lives, and volunteer.
"It's never felt like a burden to me. Never," said McClain. "I can't imagine not doing it. I'm so grateful everyday that [my roommate] got me involved in it. "I just like helping people, I can't not."