Rumors of Xanny P seemed to highlight the most exaggerated parts of his musical personality, from wildly inappropriate sex jokes to theatrical performances from his entrance on set to his exit. Rumors became a reality at the Georgia Theatre rooftop, confirming that everything outlandish you might have heard is true.
"When they first asked me to do this festival, I said yes because I thought they said 'AssFest,'" Xanny P said. "When I got here I was very underwhelmed with the amount of ass."
The second Xanny set foot on stage, decked out in a blue jumpsuit, sweat band tied around his head and, despite it being past midnight, reflective round sunglasses, the crowd immediately exploded. Consisting of mostly females toward the front, arms outstretched, they ran their hands up and down Xanny's torso any time he stepped close enough for them to touch him.
At one point he asks a girl in the front what she thinks the "P" in his name stands for. Without missing a beat, holding direct eye contact, she replies she thinks it stands for "pleasure."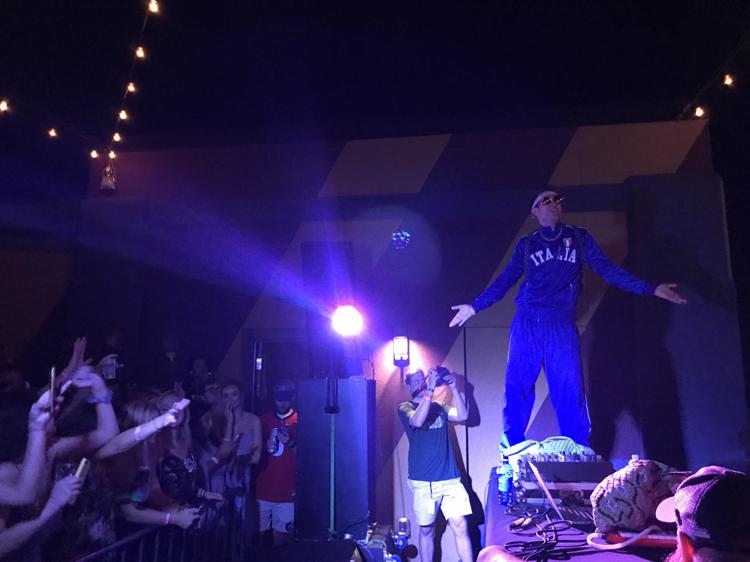 Xanny's set evolved from him sporting Vera Bradley bags, to passing Bombay Sapphire into the crowd, to tossing tide pods out and telling people to eat them. For one of his songs, "Bob Ross," he even slathered paint across Baby God's face, his resident producer and back up vocalists (if you could call the sounds he makes vocals.)
"He is hysterical. I hope that [his lyrics] are all satirical because if it's not then it's a little problematic, but I just watch it with the viewpoint that it's supposed to be funny," said Claire Warren, a University of Georgia student eager to see him perform. "He really knows how to put on a show."
From when Xanny spread himself out on the floor of the stage, to when he jumped up onto the table to dance, the crowd swooned and chanted along to his catchy lyrics full of clever, inappropriate, pop-culture references.
"Xanny is a funny rapper and he gives a good performance. He knows what he's doing and he speaks to the people," said Caroline Chambers, a UGA student who later swooned over Xanny P as he performed.