Three University of Georgia students started the first weeks of the fall semester either in isolation or quarantine after testing positive for or being exposed to the coronavirus. Each had to leave the comfort of their dorms for 10-14 days. Now, some are doubting whether their college experience will ever return to "normalcy."
For the past two weeks, posts have circulated social media criticizing the university's handling of students' isolation and quarantine requirements, from the isolation housing conditions and food to the lack of communication.
Before UGA released official information about where students would isolate or quarantine, photos and posts on social media revealed students were staying in designated rooms at University Village and the Georgia Center for Continuing Education and Hotel.
The university announced Wednesday it has nearly 500 rooms for isolation and quarantine both on-campus and off-campus, confirming University Village and the Georgia Center as two of the locations. UGA has not answered The Red & Black's question regarding the number of occupied isolation and quarantine spaces, as of time of publication.
In-person classes began on Aug. 20, and the university community confirmed 821 new positive COVID-19 cases last week, 798 of which are students.
As students quarantined and isolated for two weeks, The Red & Black spoke with some, who reflected on the differences in the conditions at University Village and the Georgia Center, as well as the overall lack of communication from UGA, the quality of the food and the loneliness.
'More of a motel'
When a junior University of Georgia student found out his roommate tested positive for COVID-19, he immediately thought of his diabetic father and knew he couldn't risk going home to isolate in case he carried the virus.
Since he was exposed to someone with the virus, the UGA junior notified the university through DawgCheck and was asked to isolate in a dorm in University Village on Aug. 24. However, when he opened the door to his temporary home, the student said he was greeted by bugs and stained fabric and furniture, including a mattress covered with what he said appeared to be mold.
In order to protect the student from scrutiny after sharing his experience, The Red & Black granted the student anonymity.
"It was a shock. The person who walked me to the dorm said he had just checked the room and killed any spiders," the student said. "But how did he miss all the mold?"
The student's isolation dorm had a living room, kitchen, two lofted beds and two desks. A chair and mattress had spots that appeared to be mold, the student said. He decided to move all of the furniture he thought to be covered in mold to the bedroom and moved one of the mattresses and one desk into the living room.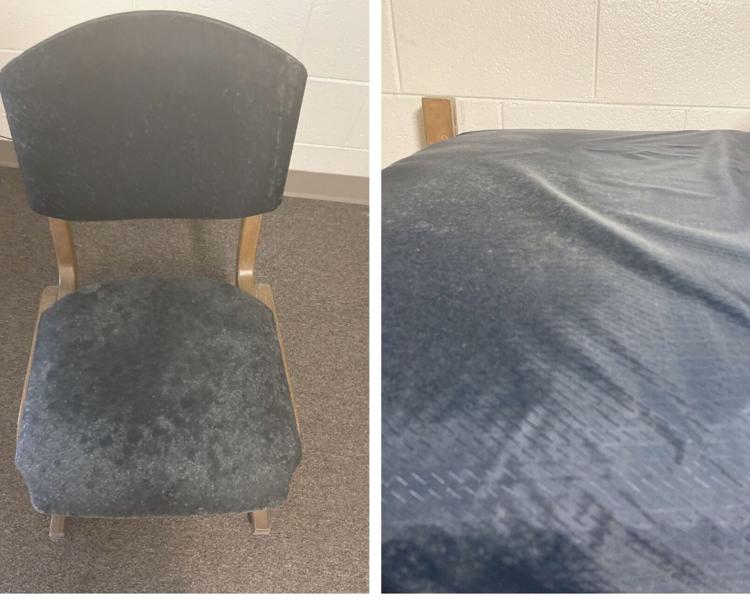 The student described the room as "more of a motel than a dorm."
While UGA did not confirm the conditions of the student's room, including the potential mold, UGA spokesperson Greg Trevor confirmed that the student was moved.
"University Housing acknowledges the picture appears to be one of the isolation or quarantine spaces," Trevor said in an email. "When the student's concerns were reported to housing, the student was relocated to another room."
After the student shared pictures of his room, photos of the stained furniture spread through GroupMe and social media. He said he released these photos after realizing other students experienced similar living conditions and concerns about cleanliness in University Village.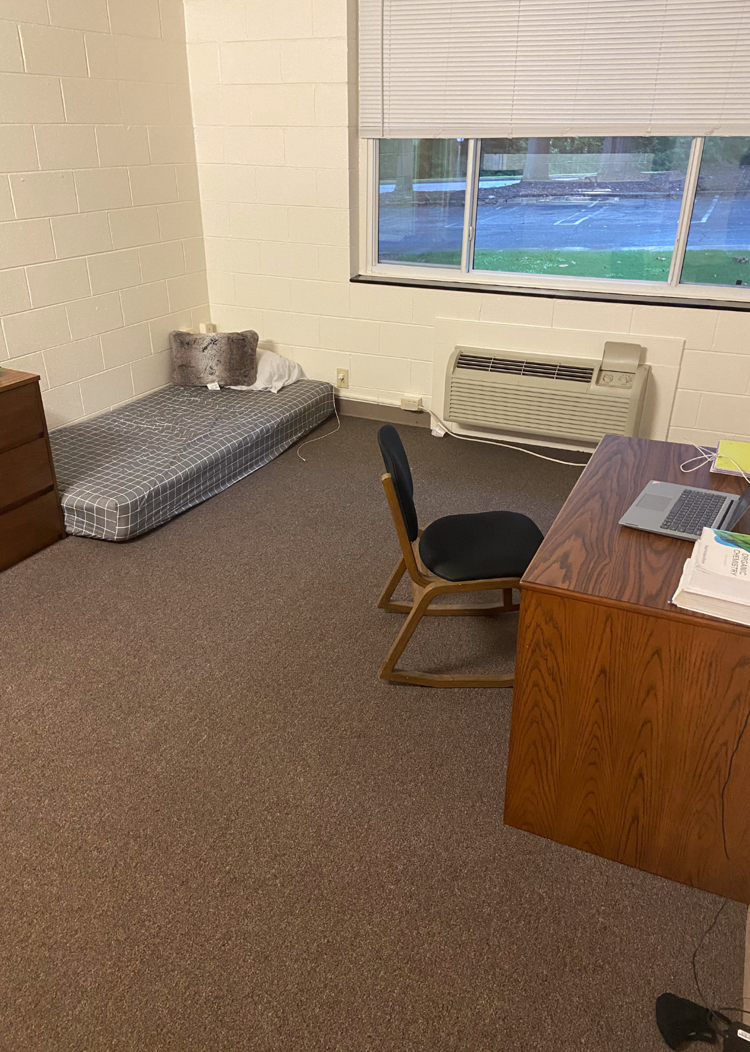 "University Housing provides clean and secure isolation and quarantine spaces with basic amenities — a bed frame with a mattress, desk, dresser, hygiene kit, bathroom and access to meals — to help students during their recovery period," Trevor said in the email.
Conditions aside, the student said each morning between 8-10:30 a.m. someone would drop off three meals and snacks to last him the entire day. Most of the meals were microwavable pizzas, cereal, granola bars and pimiento cheese sandwiches. He said the provided food was disappointing.
Soon after the photos of the dorm were released, UGA's Student Care and Outreach called the student and asked him if there had been a window or any air conditioner left on to have caused the moisture. The student said he only noticed the AC on when he first moved in.
The next day, the student was moved into a room at the Georgia Center, where he said the conditions were "drastically different."
"At the Georgia Center, I felt like my health was prioritized, it was clean, safe and comfortable," the student said.
The provided food came from the restaurant located within the hotel along with the option to order groceries from the miniature grocery store inside the hotel. The university called to check on him much more often, and basic necessities such as a razor were delivered to his door when needed.
On Sept. 3, the student left isolation at the Georgia Center hotel and moved back into his dorm where he said he feels "much more at home." The university told the student he was not required to be tested for COVID-19 before returning to his dorm.
Differing realities
Jasmin Elphic, a freshman health promotions major, lives in Payne Hall. Despite the pandemic, Elphic was set on enjoying campus and social life at UGA. Last week, Elphic awoke with a stuffy nose and slight fatigue but no fever.
She said her gut told her to get tested for the coronavirus as she noticed the increase in cases at UGA. On Aug. 26, she received a COVID-19 test. Three days later, she invited some of her friends to hang out in her dorm room. Around midnight, still with her friends, she received an emailed confirmation that she tested positive for COVID-19.
"My heart dropped, I did not think I actually had [COVID-19]," Elphic said. "I almost felt embarrassed and bad, I almost didn't want to tell my friends but I knew I had to."
She looked at her friends and said "you're going to hate me" before she told them the news. 
Before she was moved to University Village, UGA had Elphic make a list of everyone she had been in contact with in the last 72 hours. Her roommate was placed at the Georgia Center. While Elphic did not have complaints about mold in her dorm at University Village, she described the food given as "elementary school cafeteria meals."
Elphic said being placed in the dorm rather than the hotel made her feel as if she was "being punished for being infected."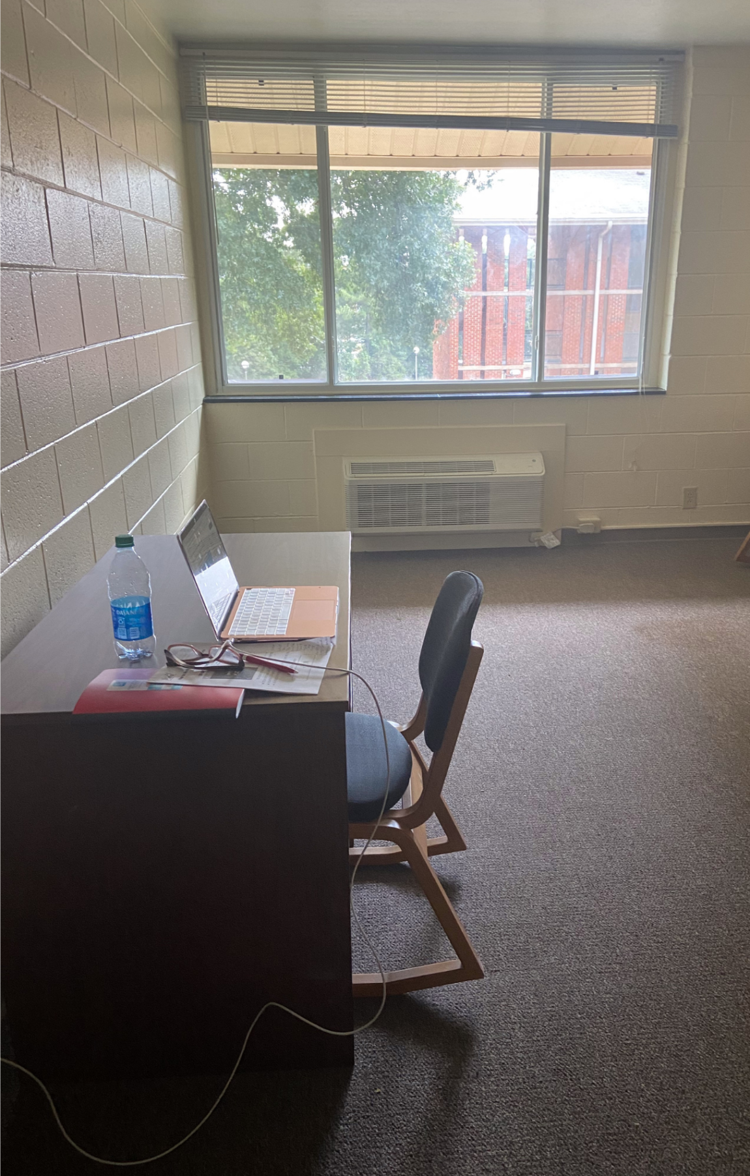 Elphic also said the university told her and her roommate they both did not need to get tested before returning to Payne Hall.
As a freshman, Elphic said moving out of her dorm after two weeks as a college student was frustrating. She said she found herself missing daily chats with friends and students in the hallways.
"I was just getting used to college life, I never planned it would be taken away from me because of a virus," Elphic said.
With COVID-19 cases on the rise at UGA and rumors of another closure, Elphic feared her last memory on campus would be stuck in her "isolation bubble."
Once she is allowed back on campus, Elphic said the first thing she wants to do is hang out with friends. She said she doesn't want campus to close and would like to finish out her first year around friends.
"Isolate and then move on and live your life. It's OK," Elphic said as a message to UGA students.
Returning to campus
Maggie Carlton said she had a "COVID-19 scare" when one of her friends told her they were in contact with someone who tested positive.
UGA guidelines define exposure to COVID-19 as being within 6 feet of someone who tests positive for 15 minutes or more. Carlton's scenario didn't qualify as exposure in the guidelines because her friend had been in contact with the person who tested positive.
Carlton checked in DawgCheck that she was in contact with someone who tested positive but did not hear back or receive any emails for the next 24 hours. Within those 24 hours, she worried about whether she should immediately get tested, isolate in her dorm or go home.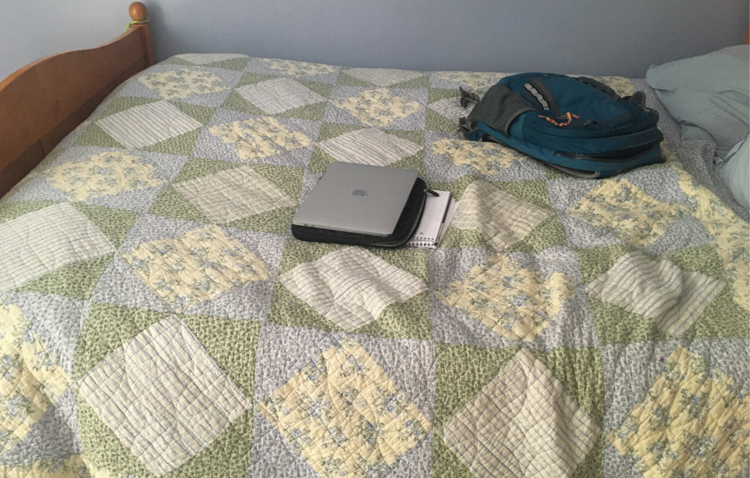 She opted to isolate in her dorm with her roommate. The next day, UGA Student Care and Outreach instructed her to return to her parents' home.
"Those 24 hours waiting on the university was stressful, I couldn't focus on school work or anything," Carlton said. "They didn't respond, and I just hoped I was doing the right thing and not potentially spreading the virus with no guidance from the university."
After reflecting on their experiences isolating or quarantine, Elphic and Carlton said returning to campus would never feel the same.
Carlton said after her experiences with isolating she will focus on taking extra precautions while on and off campus.
The UGA junior is now out of isolation and living in his dorm. Although his decorations, bed and room are comforting, he said he's not sure when things will feel normal on campus again.
He said he feels more aware of how easily the virus can spread, especially in dorm buildings where social distancing is more difficult. Moving forward, he said he will be more strict with maintaining 6 feet of distance from friends and strangers and hopes to avoid being exposed again.
"I did everything I felt I had to and still was exposed, campus isn't normal right now," he said. "Campus is a hot spot and we all need to be hyper-careful."
Spencer Donovan contributed to this story.