One night in early August, I stopped by Park Hall to get books from my office. Entering a classroom to inspect the new Zoom equipment, I noticed the ancient wooden desk I'd leaned against for years in class discussion. Then I started laughing and pulled out my phone.
I sent the picture to colleagues in Park, figuring they had a right to know what awaited them in the fall. The image spread to social media. Pretty soon, a cruddy desk with an awkwardly sized rectangle of clear plastic glued to it — and blue painter's tape to hold it up while the glue under the brackets dried — encapsulated many things angering Georgians during the pandemic. Stupidity. Waste. Incompetence. Lies. The University System of Georgia's reopening plan. And, of course, weaknesses in the Bulldogs' defense.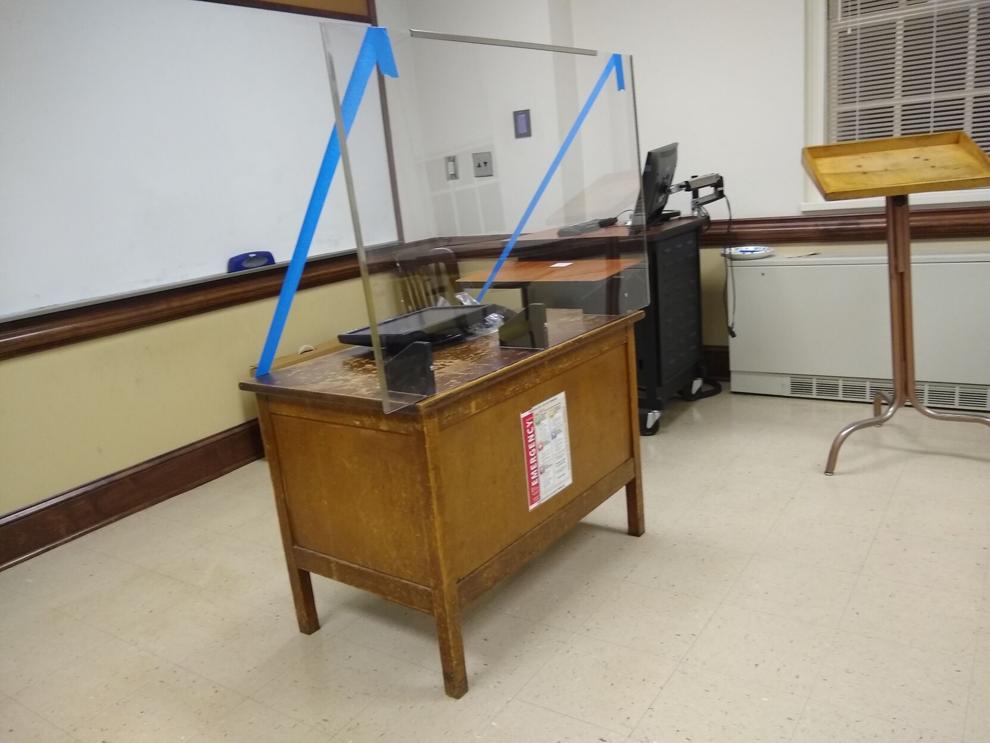 But why this image? Is this sad little barrier against airborne coronavirus droplets much more absurd than the one separating you from the cashier at the grocery store? What about the "hygiene theater" assuring us that surface cleaning makes it safe to eat at indoor restaurants? Why do we only laugh when a particular picture makes reality come crashing through?
Twitter's reaction to this image shows how strained our relationship to reality has become. On the one hand, Americans like to believe they despise hypocrisy and propaganda. But on the other hand, as T.S. Eliot observes at the opening of "Four Quartets," human kind cannot bear very much reality. We desire moments of clarity, certainly — but only moments. We need the deeper, uglier truth to stay outside the frame.
The truth, first, of our own lives in pandemic conditions, when the very things we want most — contact, intimacy, community — have turned against us, and the things we must do to survive demand more risk. And also, the fact that while we're all at risk right now, some are at more risk, with less reward, and sometimes for no good reason.
Many students are living in dorms and eating in dining halls designed for social contact, not social separation. Many staff workers have been stretched to the breaking point getting ready for the fall term, and when they aren't gluing plexiglass to old desks, they do essential work. The skilled staff who maintain and repair Park Hall are the only reason it didn't collapse years ago.
Other staff workers are told they must be on campus, though their jobs can be done from home. At the same time, if classes move completely online this semester, some will face unemployment. And then there are graduate teaching assistants, who are the most poorly paid teachers on campus. Some who have medical vulnerabilities are being forced to work in person so that we can keep the percentage of fully-online classes low. And all this is happening in a state where COVID-19 has affected poor communities and Black communities the most harshly.
How can we bring these vulnerable people into focus? We might start by saying the name of staff worker Ana Cabrera Lopez, the first member of the UGA community to die of COVID-19.
"We are deeply saddened by the loss of a member of the University of Georgia community. Our sympathy goes out to our co-worker's family and friends. Out of respect for them, we will not comment further," commented Greg Trevor from UGA's Office of Media and Communications, after pressure from the press.
Not for the first time, what strikes Mr. Trevor — and President Jere Morehead, who tells him what to say — as wise and respectful strikes me as stupid and vile. Is the plan to copy and paste this statement once per death going forward? Why is it disrespectful to name a co-worker? Are we supposed to believe that if President Morehead dies of COVID-19, the university will not say his name, or comment extensively on his life? It may be argued that Ana Cabrera Lopez, unlike Jere Morehead, was not a public figure. But that is exactly the point.
Together, we can confront the reality of the most at-risk lives here at UGA. But my picture of the botched plastic surgery done to that desk on Park Hall's second floor doesn't do the job. It doesn't really show the precarious position of our students, graduate students and staff. These are the people the university serves, and the people who serve them most honorably — because they serve with the least reward, and often with the greatest risk.
There may be a single, helpful image to encapsulate our sense of who is most vulnerable during this pandemic. I hope we don't find it. That would be too easy.