Alissa Eckert has spent the last few weeks at home. She's been helping her kindergartener and third-grader stay on top of online schoolwork, while spending long hours in front of the computer. Her shelter-in-place lifestyle sounds almost ordinary.
Eckert, however, plays a much larger role in the pandemic. A medical illustrator for the Centers for Disease Control and Prevention, Eckert is one of two artists and University of Georgia alums responsible for the CDC's ubiquitous illustrations of COVID-19.
Eckert wasn't born dreaming of being a scientific illustrator. For her first three years of college, she attended Kennesaw State University with hopes to go to veterinary school. She was a biology student but always took art classes for fun, although she wasn't intending to do art professionally, Eckert said.
After learning about the field of scientific illustration, she said she felt it was something she needed to look into. Eckert then called Gene Wright, the chair of the scientific illustration program at UGA. He thought she was a good fit for the program.
Eckert transferred to the Lamar Dodd School of Art during her fourth year of her undergraduate study to join what Wright described as "a really outstanding class" of scientific illustration students. Wright remembered some of Eckert's early work, calling her an "excellent illustrator."
Although she started the program a few years into her college career, Eckert said she didn't regret switching her field of study. Her extra biology classes have helped her with her work, she said.
An 'exciting, high-pressure project'
Eckert started working at the CDC in 2006, where she works as a medical illustrator in the Division of Communication Services. Eckert works with other Lamar Dodd alumni, including Dan Higgins, her partner in creating the coronavirus illustration.
She and Higgins have worked together for 14 years and have learned how to "streamline [their] process" over time, Eckert said. When the illustrators were assigned to illustrate the novel coronavirus on Jan. 21, they "knew how to divide and conquer," Eckert said.
Eckert said she and Higgins have worked on virus outbreaks before, such as Ebola, H1N1 and Zika. Despite their previous work on virus outbreaks, Eckert said the project was intense.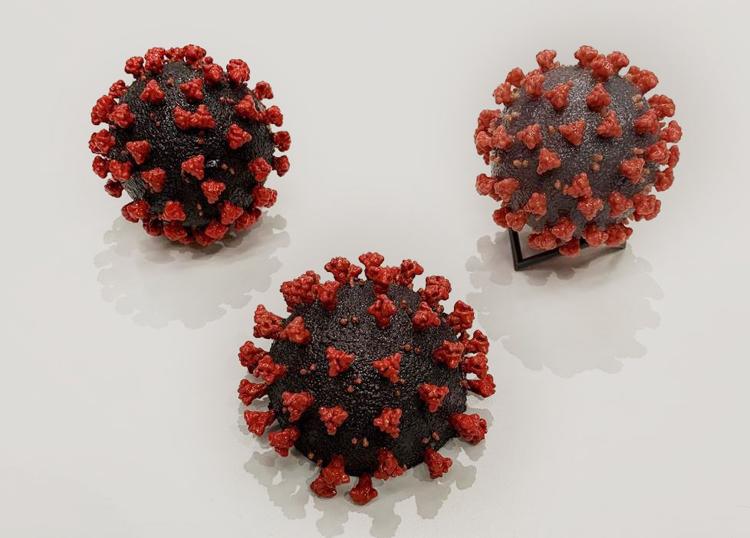 "It was definitely more of a fast-paced, exciting, intense high-pressure project," she said.
Despite the added pressure, Eckert said she especially enjoyed the second half of the project, where she could get her hands dirty and make the image come to life. She said she knew the illustration would need a serious tone, which prompted her to use the bold reds, oranges and grays.
Visual storytellers
While illustrating the coronavirus, Eckert and Higgins didn't know their work would be distributed so widely. Going into the project, Eckert thought it would only appear on cable news and social media. Then it started showing up everywhere.
Eckert said friends in the Netherlands sent her pictures of the illustration on their television, and that it's "surreal" to see how widespread her work has become.
Glen Nowak is the director of the Grady College Center for Health and Risk Communication. Previously, he worked for the CDC as a director of both media relations and communications. In his 14 years at the CDC, however, Nowak said they never had one visual used so widely.
"We did occasionally have visuals of the flu viruses, and sometimes you did see flu viruses in the media, but nothing like we're seeing today," he said.
Eckert said there's never been a time when she has received so many interview requests, or any interview requests, for that matter. The reason she continues to talk about her work is to educate people on the field of scientific illustration. She noted feeling a sense of pride whenever she sees her work on a television program or news feed.
Nowak said having visuals as a part of health campaigns is a way to help the public understand complex information. Not having visuals leaves the public up to their imagination, he said. Echoing this thought, Eckert said scientific illustrators serve as "visual storytellers" that educate the public by making information more understandable.
"If we're not scientists, if we're not doctors, we probably won't accurately imagine a concept or an idea," Nowak said.